Today in this article, we'll talk about Hubsan Zino drone which was very much anticipated by drone enthusiasts since very long. This 4k drone is available in many countries that include the UK, Australia, Malaysia, Singapore, South Africa and of course the US. After the announcement, now Zino is ready for sale. In this post, we'll talk about different important aspects like range, altitude hold, android problems, obstacle avoidance feature and much more. We will also do the Hubsan Comparison Vs. fimi a3, Vs mavic air, Vs parrot anafi and xiaomi fimi a3. This is a high-end model with amazing features at an affordable rate. The drone has a foldable design which makes the quadcopter compact and more convenient. You can easily carry it in your bag while traveling. The drone has 4k ultra HD camera which allows you to capture the cinematic beauty in high definition. It also has 3840X2160 30FPS Ambarella Image Processor which again adds to its high-end features.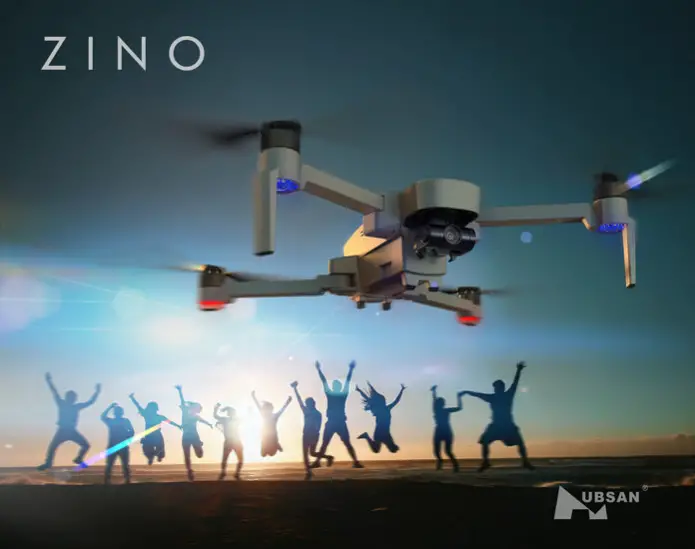 I think it's quite difficult to find a drone which has so many features at this price range. The camera has three axis gyroscope stabilization that provides buttery smooth image and video quality. It has a range up to 2.5km which is remarkable. It is an RTF drone; it comes fully assembled, so during the time of delivery, you don't have to worry about anything. Most of the drones which have these high-end features require the assembly, but this quadcopter is simple to use and easy to fly.
It has powerful brushless motors which give strong torque to the quad, and you get quick to take off and landing. Its high torque also allows you to do good maneuvering and quadcopter becomes very responsive to the transmitter. Its GPS is very accurate and precise which will enable you to have a very reliable altitude hold and return to home feature. The drone is also capable of flying up to 60km/h which makes it a racing drone as well.
Some of the users commented that it has good performance in windy conditions as well. There are a lot of advanced modes as well that you can try and which gives you a unique flying experience. If you are a beginner, don't worry, you can easily master the quadcopter. You get all the required accessories with the package; you don't need to buy anything separately. Below is the list of the items that you would be getting with the product.
1 X Hubsan Zino Drone
1 X Battery
1 X Remote Controller
4 X Propellers
4 X propeller screws
1 X gimbal protector
1 X propeller Wrench
1 X AC Adapter For Charging
1 X Balance Charger
2 X USB Charger for Drone & Transmitter
1 X user manual
Technical Specifications
| Drone | Specifications |
| --- | --- |
| Drone Weight | 700g (without propeller guards) |
| Motor Type | Brushless |
| Drone Battery | 11.4V 3000mAh (Included) |
| Transmitter Battery | 3.7V 2600mAh |
| Flight Duration | up to 23mins |
| Charging Time | About 180 minutes |
| Flight Range | About 2.5KM |
| Top speed | 60 km/h |
| Gimbal | 3-Axis |

Hubsan Zino Drone Review
In this section, we'll talk about different important aspects of the drone. It includes build quality, camera specifications, advanced modes and much more. So, let's dive into all of these features one by one.
Camera Quality:
You get a 4k camera with the drone which takes the image and video experience to the next level. You can also record at 1080P at your disposal. There are actually very few cameras which are capable of recording in 3840*2160 30fps. It also boasts about its Ambarella sports image processor which eliminates any possibility of image blur. It also has three axis stabilization with 89degree wide angle with an f2.2 aperture that provides good depth of field. You can also use the image tracking feature which will give you a completely different perspective about your film making.
It also has glitch free FPV transmission that allows you to see the things from drone's perspective. Here, make sure you have to handle the drone as well as a camera for right shot composition.
Multiple Advanced Modes:
The quadcopter also flaunts its various advanced modes that take the flying experience to the next level. Though, some modes are easy to handle while others will take some time to master. These advanced modes are very frequently used by filmmakers. Let's dive into each features one by one.
Follow Me Mode: You get to follow me mode with the drone. With this feature, you can let drone follow you wherever you go. This feature is used when you are using a moving vehicle. Once, the drone sets the frame then it will follow the subject continuously. In this case, make sure that the subject is not moving at very fast speed, the drone might lose track of it.
Altitude Hold: The quadcopter also has altitude hold feature which is very precise and accurate. If you are a novice, then this feature will help you to take control of the UAV easily. It also eliminates the jelly effect from the pictures and videos, so that you get buttery smooth output. A lot of people ask this question about how to use this mode; you don't need to use the special button. Just simply leave the controller stick, and the drone will stay wherever it is.
Point of Interest: The Husban Zino also has this orbit point of interest mode. It helps you to get the perfect dronie shot. In this case, you decide the subject, the drone height, radius, and speed. The quadcopter will rotate around the subject, keeping the center object in focus. This shot comes really good when you are using the quadcopter where the landscape beauty is good. Also, keep in mind when you are using this feature, there should not be any obstruction on the way. Before starting this mode, you have to see in the circular orbit; there is no hindrance.
Headless Mode: The quadcopter also comes with Headless. This feature is really helpful when you are flying the drone as a beginner. Without, this mode, you have to worry about the head and tail part of the quadcopter. But with the headless mode, you don't need to worry about anything. In this case, any part of the drone can work as the tail, and you can operate the drone with the same control irrespective of its orientation.
Return to Home: Husban Zino also has returned to the home. There are hundreds of drones in the market which boast about automatic RTH, but here, the precision and accuracy that you get are seamless. Before taking off, the quadcopter locks its home position, and it reaches back exactly from where it started.
Auto Take Off & Landing: The quadcopter also has auto takeoff and landing. Most of the beginners face problem in take-off and landing and end up crashing their drone. So, this automatic feature will assist you and eliminate the chances of the crash at the starting.
Panorama Mode: This is the camera mode which helps you in capturing the panorama. It works well when you are shooting a beautiful architecture or landscape. It brings more detailed information to the picture.
WayPoint Mode: This is a very unique and advanced mode which makes the Hubsan Zino worth investment. In this case, you can draw the flight routes on the APP, and it will follow the path accordingly. This is a bit difficult mode and only recommended once you have a good experience flying this drone.
Compact Design & Battery Backup:
I really like the compact foldable design of the drone which allows it to become very small once the blades are folded. You can carry it anywhere you want. You also get Hubsan Zino Case which makes the carrying more secure. It has a white color body and black color propellers. At the front, the tiny two-axis gimbal camera looks cute. The plastic quality which is used seems pretty decent and makes the drone more durable. The blades are made up of carbon fiber which makes them unbreakable. You also get propeller guards with the guard which you must use. This is the sturdy drone; it can easily survive the minor crashes. It will crash and fly again.
With the drone, you get a high mAh battery, and they get charged very quickly. You get around 23 minutes of flight duration that is very good. But if you want the better glitch-free experience, then you can also go for the extra alternative battery as well.
Easy APP Navigation:
Hubsan Zino App is very simple navigation and easy to use. It supports iOS and Android both. You can also control the drone with the virtual controllers, but that won't give you a smooth flight experience. I would also recommend going through the manual properly before you put your hands around the transmitter. You can also watch the below in which Zino calibration and setup is properly explained.
Watch the Video till End: $1Million Drone Race
Affordable & Better Alternatives
Conclusion:
I would say after the Husban Zino release date, it's going to be a massive success in 2019. Hubsan is always known for making some high-end products, and this one also doesn't let us down. If you are a filmmaker then it's amazing camera quality makes your dream a reality. A lot of people are comparing the drone with DJI Mavic Pro that gives you the sense of its high-quality flight performance. It's also very affordable; I think under $400 range, you won't find any better option than this one. If you are looking for some cheaper drones, below are the one you can have a look.
Till then… Fly Safe & Secure

Trending Drones