When it comes to efficient drones with advanced camera specifications for adults, the aovo PRO66 Drone works pretty well! It's an incredible product with the 4K UHD camera specification, specialized for adults. It comes with a 60 minutes flight time quadcopter along with a brushless motor and GPS set for returning home. Having a private drone helps you in filming and capturing all the precious moments from above the sky. It makes the fly absolutely smooth and safe. Aovo PRO66 Drone comes with 2 intelligent batteries that need recharging from time to time and provides sufficient flight time. The drone circles around a definite point and upgrades its functioning and through the flight control image transmissions levels, it provides more clear and stable image quality.
Furthermore, aovo PRO66 Drone's high-performance image processor helps in providing a stable experience for the user in shooting ultra-high definition and 4K quality videos, captured with a broad field and bug eye-lens which results in a beautiful view. The drone is very easy to control through the W-GPS app that helps in showing an intuitive interface. Also, guide manuals are available for better understanding as the aovo PRO66 Drone is absolutely beginner-friendly.
Alongside, it equips a 90°FOV lens and 90°tilt range camera that makes the videos and photos more clear and wonderful. As we discussed the basic introduction of aovo PRO66 Drone it's time to get on to the main content of this article. We have reviewed this amazing aovo PRO66 Drone with its features, specifications and other details. So, stay tuned!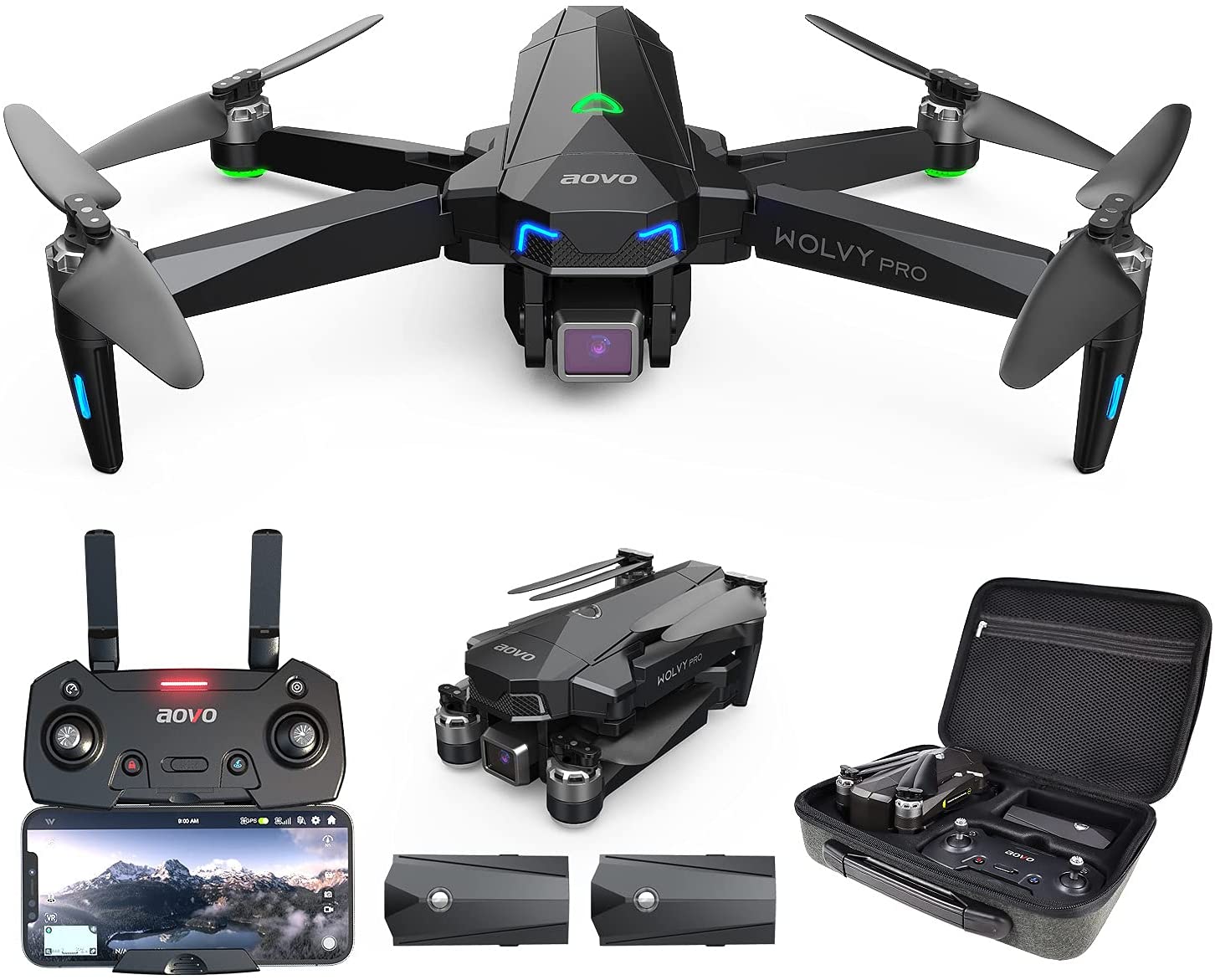 | Parameters | aovo PRO66 Drone |
| --- | --- |
| Dimensions | 11.2 × 9.0 × 3.2 inches |
| Folding dimensions | 4.5 × 7.0 × 3.2 inches |
| Package dimensions | 19×5.75×19 inches |
| Item weight | 1.43 pounds |
| Maximum flight time | 60 minutes |
| Charging time | 4-6 hours |
| Camera | 4K UHD camera |
| Image resolution | 4K |
| Maximum support TF card | 32GB |
| Maximum transmission distance | 380 feet |
| Maximum FPV distance | 2625 feet |
| Maximum flight altitude | 60-380 feet |
| Batteries | 2 Lithium Polymer Battery |
| Brand | Aovo |
| Colour | Black |
| Video Capture resolution | 4K HD |
| Battery cell composition | Lithium Polymer |

Features
4K UHD Camera Drone: aovo PRO66 Drone comes with an advanced 4K UHD camera specification that helps you capture with more clarity, vivid colours and deep contrast. With it, you get to experience ultra HD quality images and videos. And with its 90°FOV lens and 90°adjustable camera setting makes your experience more stunning. Besides, the 5GHz FPV guarantees the transmission to be more long and smooth.
60 Minutes Flight Time: This drone comes with 2 intelligent batteries and each provides a flight time of 30 minutes. This helps you in capturing absolutely perfect shots. Along with this, it has a long-life brushless motor that has low power consumption and provides a quiet flight experience.
Strong GPS setting: Another amazing feature of the aovo PRO66 Drone is its strong GPS positioning and a double stable system. With this, it makes the flight absolutely stable and smooth, both indoor as well as outdoors. With this feature, the drone returns back to its takeoff location in case of a low voltage warning or if it loses signal. Also, it has automated settings to follow you and fly in the same instructed circles, provided by you. This way you can focus more on photography or shooting.
Easy and smooth fly: With ist features of auto return home, follow me, 5GHz FPV transmission, Follow Me, One key takeoff and Tap Fly, aovo PRO66 Drone becomes very easy to operate and fly, especially for beginners. It provides you with tons of ways to explore your skills and shooting experience.
Warranty: aovo PRO66 Drone comes with a 30-day return and 90-day warranty period. The company prioritizes the customers in every aspect. You can consult with customer care anytime you want, with any problem of yours.
Specifications
Aovo PRO66 Drone comes with a foldable setting. You can fold it very small and carry it in your backpack anywhere. From the dimension of 11.2 × 9.0 × 3.2 inches to 4.5 × 7.0 × 3.2 inches. So, you can guess how much it can be compressed! At the time of takeoff, the drone weighs around 520g and when the threshold is increased twice, the FAA allows you to fly without even registering with them. So, it's essential to register your drone under the FAA. With the GPS functioning, the drone records the flight position, starting on the turning on of the drone and then, after circling around the definite point clockwise. This sets up the flight radius as well. The double system is present which makes the hover more stable and can easily be controlled by beginners.
Additionally, it has a Follow Me function that allows the drone to follow you wherever you want through the GPS setting connected with your smartphone. But, it's essential to keep the drone at a distance of 10 meters. And with ist waypoint slight, it draws a significant map, creating a path through the GPS setting. Then, it follows the same map based on the points connecting in the map. This way, its flight becomes more creative and fun. aovo PRO66 Drone provides you with the real-time transmission of image and video within the maximum FPV distance of 2624FT.
Aovo PRO66 Drone is mostly appreciated for its impressive flight long-distance range and 5G Wifi FPV function.
Pros & Cons

Conclusion
In conclusion, we can say that the aovo PRO66 Drone is a very impressive drone that works pretty well for both beginners and advanced users. It comes with tons of impressive features and specifications. Among these, its long-distance flight range and 5G wifi FPV is the most impressive one. And because of its GPS function and build quality, it's always a great purchasing choice. However, before getting started with this amazing aovo PRO66 Drone, you need to have a brief knowledge of how to operate the quadcopter before flying. The size of this drone is quite large and has open spaces. It has a camera rotation function that helps you capture the perfect view and shots. It is mostly recommended to use the daytime so that you can capture some good and impressive footage.
This drone is very easy to operate, plus, it is very flexible and foldable which makes carrying more convenient for the users. It has 3280 feet maximum transmission distance and a 2625 feet maximum FPV distance. This makes it very exciting for experienced users to operate. Alo, it is always recommended to keep the drone within your sight, as do not fly it to the full range limit of 1000 meters.
Aovo PRO66 Drone has a wind resistance of 5 levels, still, it doesn't affect the flight and operation in the strong winds. It's a great product and worth buying!

Frequently Asked Questions
How long does it take to fully charge?
For an aovo PRO66 Drone, it is recommended to use a 5V 2A adapter for charging the drone battery. With this, it usually takes up to six hours to be fully charged and it further ranged based on the power current. Also, do not use voltage above than 5V otherwise, the charging will be affected as the light of the battery would also flash at the same time.
Is aovo PRO66 Drone safe to operate?
Yes,  absolutely. With its advanced features and specifications, the aovo PRO66 Drone becomes suitable for both beginners as well as experienced users. The flight setting is also very safe and smooth and so is the control.
What is the video frame rate of aovo PRO66 Drone 4K video featuring?  
For this, the video frame rate is around 15 FPS (frames per second).
Can I use a TF card of 128 GB in this drone?  
For the aovo PRO66 Drone, it is only recommended to use the 32 GB card as its Tf card limit is very less, 32 GB. And using 128 GB would be very large and would not work with this drone.
Watch the Video till End