If you love drones that you probably might have heard about Hubsan before, they are known for making affordable drones, especially for kids and beginners. Today, in this article, we'll dive into one of their FPV drone under $100, which is Model H502S X4 desire. This is really a cool drone with some advanced features.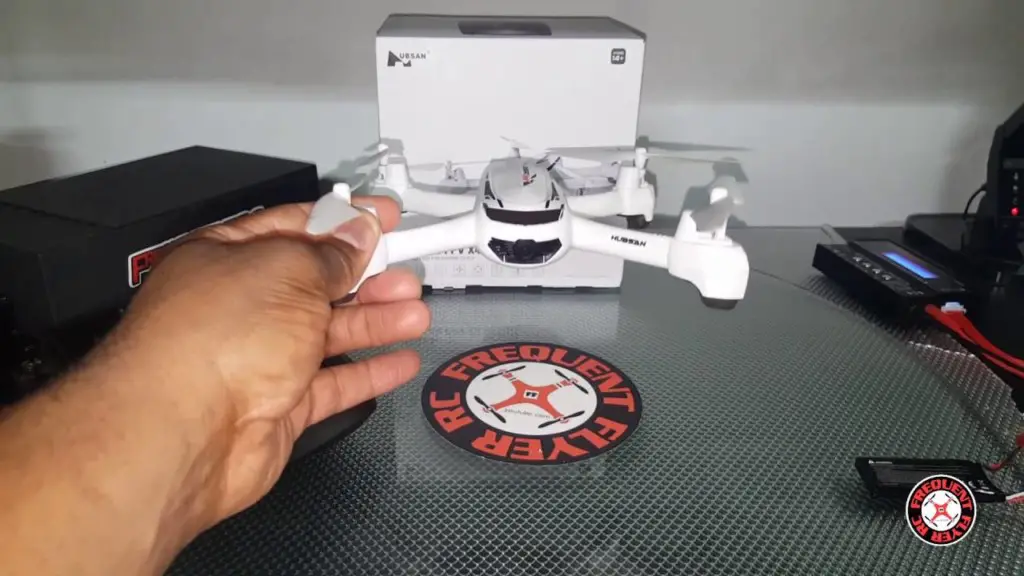 If you are thinking of buying your first FPV drone, this could be a good one to start with. This drone is suitable for both beginners and professional pilots. We'll talk about its build quality, performance and other aspects in details in the below section. This is ready to fly a drone; you take it off the box, charge the battery, and good to go. There are a couple of things that you need to check before you take it off. Below is the list of the items that you get with the package.
Hubsan H502S
2S 610mAh Battery
Transmitter
FPV Monitor
Charger
Spare Propellers
Screwdriver
Manual
Pre-Flight Checks
Make sure the battery is fully charged. If the battery is low, the drone might not take off and might topple down after hovering because of less power.
Also, check all the screws are well tightened, and propellers are fixed properly.
Most of the Hubsan drones requires calibration before first flight. It is very important for your GPS to function properly.
If you are a beginner and flying the drone for the first time, I would recommend to fly it in the open ground far from the public and crowd.
Technical Specifications
| Hubsan H502S | Specifications |
| --- | --- |
| Frequency | 2.4G |
| Channel | 4CH |
| Drone Size | 165x165x60mm |
| Weight | 140-147g (with battery) |
| Battery | 7.4V 610mAh LiPo |
| Camera | 720P |
| Motors | Coreless |
| Flight Range | 200m |
| Price | Check Here |

Drone Review
This is one of the most important section of this post, where we'll dive into important aspects of the drone. If you are really interested in buying the drone, i will recommend you to go through the section thoroughly so that you have a proper idea about the product.
Build Quality & Design
When it comes to build quality, it has a lightweight but really durable material. It really helps in increasing flight duration and better performance. It has a tiny camera at the front, which is ducked inside the plastic body, which makes it secure from crashes. You also get spare propellers with the package in case of any crash; you can easily replace them.
According to the company, its tough plastic protects the interior from any kind of damage, which allows the drone to survive the minor crashes.
Flight Performance
Flying this drone is super fun. Even though you are a beginner, you will get used to of it after a couple of flights. The company says that you get around 12mins of flight duration, which is very accurate. It is a very responsive UAV, so control the throttle easily, once you get the momentum, you can push it hard. The range is also decent enough; it doesn't go out of your sight. Though when it's windy, things can be a little bad, as it is very unstable in the windy situation because of its lightweight build.
When you are flying it in FPV Mode, it would be around 100m. In FPV, the experience is more immersive, and you'll feel like as if you are flying with the drone.
Camera Quality
It has a 720P HD camera which can record some good quality footage. There are two options available when it comes to camera selection. Either you can go with the basic camera where you can change the camera angle manually, and there is no stabilization while in the advanced version, you get 3axis gimbal stabilization which makes the footage more stable and you can also do some cinematic videography by using the autonomous modes.
Controller
You get multifunction FPV Controller with the drone. It has all the buttons you need. Everything is at right place so that you don't have to put strains on your fingers. There is also 4.3inches LCD screen on the RC where you can real-time 5.8G video transmission. There are different mode options that you can try in it. There are options for TF Card and USB plug. On the top right, you get RTH button which brings back the drone from where it started.
It comes in black color; good quality plastic is used and fits perfectly in your hand.
Different Modes
It has a lot of modes that help beginners to have a smooth and safe flight. These modes help you to have more cinematic footage and ensures safety at the same time.
Follow Me Mode: If you want to capture the moving subject, this is a very helpful mode to try. Once the quad sets its focus on the subject, it will track it wherever it goes.
Headless Mode: This is a very helpful mode for beginners. Often times, you find yourself confused with drone orientation. But with this mode, no matter at what direction, the drone is facing, left push will take the drone left, and right push will take the drone right.
Altitude hold Mode: When you leave the throttle, the quad will stay wherever it is. Its altitude hold is very precise. It allows you to click shake-free pictures.
RTH Mode: A lot of unexpected things happen when you fly the drone. You might lose the connection, or any technical glitch might happen. At that time, you don't know what to do. Then you can click on the RTH button on the top right corner of the controller and bring back the drone from where it started.
Extras
There are a few cool drones in the market. If you love mini-drones, then you can try the smallest drone in the world under $50.
If you want the tech of next level, then you should read where Drone can be launched through Grenade Launcher.
Pros & Cons
Pros
The good quality is plastic material is used in drone build, which makes it durable and quadcopter can easily survive the minor crashes.
It has all the advanced features that you might need in a beginner's drone. It has RTH Mode, altitude hold and headless mode as well.
You also have FPV feature in the drone that makes the flying more immersive.
The controller has advanced modes, and you also get a small LCD screen on it. You don't need a separate smartphone for monitoring.
Cons
As the FPV range is only 100m, a lot of users are not really happy with it. It could have been better.
It comes 720HD camera but don't expect video quality to be really high quality.
RTH Mode is not very precise; you also have to the manual controlling to make the right landing.
When it comes to safety, there are no safety features as such; everything depends upon how you control the drone.
There are other advanced drones in the market with advanced features and a better deal.

Watch the Video till End
HUBSAN H502S VS H501S
A lot of people have been asking the difference between H502S and H5021S drone. H501S is a better drone than H502S considering their flight performances.
H501S has brushless motors and 1080p HD camera, H502S comes with brushed motors & camera capable of recording only in 720p.
When it comes to different advanced features, both the quadcopters have almost the same features. They have RTH Mode, altitude hold mode, and Anti signal loss mode as well. When it comes to build quality, you will find a lot of similarity between both the drones, but you can't interchange the remote controller as the camera and fpv resolutions are different.
Affordable Alternatives Under $50 (Recommended)
Verdict
It is a good FPV drone for beginners. Though the experience won't be very immersive, you'll learn a lot about FPV. There are two versions of the drone standard and high version; you'll see some differences in the features. You can choose the one that suits your requirement. It also has good reviews online. If you have any question, don't forget to let us know in the comments below.
Trending Drones
Yuneec H520 Commercial Drone Review
Top 10 Drones for Real Estate Photography & Videography
Sensefly Ebee X, SQ, Classic & Plus| Price, Manual & Parts
Xiaomi Fimi A3 5.8g 1km fPV GPS Drone Review
Xiaomi fimi x8 se 4k GPS Drone Review