We all know that Hubsan is known for making some really affordable drones. But there are a few models as well which are really high end, today we'll cover one of them that is Hubsan H117s Zino. It gives competition to DJI drones as it comes with some advanced features at a really affordable price. It has a 4k camera, good flight duration, three axis gimbal stabilisation, and much more. It is one of the best drones by Hubsan under $500.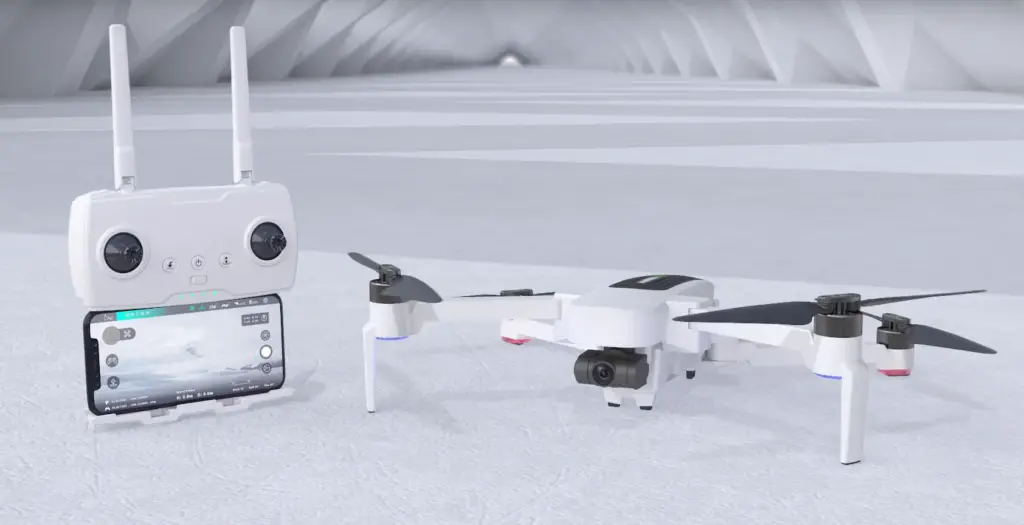 It also resembles DJI Mavic Pro which is twice in price. It has a foldable design which makes ithvery compact and you can easily carry it from one place to another while traveling.
According to the company, it has an aerodynamic design which gives it better thrust by reducing the air resistance. It also increases the flight duration and max quadcopter speed. In the manufacturing, instead of using the plastic, they have used the polycarbonate, which makes the quadcopter durable and it can easily survive the minor crashes.
Its dimensions are 30.4 X 25.2 X 9cm, and it weighs around 700grams. Below is the list of items that you would be getting once you receive the package.
H117 Zino Foldable Drone
Battery
Remote Controller
Propellers
Screws
Gimbal Protector
Adapter (AC & Balance)
USB Charger
RC Cables
User Manual
Technical Specifications
| Hubsan H117S Zino | Specifications |
| --- | --- |
| Dimensions | 30.4 X 25.2 X 9cm |
| Weight | 700grams |
| Battery | 3000mAh 11.4V |
| Motors | Brushless |
| Flight Duration | 23mins |
| Range | 2.5kms |
| Max Speed | 60km/h |
| Camera | 4k & 3axis Stabilized |
| Price | Check Here |
Dji Spark Vs Hubsan Zino
A lot of people recently have been asking about the difference between Hubsan Zino & DJI Spark drone as their gimbal camera is almost the same. Below are some of the main differences between both the quadcopters that you have to take a look at.
When it comes to flight duration, Hubsan Zino is the winner as it has flight duration up to 23 minutes while spark only has up to 16mins.
Flight performance of the spark is more stable and smooth. Even flying indoor, you'll have better altitude hold than Hubsan Zino.
Considering the Safety, Spark has proximity sensors, which make it safer during flight, and the chances of crashes come significantly down.
Hubsan Zino wins when it comes to wind resistance as it has more powerful motors than the Spark.
Flying Range of Spark is better than the Zino while 3axis gimbal of hubsan gives it an edge.
Hubsan H117s Zino Test
Flying this drone is really fun. If you have already flown the drone before this is going to be a piece of cake for you, it has some essential safety features. During the flight, if you see any technical glitch or you lose connection, you can use the RTH feature and drone will return to its place automatically.
Controlling the drone felt very smooth, though quad is very responsive to the controller. I would recommend to fly it in the open ground when you are taking it off for the very first time. Gradually, you can try some different autonomous flight modes. Few modes will take some time to master, but they are worth giving a try. You can download the Husban Android App here and iOS version over here.
Make sure; you do all the preflight check before you take it off. Calibration should be done properly. Battery should be fully charged. Once all the things are cross-checked, you are good to go. Enjoy your flight. In case you have any question, do let us know in the comments below. We'll try to reply asap.
Hubsan H117s firmware
A lot of people have also been asking about the firmware update. You can downlaod the firmware pack online. Its actual size is around 23MB. Below are the following files that you need to download for firmware upgradation. The firmware update will help you to have better stability in panorama mode; it will also make the calibration process fast. Wind resistance and video quality will be increased, and the input bit rate will be increased from 45Mb/s to 55mb/s.
ZINO firmware files
ZINO V.1.0.47(firmware for flight control board)
ZINO_G-V3.0.2.1 (firmware for gimbal )
ZINO­_IT-V0.3.4ub25(firmware for camera board )
Below are some of the important points that you have to keep in mind during upgradation.
If you bought the drone recently, then you'll be having the latest firmware. You don't need to download any firmware in that case.
SD Card that you should have is to be in FAT 32 format. Other formats won't support it.
Also, check the app version is also up to date. Otherwise, you'll face the connection issue.

Review
In this section, we'll talk about some of the important aspects of the drone. It covers build quality, camera specs, performance, and transmitter. So, read this section properly as it will give you a better idea about the drone.
Build Quality & Design
As we have already mentioned that it looks quite similar to Mavic Pro in looks. It has a foldable design which makes the drone more portable. Good Quality plastic is used in the quadcopter, and it can easily survive the minor crashes. The controller is also pretty good and fits perfectly in your hand. Its white coating on the black body gives it a real premium look. It is actually a professional grade drone at an affordable price. Spark has trapezoid front while Zino comes with a curved front.
Camera Quality
It comes with a 12MP camera with three axis gimbal stabilization. You can create some cool cinematic footage with it. You can record at 4k at 30fps and take your videography to the next level. It's better to have a high-speed memory card and with good storage so that you don't run out of the space during the flight (128gb is recommended).
Flight Performance
As we have already mentioned that it comes with GPS/GLONASS positioning system that gives it a smooth flight experience. The drone is very responsive to the controller, and you can fly it at really great speed. There are also some autonomous flight modes that you can try that includes Waypoint mode, Orbit Mode, and Follow Me mode. You can fly up to 2.5km which is a good enough range up to 37mph speed.
Remote Controller
It has an advanced transmitter with a really good build. It has dual antennas which make the transmission glitch free. Its transmission frequency varies between 2.4GHz to 5.8GHz, which makes the drone more responsive. It has good finishing, for a moment you feel like as if you are holding a gamepad. Its LED indicator keeps you updated with battery status. It has a foldable smartphone mount where you can easily fix the device up to 7inches.
H117s Coupons
Below are some of the coupons that you can try if buying from Banggood.
Coupon Code 1: 502C6B
Coupon Code 2: TTxBG10
Coupon Code 3: BG15H117S
Coupon Code 4: TTxBG10
EXTRAS
If you want to buy some cool drones, there are actually few in the market. There is a technology in which Drone can be launched through grenade launcher. If you want to use drone for fishing, This drone can swim under the water.
Pros & Cons
In this section, we'll brief you about the Pros and Cons of the drone. We'll cover both positive and negative sides. Please go through it properly so that you have good clarity before buying the product.
PROS
The drone has solid build quality. It looks the twin of mavic pro and costs half of its price.
With this drone, you get 23 mins of flight duration, which is really good. You need not buy any extra battery.
It has a 12mp camera with three axis gimbal stabilization which can give you really cool cinematic footage.
Its dual GLONASS positioning system gives better flight performance.
If you are a beginner and thinking of buying your first drone, then it could be the good one to start with as it is very easy to fly and its app has a straightforward navigation system.
CONS
Considering the safety, you have to control everything by yourself as there is no proximity sensor as such.
You need to go for FAA registration as it weighs over 0.55 lbs.
There are a few other better drones as well at an affordable rate that you can give a try.
Better Alternatives
Conclusion
If you are a looking for a high-end drone with great performance without breaking your bank, this quad could be a good one to try. Xiaomi is also giving really good competition to the Hubsan as they are also launching some really cool affordable drones. XiaomiA3 could be the right alternative as it comes with better stability.
There are a lot of cheaper drones which comes with features like Orbit Mode, Visual Tracking, and waypoint mode. But, with this one, you get more precise and efficient performance. If you don't want to spend $300 then we have mentioned our recommendation above that you can check.

What is your opinion about the Drone? Do you think it's better than the DJI Spark? Do let us know in the comments below; It'll help our readers.