Hubsan is known for making some really cool beginner's drone. Their drones are very affordable and suitable if you are buying your first one. We all know that DJI dominates the drone market, but their drones starting price is around $400-500 that could be costly if you are not buying it for professional use.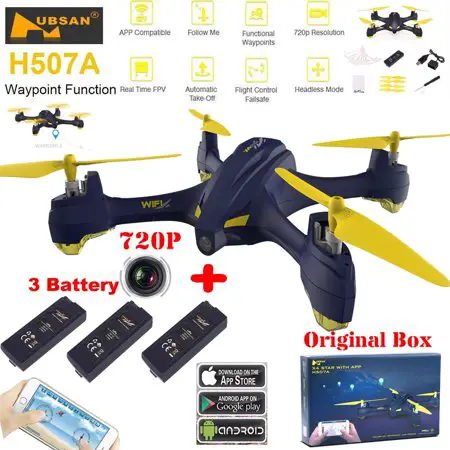 So, today we'll talk about this hubsan x4 h507a under $100 model which has some really advanced features and worth having a look at. It comes with an inbuilt GPS system with a 720P camera, and you also get live feed to your smartphone through WIFI. What is really remarkable that you get some advanced modes to try that includes orbit mode, waypoint mode, follow me mode, and few others.
Let me tell you that these are the features that you get in the quadcopters which cost around thousands of dollars. But here you get everything so cheap. If you don't want to use the controller, you can operate this drone through your smartphone as well. Though, you should have some drone flying experience if you are using the smartphone as the controlling of the drone because it won't be that smooth with your phone.
If we take the drone market into consideration, since the last couple of years, the demand has increased exponentially, especially in the field of the recreational drone. Hubsan does its best to cater to these demands. Today, in this article, we'll talk about different important aspects. So, i will highly recommend reading this article thoroughly, in case if you have any confusion, you can let us know in the comments below. We'll try to reply as soon as possible.
Below is the list of items that you get with Hubsan x4 H507A unboxing.
Hubsan X4 H507A Quadcopter
USB Charging Cable
Li-Po Battery (7.6V 550mAh)
Screwdriver
Self-locking blade screws (8)
Rotating Blades (8)
Instruction Manual
Review
In this review section, we'll talk about some important aspects of the drone. We'll cover build quality, camera specifications, different modes, and others. So, read this section thoroughly so that you have proper clarity about the product that you are buying. Let's dive into each one of them one by one.

Advanced Modes
Having a price tag less than $100 and having all these features really make this quadcopter stand out. Below are some of the main modes that you can try in this drone.
Follow Me Mode: If you are riding a bike or walking in the beautiful landscape and you want to capture that moment. You can use the follow me mode where the drone will set its focus on the subject and follow it wherever the subject goes. This mode will take some time to master and will add a new perspective to your cinematic footage.
Headless Mode: When you are a beginner, you often get confused with the drone orientation. If drone nose is facing front, the left push will fly it, and if it's facing towards you, it will do the opposite, and it is really confusing at times. So, when you are using the headless mode, the controlling will remain the same, no matter which direction, the drone is facing.
Waypoint Mode: In this feature, you can set some points on the map, and the drone will follow it autonomously. In this function, you can enjoy the thing, and the quadcopter will take care of everything by itself.
FailSafe Mode: Security and safety are very important for the drone. This mode allows you to ensure it. If the things are not working like some technical glitch, or you lose connection. In that case, you can simply press the RTH button, and drone will come back from where it started.
Drone looks good
It is very weird, but the data shows that when it comes to buying drone, apart from looking at the build quality, people also look at the finish & looks of the drone. If you are one of them, then this quadcopter will be a perfect choice for you. It comes in a blue color and has some yellow shades as well. It has a very smooth finish, no pointy edges.
Camera Quality
It has a 720P camera which allows it to record some decent HD quality video. Don't expect very good quality footage like DJI drones, but still, it does a pretty good job. As it doesn't have a gimbal or any EIS feature, you'll have a shake in the footage. It's a beginner drone; you'll learn a lot about the frame and shot composition.
In live feed, you might see some latency issues here and there. If you are thinking of flying FPV, this might not be the best drone.

Performance
The drone can fly up to 100m, which is a decent range for flight. The drone is very small; if you are thinking of flying it very far, you might not see it with your open eyes. So, the range is good enough. It has a 550mAh battery which takes around 45minutes to get fully charged. You can fly it up to 8-10mins, which is average. I would recommend you to buy some spare batteries so that you can have consecutive flights without a glitch. If you are wondering how to setup the drone, you can read the user manual over here.
Warranty
Hubsan comes with six months of the warranty period. In case you face any problem during the warranty period, you can ask for the replacement from Hubsan. You can contact them via their product support page. You can email them or use their online support; they are very quick to respond.
https://www.hubsan.com/support/
Extras
If you are looking for some cool drones, there are a few. There is a technology in which Drone can be launched through grenade launcher. If you love fishing and want the drone that can help, so check this out, this drone can swim under the water. You can also read about Parrot Anafi vs Hubsan Zino over here.
Technical Specifications
| Hubsan x4 h507a | Specifications |
| --- | --- |
| Flight Time | 8-10 minutes |
| Camera | 720p |
| Maximum Distance | 100m |
| Built-in gyro | 6 Axis Gyro |
| Battery | 550mAh |
| Quadcopter Size | 225*225*60mm |
| Gyro | 6 Axis |
| Flight radius | 70 meters |
| Price | Check Here |
Watch the Video till End
Pros & Cons
In this section, we'll cover the main points. Please quickly go through them to have a better idea about the drone. It includes both the sides advantages and disadvantages.
Pros
It has the good build quality and looks very good as well.
It is compact in size. Could be the right companion for your backpack travel.
Application is easy to use. It has simple navigation; you can switch between the setting pretty easily.
It has some advanced modes. There are very few drones with these many features at this price range.
Cons
Though it has a 720P camera. Still it the video quality is not that good.
The camera is tilted at one angle. You can't even change manually.
There is no manual and electronic stabilisation; you'll have shaky footage.
The battery takes longer time to charge, which could be a pain if you don't have spare batteries.
There are other few better alternatives at this price range.
Better Alternatives (Recommended)
Conclusion
This drone is a perfect drone for the first time flyers. It has all the features that a novice should need. At this affordable, it is one of the best Hubsan deal. It is very easy to fly and can easily master after a couple of take offs.
Trending Gadgets in 2021