Today, in this article, we'll talk about one of the most popular Hubsan drone, X4 H107C. This is a compact beginner drone suitable for the first time flyer. People have been asking a lot of questions about it that includes range, what is the max altitude hold, what to do when blue led blinking, and others. There are also questions about controller, drifting, firmware, and troubleshooting issues. We'll try to cover them all. In case after reading the complete article, you have any doubt, you can let us know in the comments below. We'll try to respond as soon as possible.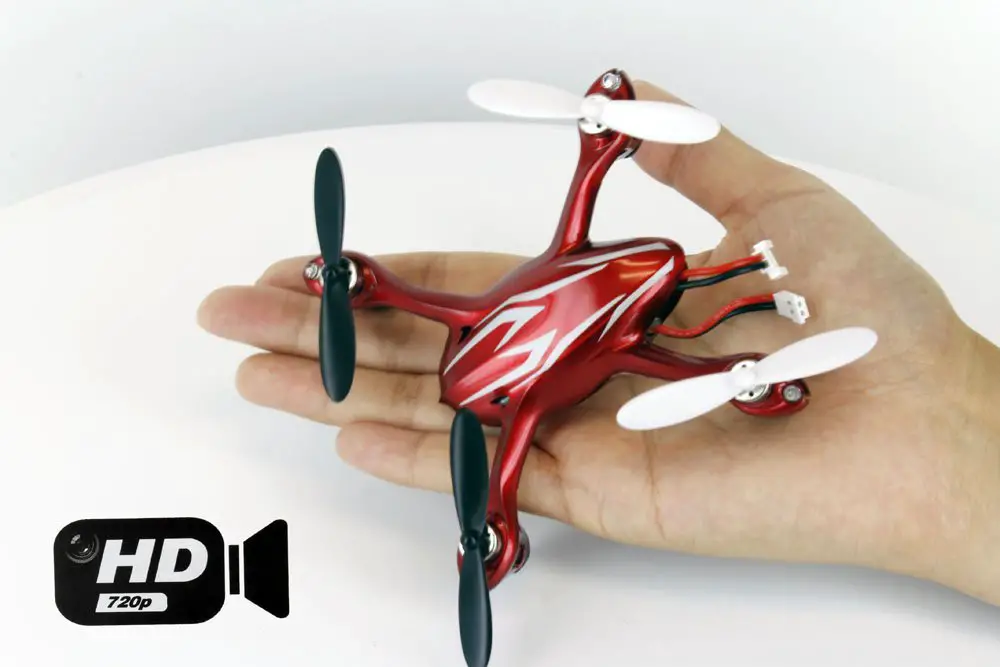 What i really love about this drone that it is very easy to fly, flight performance is very stable and smooth. It is one of the best drones in this price range. There are other companies as well, which makes the affordable drones, but what you get in return is a completely cheap product with no value. But, in the case of Hubsan, you get a pretty decent quality product. Below is the list of the items that you would be getting inside the box.
Hubsan Drone
3.7V 380mAh Li-Po Battery
2.4 GHz 4-Channel Transmitter
Spare Propellers
Prop Guard
USB Charging Cable
User Manual
Technical Specifications
| Hubsan X4 H107C | Specifications |
| --- | --- |
| Motors | 4 Coreless |
| Flight Duration | 9minutes |
| Charging Time | 30mins |
| Camera | 2MP |
| Gyro | 6 Axis control |
| Memory Card | Micro SDHC(not included) |
| Battery | 3.7V 380mAh |
| Video Res | 720*480 |
| Price | Check Here |

Hubsan x4 h107c Review
In this section, we'll talk about some of the important aspects of the drone that includes build quality, controller, camera quality, and flight performance. It is recommended to go through all the points properly so that you have a proper idea about the product you are buying.
Camera Specifications
As it is a beginner drone. Don't expect too much from it. You can record video at 720*480 resolution at 25fps. The quality is pretty basic, but you can learn about how to frame the shot and composition. This quadcopter will teach you a lot of things about controlling drone so that when you buy an advanced drone, you know how to use it properly. All the media will be recorded to microSD.
When the quadcopter start recording, you'll see the LED lights blinking. Make sure to check the memory card space before you fly your drone; it should have enough space to record during the flying time.
Controller
You get a controller with the drone kit which has decent quality build. It looks very cool and fits perfectly in your hand. You feel like as if you are holding the gamepad. It also has a tiny screen on it that gives you an ample amount of flight data. It also has a backlit feature that allows you to have clarity even in low light conditions. What i really about the small screen that it also shows you the percentage movement of the throttle, so that you actually know how much more, you can push.
Flight Performance
Even though it comes under $50 range, still it won't let you down when it comes to its smooth flight performance. It is very easy to control, even if you are a novice, you can easily master it after a couple of flights. The drone is very responsive, so don't push it too hard when you are flying it for the first time. Also, it's better to take it off at open ground till you master it. You get propeller guards with the quadcopter; you can use them to ensure better safety.
Flight time and Battery
It comes with 3.7V 380mAh Li-Po Battery that gives you around 7-8 minutes of flight time, which is pretty average. The battery gets fully charged in just half an hour. Better to have some spare batteries, so that you can have flights back to back without any glitch. They are available online at cheaper rates. Also keep the batteries at the right place, (No Humidity).
Solid Build Quality
When it comes to its build quality and design, the quadcopter doesn't disappoint you. It is very compact, and you can easily carry it from one place to another. It is only inching tall and 3 inches wide. Without the battery, it only weighs 40grams, which gives you an idea about how lightweight drone is. You can fly the drone indoor without a problem, but when you are flying it outdoor, make sure there is no breeze, small wind and drone goes out of control.
The quadcopter frame is made up of plastic. You'll definitely crash it but what i really appreciate that the parts are easily replaceable and you can find them cheap online. It has small rubber landing gear which doesn't give you very good ground clearance. So, when you are landing, be very careful; otherwise, it might topple.
Hubsan x4 h107c app Download
The app is supported by both iOS and Android devices. The app name is X-Hubsan, which is all in one app for most of the hubsan drones. It is very easy to use, simple navigation, and you can quickly switch between different setting options. You can also customize flight parameters as well. It supports models like H501A, H507A ,H501M& H216A. You can download the apps from below given links.
https://play.google.com/store/apps/details?id=com.csk.hbsdrone&hl=en_IN
https://itunes.apple.com/us/app/x-hubsan/id1060983468?mt=8
Pros & Cons
Pros
The drone has a decent build quality and suitable for indoor flights.
The quadcopter is super cheap. Even if you crash it on your first flight, you probably won't regret it.
It also has a camera and different flight modes to choose from.
If you are buying your first quad, this is the best option to go for.
Cons
Flight duration of the drone is pretty average.
Not suitable for outdoor adventure. Small wind and it will start waving to & fro.
The camera quality is pretty basic. In low light condition, the footage won't even be visible.
The battery takes more time to get fully charged. It also doesn't have an FPV feature.
Syma x5c vs Hubsan x4 h107c
Syma x5c is better in terms of design and build quality, which makes it a little bit costlier than the Hubsan drone. You get LED lighting, a propeller and colored body with Syma. When it comes to the smooth flying experience, Hubsan X4 H107C is very easy to fly in comparison to the Syma X5c. It is a bit different in camera quality as well. If you want a super cheap product, you can go with hubsan if you want something bit decent at a higher price, Syma X5c is the option for you.
Hubsan X4 H107C vs Hubsan X4 H107L
both the drones have the beginner and expert mode, which is really helpful if you are a beginner. When you are using the drone in beginner mode, the drone will be less responsive, and the chances of crashing it comes down. The main difference between both the quadcopter is off camera as letter C stands for "Camera" over here. In H107L, you don't get any camera, so you can use it for fun for playing around. Though when it comes to durability, H107L clearly has the edge over H107C. The drone can survive minor crashes.
Summary
If you are buying your first drone and you don't know much about flying. I would say, "Go for it." It is tough to find a better deal at this price range. It also has a basic camera and some advanced modes to try. It is very small and weighs less than 40grams. If you have a 10years old kid and thinking of giving him a gift, this could be a perfect surprise for him. We have covered all the important aspects of the article. Please let us know in the comment below, what is your opinion about this mini-drone.
Trending Gadgets in 2021