There are hundreds of companies when it comes to the drone industry. Some make drone for agriculture; some are focused on making high-end professional drones for filming while there a few completely focused on beginners market, making drones for recreational enthusiasts. Hubsan is one of them. Today in this article, we'll talk about Hubsan H501A drone, a mid-level drone suitable for both novice and experienced pilots.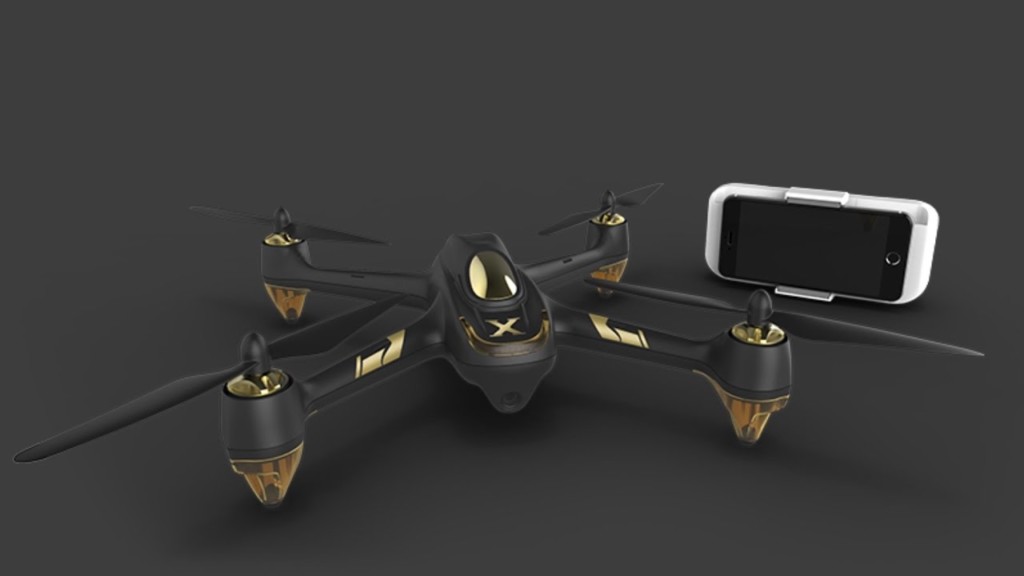 It has some advanced features and capable of recording in 1080P. There are a lot of other drones as well in Hubsan X4 series, but this one stands out. It has a unique build quality and comes in black and golden color. When you hold the quadcopter in your hand, you feel like as if you are holding a high-end premium drone.
We have seen a lot of surge in the drone enthusiasts in the last couple of years. And in upcoming years, it's going to be a billion dollar market. Companies like Hubsan are expected to do good as they provide the drone experience at a really cheaper rate. So, if you are looking for drones around $100-200 range, then Husban is the brand that you should go for. The H501A X4 comes in a compact box with nice packaging. Below is the list of items that you get with the drone.
H501A Quadcopter
Remote Controller
7.4V Lipo Battery
4 Spare propellers
AC Adapter
USB Charging Cable
Balance Charger
Wrench
User Manual
Technical Specifications
| Hubsan H501A | Specifications |
| --- | --- |
| Dimensions | 311*311*70mm |
| Quadcopter Weight | 410g |
| Rotor size | 185mm (7.3 inches ) |
| Flight Distance | About 300m Max |
| Motors Brushless | KV1650 PM1806 |
| LED Indicators | Yes |
| Battery | 7.4V Lipo |
| Camera | 1080P |
| Price | Check Here |

Drone Review
Camera Quality:
The camera is the forte of this drone. There are actually a very few drones in the market at this price range with 1080P HD camera. The field of view that you get, also very good, which is 120 degree. You can do some really good videography with the camera and make your footage more cinematic. What i really love about the drone that you can actually choose among different frame rates. The max bitrate that you get here is 60Mbps. The photos are in JPEG format, while video formats are MP4, MPEG-4, and AVC/H.264.
I would recommend you to use the 16GB micro SD Card with Class 10 UHS-1 rating for a better experience.
Battery:
You get 7.4V 2700mAh battery with the quadcopter. It takes around one and half hour to get fully charged when you get around 20mins of battery backup that is pretty decent. I don't think that you need an extra battery, but if you want, you can buy it online at a really cheaper price. The max battery current flow is 16A. There are a couple of things that you have to keep in mind regarding battery safety. Keep the battery at a safe place (No humidity). In case you are using some different charger, make sure it has the same voltage and ampere rating.
Advanced App
The app is very easy to use with simple navigation. You can quickly switch among different setting options. It allows you to have real-time transmission through WIFI connection.
There are also different modes available that you can give a try for better flight experience. Though there are a few modes which are really advanced, and you'll take some time to master it. So, I'll highly recommend you to go through manual first, so that you know all the important instructions before using it. You can download the App for iOS and Android  from here.
Different Modes
There are also different modes in the drone that you can try. They are really helpful for the beginner, so let's dive each one of them one by one.
Follow Me Mode: If you want to capture a moving object. This is the mode that you should go for. It adds a different perspective to your footage. It works well when the subject is walking in a beautiful landscape. The subject should not move too fast; it might go out of the frame.
Waypoint Mode: In this mode, you can set the points on the map and make the route, and the drone will follow the exact path. Make sure that there are no hurdles on the way to avoid any kind of glitches in between.
Headless Mode: This mode is really helpful for beginners. When you are flying the drone for the first time, you face a lot of problem regarding its orientation. But this mode takes the confusion away and controlling remains the same no matter at what direction it is facing.
Gravity Sensor
It also has a gravity sensor, which is really a cool feature to try. With this feature, the drone responses according to your smartphone movement. Here, the responsiveness will be bit different. A small movement will give a huge push to the drone. So, when trying this mode, be a little bit careful. I would recommend you to try this in open ground, no crowd around.
Transmitter
It has a good quality controller which fits perfectly in your hand. All the buttons are at the right place so that you don't feel the strain on your fingers while using it. There are small LEDs at the bottom of the controller that lets you know the status of GPS and WIFI.
There are also additional dials on the shoulders of the controller with which you can control the camera, switch from photo to video mode, and much more. For more information, download the user manual from here.

How to Setup
The drone almost comes preassembled. Setting up the drone is pretty simple. Below are some of the important steps that you have to follow.
Once you take the drone out of the box. The one thing that you have to do is to attach the propellers to the motors and insert the battery.
You will be getting with propeller wrench in the box that you can use for installation. Make sure you tight the props properly so that they don't come off mid-flight.
Once all physical setup is done. Turn ON the drone by inserting the fully charged battery.
Then turn on the controller and try to connect to the quad through the App. The transmitter needs to connect to the drone's WIFI.
Difference Between H501A and H507A
There are too many variants of the Hubsan drone that sometimes you get confused. H501A is an entry-level professional drone and comes with some advanced features, while H507A is a beginner's drone and comes at a cheaper price. You'll also see the difference in camera quality, battery backup, and flying modes.
Though when it comes to build quality, there is not much difference as such. So, the choice is up to you whether you want to go for high-end H501A or you want to go for cheaper H507A.
Watch the Video till End
FAQs
How to download the user manual of Hubsan H501A?
You can download it from here.
What SD Card recommended for the quadcopter?
It supports up to 32GB. Use Class 10 for better performance.
How's the transmitter display quality?
It is pretty good. 5.8GHz and supports FPV function.
Do we have different speed modes?
Yes, there is a beginner and expert mode.
What is the drone flight range?
It's around 300meters.
What is the best drone under $50?
Here are the best drone under $50 in 2021
Trending Drones
Yuneec H520 Commercial Drone Review
Top 10 Drones for Real Estate Photography & Videography
Sensefly Ebee X, SQ, Classic & Plus| Price, Manual & Parts
Xiaomi Fimi A3 5.8g 1km fPV GPS Drone Review
Xiaomi fimi x8 se 4k GPS Drone Review