Nowadays, brushless motor drones are getting popularity as they give a better thrust and make less noise. Today, we'll be talking about one of the most popular Hubsan H109 X4 drone which comes at an affordable price and also has some advanced features as well. The drone has the good build quality and design that is very hard to find at this price range. Its 200kv brushless motors allow the drone to fly at a higher speed. There is also the functionality for additional FPV camera that you can go for if you want a more immersive experience. What i really love about the quad that it comes with 2300mAh battery that gives you up to 20mins of flight duration.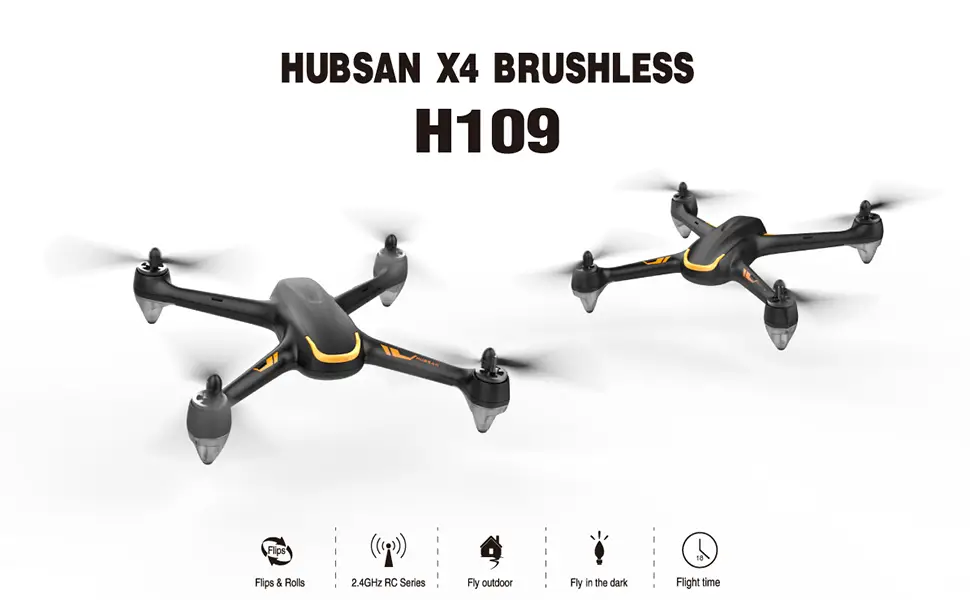 If you are thinking of buying your first recreational quadcopter, this could be a good one to start with. In Most of the drones when the battery is low, you can't control it through transmitter but with this one, according to the company, you can land it back safely even though the battery is only 5%. Its compact design makes it very small in size so that you can easily carry it while doing your backpack travel. Below is the list of the items that you would be getting with the Hubsan H109 kit.
1 X Hubsan Drone
1 X LiPo battery (7.4V 2300mAh)
4 X Propellers
1 X Wall Adapter
1 X Balance Charger
1 X H109 Instruction manual
Drone Review
Easy to Fly
When you see people flying drones, it might look very simple. But, believe me, if you are flying it for the very first time, it's not that easy as it looks. This drone is suitable for beginners as it has an inbuilt GPS system with features like Return to Home. It has very good altitude hold means when you leave the throttles, it will stay wherever it is. It is also "Ready to Fly" out of the box, you don't need to do any kind of assembly. Just charge the battery, and you are ready to roll.
Battery & Flight Duration
It comes with 2300mAh battery that can be charged in 45mins and you can fly the drone up to 20mins. I would say that flight duration is pretty good as other drones at this price range generally has up to 10mins of flight time. Make sure; you don't overcharge the battery, if you are using some different charger, it should be of the same voltage and ampere rating. If you want a better experience, you can go for the spare batteries which are available online at a really cheaper price.
Fun Features
As it is a drone very popular among kids and high school students because of its cool features. You can do 360 flips and rolls with the drone with the click of a single button. Make sure when you are doing it, the drone is at the proper height, otherwise, you'll end up hitting it on the ground. I would recommend that when you do it for the first time, you better do it indoor above your bed or when you are doing it outside, you have some grassy surface.
Camera & FPV Option
In the base kit, you won't get the camera and FPV System. You can spend some extra bucks and get this camera and FPV. FPV will give you a more immersive experience. But some users said that though you get the 1080P camera, still the footage is not very good.

Hubsan H109 Parts
If you want to buy some spare parts, they are easily available online at a cheaper price. Below are some of the accessories that you can buy from Hubsan Official Site.
Body shell: You can buy the body shell for the quadcopter. It will make the drone more secure. It increases the durability of drone, and your quad can easily survive the minor crashes. Keep in mind; it will also reduce the flight duration a little bit as the weight gets increased.
Head lampshade: If you want your drone to look good, you can also go for this yellowish head lampshade. It makes your quad look better and gives a premium feel.
Rubber Feet: Landing is a very crucial part when it comes to the flying drone. Often times, when the surface is uneven, the sudden landing might topple the quad. You can buy the rubber feet; they cost less than $2.
Feet LED LampShade: When you are flying in the evening or low light condition, it becomes quite difficult to figure out what is on the surface, where exactly the drone is landing, in that case, you can go for this LED lampshade which fits at the feet of the drone and gives you the better visibility while landing.
Hubsan H109 Manual
Before flying the drone, you should first understand your drone. So, know what different parts are, how does transmitter work, what is safety precautions for battery and others. Then, before taking off the drone, you should go through the pre-flight checks to ensure the safety of the flight. For more information, you can download the User Manual PDF over here.
Hubsan h109S parachute
If you want parachute mechanism for your drone, be ready to spend some extra bucks. It is not supported in H109. Instead, it works with H109S & X4 Pro model. Parachute is by some separate company, and a lot of users are very skeptic about its efficiency and precision.
EXTRAS
If you want to buy some cool drones, there are actually few in the market. There is a technology in which Drone can be launched through grenade launcher. If you want to use drone for fishing, this drone can swim under the water. You can also read about Parrot Anafi vs Hubsan Zino over here.
H109s firmware update
If you own the H109s and wondering how to do the firmware update, then don't worry. Read this section thoroughly, and your problems will be solved. To do the firmware update, firstly you need to connect your drone to the computer via USB port. You can choose between update tool version 1 and version 3. If one fails, you can try the other one.
**IMP: During the firmware, there should not be any power cut and USB cable should be connected properly. A simple mistake and you might need to change your FC board.
Below are steps for a firmware update.
Identify the right firmware for the drone. It could be either ALPHA or BRAVO. You can go to the drone type option for more information.
Then, connect the quadcopter to the computer via USB cable. Then insert the battery in it.
Once the battery is connected, wait for your computer to recognize the quad.
Now, you'll see purple lights blinking, and the drone will beep in every couple of seconds.
Click on the update tool version 1 or 3 and start the upgradation by pressing the button. Once the firmware update is done, the lights will be amber. In case you face any issue, start the whole process again.
Affordable & Better Alternatives (Recommended)
Summary
The quadcopter is worth its price tag and comes with some advanced features. It is easy to fly; even a novice flyer can get used to it after a couple of flights. Though there is some downside as well that you don't get camera and fpv system, for these features, you need to spend some extra bucks.

Trending Gadgets in 2021