Signia Falcon Drone is one of the high-end drones at an affordable price that you can buy in 2019. It is the perfect example of Aerial Intelligence, and it will transform the way people fly the drones. This high-performance quadcopter is smooth and stable, and at the same time, it is very quiet as well. The battery backup that you get with the drone is remarkable; the company claims that it can last up to 31minutes. They also add that it can withstand the extreme weather conditions whether it's hot or cold. Automated flight Modes present in the drone takes your creativity to the next level and allows you to capture the amazing, beautiful shots.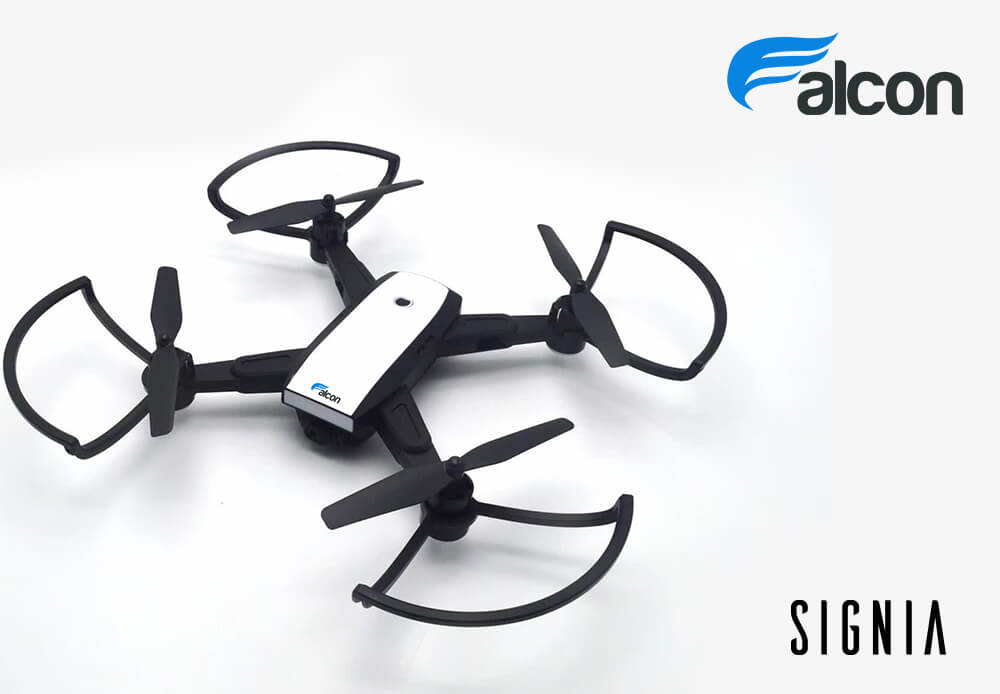 It has real-time glitch-free video transmission that allows you to see the things from quadcopter's perspective. The camera that you get with the UAV is ultra HD which you can tilt vertically. Its advanced flight system makes the drone suitable for beginners as well. There are a very few drones which have the capability of zooming, but here, you get 2.8X lossless zoom that allows you to focus more on the subject. The drone is suitable for budding filmmakers as it will help you in taking creative aerial shots. The camera is the forte of this quadcopter, and that's why it is loved by so many people.
Signia Falcon has received excellent rating online. We will dive deep into its specifications in the further sections. When it comes to its build quality, it has a foldable design which makes it more compact, portable and you can also call it one of the best backpacker drone.
Falcon has been in the UAV industry since the last couple of years, and I would say hands down that it is one of the best drones that they made. You also get carrying case with the quadcopter in which you can fit in all the accessories perfectly. The company also claims that Falcon unfolds and becomes ready to fly in less than 3 seconds. You also get unique type C Charging which gets your battery charge very quickly. You can charge it with the help of a power bank or regular type c phone charger. Below are some of the items that you will be getting with the package.
Falcon Quadcopter
Remote Controller
Carrying Case
Battery (1)
8 Spare propellers
Screwdriver (1)
Signia Falcon Drone Review
In this section, we will talk about important aspects of Signia Falcon Drone. We'll cover the build quality, camera specifications, flight performance and much more. So, without wasting much time further, let's dive into each aspect one by one.
Build Quality:
This quadcopter has a straightforward design. It has a white color body and black color blades and propellers. It also comes with the propeller guards that protect the drone from damage during crash. Once, its arms are folded, it becomes tiny, and you can easily fit in your bag. Keeping the camera specifications into consideration, I will say that it is worth every single penny of investment. If You are a traveler and want a drone which can shoot in HD; then this is going to be the best companion. The quadcopter's frame is made up of ABS which makes it more durable. The company claims that you can unfold and it in less than 3 seconds and get it ready for flight. The remote controller also has a very sturdy build, and you get a perfect grip with it. Here, the mobile holder is not on top, instead it's at the bottom of the quadcopter.
LED Lights:
It also has bright color LED lights which allow you to keep track of the rear and front part of the quadcopter. You can also fly it in low light condition. If you are thinking of flying it in the dark, then only try if you are experienced pilot. If you are flying the drone for the first time, then it's not recommended to take out the drone in the night.
Battery Backup & Charging:
The battery backup of the drone is one its forte. You get around 31mins of battery backup that gives you the good flight time. There are a very few drones in this range which are capable of this good flight duration. The battery gets charged quickly as it uses the type C charger in this case. You can charge it is connecting through or computer or power bank. It supports power bank up to 24W which gives you faster charging than the regular chargers.
Flight Performance:
When it comes to drone flight performance. It is simply amazing. Its altitude hold and return to home are very precise. If you are a beginner, you will learn to handle the quadcopter pretty quickly. It is very stable even in windy situations. The company also claims that it can easily survive extreme weather conditions. When it comes to the motors, they have very good torque; the drone can fly up to 44mph and have good wind resistance. Its automated features and advanced modes add fun to the flight experience. It has embedded artificial intelligence which ensures smooth flight performance. I would give this drone five out of five when it comes to its flight performance. The drone is smart and powerful at the same time.
Camera Quality:
It has Ultra HD Camera, and you get very good quality footage. You can also tilt the camera accordingly and can set the composition and frame at your disposal. Its wide-angle camera gives you the good field of view, and you can also do the zoom in up to 2.8X. The company claims that you don't lose any pixels in zooming and you get the lossless zoom. When you want the low angle shots, you can go with a vertical tilt option.
Advanced Remote Controller:
You get an advanced remote controller with the drone. You need to download the Iridium 9 App which is supported to iOS and Android both. Its piloting interface is very intuitive and using the controller is very comfortable. All the buttons are in your reach; you won't have a strain in your finger while using it. You can also share the content on social media directly through the app. The throttle sticks are very smooth, and the drone is very responsive to the controller.
Easy to Use App:
Iridium 9 App has very easy navigation and simple interface. All different modes and setting are easily available on the home screen. You can watch the tutorial about the app from the official website to know how to use it. As soon as the drone is connected to the controller, you will start seeing the live feed on your smartphone app screen. If you love taking selfies, then you can go selfie mode and capture amazing pictures with your friends and family.
Multiple Modes:
The quadcopter also has multiple advanced modes which allow you to take your creativity to the next level. You can try the 360flips which will add fun to the flight experience. Though, if you are a beginner, take some time to master it, then only go ahead otherwise you might get your drone crashed.
Warranty:
Falcon company is known for making high-end products, and they have very good customer care. You get one year warranty with the drone and six months with the spare parts. For more information about their terms and conditions, you can visit their official website.
Technical Specifications
| Drone | Specifications |
| --- | --- |
| Warranty | 1 Year |
| Camera | Ultra HD |
| Modes | 360 Flips |
| Build Quality | Decent |
| Max Speed | 44Mph |
| Charging | Type C |
| LED Lights | Yes |
| Headless Mode | Yes |
| GPS | Precise & Accurate |
$1Million Drone Race: Watch the Video till End
Better & Affordable Alternatives (Recommended)
Conclusion
The drone is perfect for beginners. Though, it is not very popular online, It has all the features that you need in an ideal starter drone. Its flight performance is amazing. You get Ultra HD video quality with the camera. And the end it is also available at affordable price. Below are some of the best selling alternatives as well that you can have a look at. If you have any confusion, you can let us know in the comments below; we'll try to respond as soon as possible. Till then…
Happy Flying!!
Reference [Review is based on reference site. For more information, please contact them through their official Site]
Trending Drones of the Month
Potensic D88 foldable drone Review