Eachine is known for making some of the most affordable quadcopters. Today, in this article, we will discuss one of a drone under $100 range. This comes in a unique design, and it will certainly draw some eyeballs when you are flying it outdoor. The Vwhoop90 is a super lightweight quadcopter made up of three layers of polystyrene. It weighs under 50grams, and its dimensions are 15 x 12.5 x 3 cm. With VWhoop90, you will have Crazybee F3 flight controller which is from Racerstar. This F3 controller is used in various other quadcopters and very successful in terms of glitch-free transmission.
The quadcopter has 4A ESC brushless motors which give it better lift and you also get the less noisy UAV. Here, the quadcopter has tri-blade propellers which give the better lift, and you can quickly and easily take off the Vwhoop90, what I love about the props, that they are covered by drone body from all the side which eliminates the possibility of possible crashes. This kind of build quality makes the drone suitable for indoor flight, and it can also survive minor crashes without taking too much damage.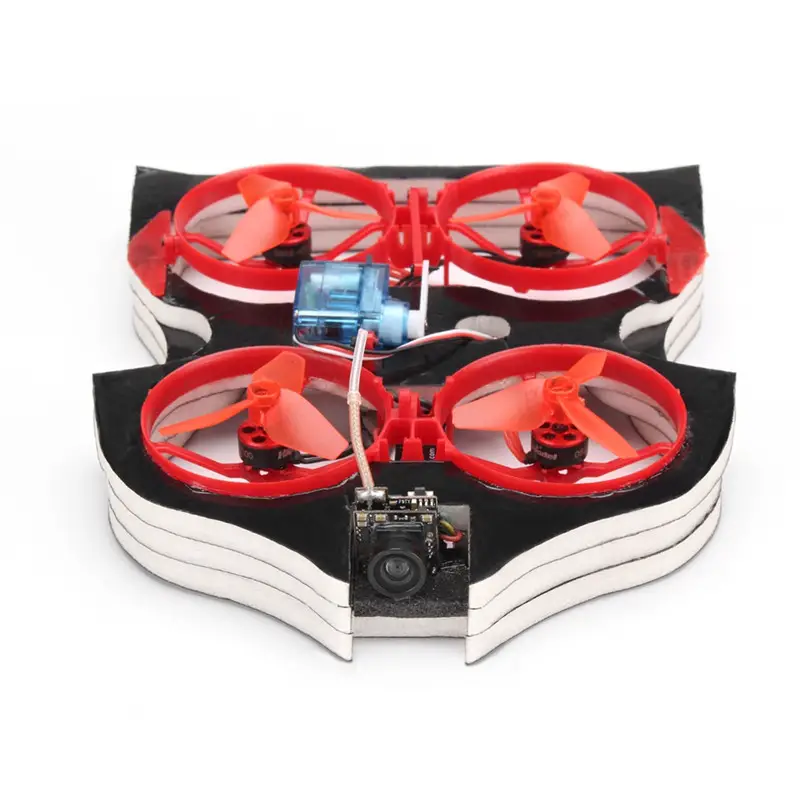 In case, you break any parts, the spares are available at affordable prices online, and you can replace them easily. The Company claims that it is an amphibian drone and you can transform it completely by changing the alignment of the rotors by shifting the hinges. Here, you won't be having the conventional motors. Instead, you have this servo motors that gives you more flexibility and freedom. Below are some of the items that you would be getting with the box.
1 x Vwhoop90 Quadcopter
1 x Flight controller Crazybee F3 (Option Frsky or Flysky or DSM)
4 x Brushless Motors SE0802 KV19000
1 x VTX&Camera 5.8G 25mw 40ch
1 x Servo
4 x Propeller
3 x 3.8v 250mah 30C/60C Lipo Battery
1 x USB Charger
Vwhoop90 Quadcopter Review
In this section, we will talk about the different aspects of this under $100 eachine drone. We will cover build quality, camera specs, flight performance and much more.
Build Quality:
The drone has a unique build quality. It is made up of three polyester layers which makes it super lightweight. Its body is black in color and propellers are red. The propellers are covered by the plastic body that eliminates any possibility of crash damage. The drone at first glance, might not look very sturdy, but believe me, it will easily survive the minor crashes. What I love about the drone that it has unique servo feature that you won't find in any other drone. You can control the inclination of motors. Controlling of the servo can be done with USB connection, you don't need to insert the battery. There are three different positions of the motors inclination that you can choose here; horizontal, 45degree and vertical. You can also do servo modification if you dig deep into Betaflight controller settings. If you are using the UART3, then you will have a smart audio feature enabled. Without the battery, the drone weighs around 36grams, and its dimensions are 155*120*30mm.
Flight Performance:
Not a lot of people are happy with its flight performance. What is interesting about this multirotor that it takes off in the forward direction. The drone is not very stable, it will always keep on gliding, and you have to control its position manually. A lot of flyers complained about its floating sensation. If you are a newbie, then you are going to have a hard time mastering it.
Amphibian Drone:
The Company claims that Eachine VWhoop90 is also an amphibian 2 in 1 FPV racing drone. Either you can fly it as a quadcopter in the air or drift it on the surface as a racing car. The motors should be horizontal or 45 degrees when you want to make it fly. When you are using it on the surface, make the propeller alignment vertical with the help of servo. Don't use it in the rough surface; it works well when the surface is smooth like a synthetic coating. The Vwhoop90 is fast and quick; it doesn't topple down until or unless you hit it hard on the surface. A lot of users find the drifting a lot easier than flying it.
Camera Quality:
You also get 5.8G 25mw 700TVL Camera with the drone which gives you the real-time transmission. The field of view is 120 degree. The video format that you would be getting here is NTSC. The camera is completely open, hanging outside which makes the drone camera bit fragile. Though, don't expect a very high-quality video with it. You have to compromise with it. I won't call it a fader drone with an HD camera, but I will say it has a decent camera. You can also try multiple available modes.
Multiple Modes:
The drone allows you to fly it in multiple modes. You can choose the one you are comfortable with. If you are a beginner, you can give a try to Acro Mode. The visual experience of seeing the drone fly is breathtaking. Imagine, you are drifting the drone around the surface and suddenly you the see bump ahead, you change the angle to 45, and then it takes off like a plane. Though, you will see a lot of vibration in this case. You can fly it outdoor as well but make sure that it's not windy because it can easily be blown away. Though, the company claims it to be the amphibian drone but don't try it in the water as all of its parts wirings is completely open.
Eachine VWhoop90 Cons
There are a lot of things that I appreciate about the drone while there are others that I don't. Below are some of the disadvantage of the drone that you have to take a look at.
The flight performance is not that smooth. For beginners, it's going to be a bit difficult to control the drone.
The drone flight duration is only two minutes which is very less. That's why you get three batteries with the product.
All the wires are open in the drone. A little humid condition or a single drop of water can cause a short circuit.

Watch the Video till End
Read More……
Best Drones with Camera in 2019
How To Get A Drone Out Of A Tall Tree
Smallest Gimbal Camera in the World
How to take a perfect Dronie shot
Lightweight Drone for backpacking under .55lbs
FPV Racing Drone Kit with Goggles

Conclusion
The Eachine VWhoop90 is not very popular online, but I am sure that you would have fun flying it. This is the only drone in this range which you can take off while drifting on the ground to air. You can also customize the drone at your disposal and add some new features. You can make it the FPV Mask capable and that will the whole flying experience more immersive. The Eachine Vwhoop90 is a good unique drone, if you are looking for some better alternatives then below are some of the best selling drones on Amazon that you can check out. Till then…
Happy Flying!!