The Eachine QX65 is one of the most popular and upgraded versions in the Tinywhoop drone community. You can use it as a toy drone or also use it as fpv racing drone. This model is based upon the beta flight 3.2.2 integrated OSD. Like other drones, this one also comes with a ducted system that helps your drone to survive the minor crashes easily. Here, you would have the propellers with the three blades that gives more stability and balance during flight. When it comes to drone motors, it has 6mm*15mm motors that provide you the RPM up to 68000. You get multiple flight modes option with the quadcopter here. You can choose among ACRO, AIR or ANGLE. It has built-in Beecore flight controller which gives you three options to choose the receiver. It works with 2.4G receivers only, below are three options that you get, and you can choose either one of them.
Flysky 6CH AFHDS 2A protocol (IBUS)
Frsky 8CH protocol D8 Mode (SBUS)
Spektrum DSM2/DSMX protocol
When it comes to drone package options, there also, you get the three options. Below are three of them and the items you would be getting with them.
Basic Version:
1 x 65mm Frame Kit
1x Propellers disassembly tools
1 x Drone Cover
4 x 31mm Props
1 x 3.8v 250mah Lipo Battery
1 x Aio 3in1 Camera and VTX
4 x Coreless motors
1 x USB charger (4.35v)
1 x Beecore V2.0 Controller(Built-in 2.4G receiver and OSD)
Standard Version:
1 x 65mm Frame Kit
3 x 3.8v 250mah Lipo Battery
1 x USB charger (4.35v)
1 x Cover
8 x 31mm Props
1 x Beecore V2.0 Controller(Built-in 2.4G receiver and OSD)
1 x Aio 3in1 Camera & VTX
4 x 615 Motors
1 x Prop disassembly tools
Advanced Version:
3 x 65mm Frame Kit
6 x 3.8v 250mah 30C Battery
1 x 4.35v 6-way Charger
1 x Prop disassembly tools
12x 31mm Props
1 x Beecore V2.0 Controller(Built-in 2.4G receiver and OSD)
1 x Aio 3in1 Camera & VTX
4 x Coreless motor
3 x Covers
Apart from having multiple flight modes availability, there are also a lot of features that you would like. The camera angle of the drone can be adjusted that gives you little bit control over angle adjusted. You have to do it manually, and you have to do it before flight only. Booster Coreless motors give you better torque here, and ultimately you get the better lift.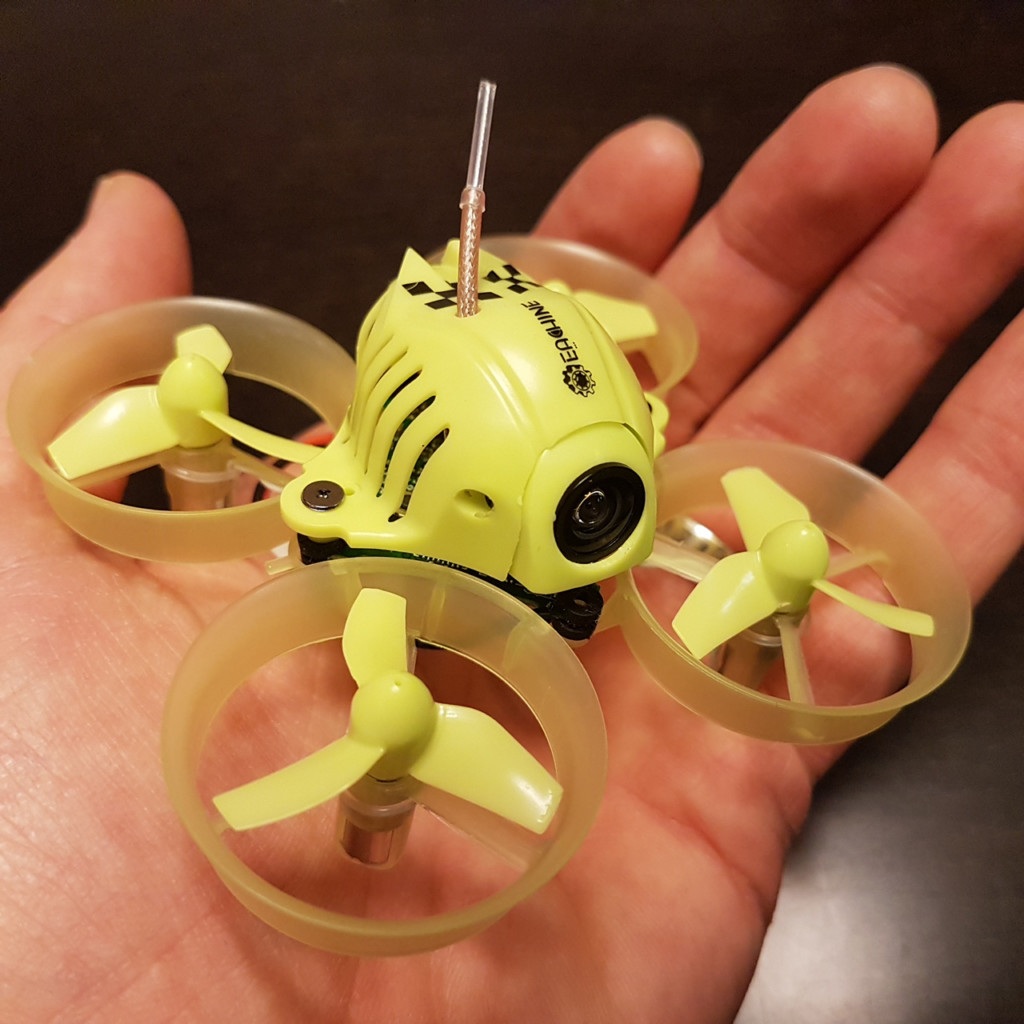 Today, in this article, we will talk about everything that you should know about the Eachine QX65 drone. We will cover the manual instructions, setup, battery specs, flight time, frsky binding and much more.
EACHINE QX65 Review
1- Camera Quality:
When it comes to Eachine QX65 camera specification, it has 700 TVL camera. In terms of build quality, the camera is sturdy but don't expect very good quality in terms of video output. The camera only works well when there is enough light. In low light condition, everything will be dark only. When it comes to video transmission, you have 25 mW video transmitter. In the transmitter, you will get a conventional antenna for transmission. You also get the option for adjusting the camera angle.
2- Build Quality:
The flight controller of the drone is built on the BeeCore V2 with F3 platform. It has betaflight 3.2.2 with incorporated OSD. The build quality of both, drone and controller is pretty good. It is very small in size, and very good plastic is used in making it. The company claims that it has high-quality ABS material which makes it durable and the drone can easily survive the minor crashes. The propeller size of the drone is around 31mm. You won't get conventional props; here the props would have the three blades. The weight of the drone without battery is around 20g which makes it super lightweight as well. The wheelbase of the quadcopter is around 65mm.
3- Battery & Motors:
With the drone, you would be getting 3.8V 250mAh 30C battery which gives you around 4-6 mins of flight duration after the full charge. When it comes to Eachine QX65 motors, you get 0615 coreless booster motors that give you better lift and high torque.
Eachine QX65 Pros & Cons
In this section, we will brief you about the pros and cons of the Eachine QX65. You can go through all the points quickly and decide whether it matches your requirement or not.
Pros
The quadcopter is incredibly cheap, keeping the drone features into consideration.
In case of a crash, if you break any drone part, the spare parts are easily available online at a cheaper price.
I would say that the camera is also decent enough. It has 700TVL CMOS HD Camera which you won't find very common at the drone at this price range.
The camera angle can also be adjusted manually that gives you better control over compositions and shot framing.
Cons
The charger that you get with the product is not of very good quality.
Bundled batteries could be a problem sometimes.
Calibration is a bit tricky when you are doing it for the very first time.
The camera angle adjustment that you get is not very good. It's very limited.
Technical Specifications
| Drones | Specifications |
| --- | --- |
| Wheelbase | 65mm |
| Weight | 20g |
| Propeller size | 31mm |
| Battery Power | 3.8v 250mah 30C |
| Camera | 700TVL 130degree 1/4' CMOS |
| Motor | 0615 Coreless motor |
| Quadcopter Frame | High-quality ABS |
| Controller | Eachine Beecore V2.0 |
| VTX | 5.8G 48CH 25mw |

How to Bind the Eachine QX65 Betaflight Frsky
This quadcopter comes with a BNF version that means bind and fly. But a lot of people face a problem with binding, so if you are one of those confused people. Read this section thoroughly. If you are going with default flight configuration, then it will take care of radio mode and OSD. The PIDS that come by default is BF 3.2.0. If you are thinking of doing flips and rolls with the quadcopter, then you should increase the rate up to 1000deg/second.
AUX Switch will decide all the multiple modes. In the upper position, you can use it as an ACRO Mode, in the middle it would work as an ANGLE Position and at the bottom position, you can go with ACRO+Airmode. Though, this quadcopter comes with the new firmware that would be an issue. There are a lot of videos on youtube regarding; I would recommend you to go through them then only start the binding process.
Read More
Eachine E32HW FPV Fly More Combo
EACHINE E010S PRO 65mm Shark Drone
Conclusion
QX65 is one of the most popular tinywhoop drones. It has some great features and also very affordable at the same time. This FPV Quadcopter is suitable for kids and excellent way to learn the piloting drone as well. If you are looking for the alternative, below are some of the best selling options that you can choose from.
Watch the Video till End

Trending Drones
DJi Flame Wheel F550 Hexacopter Review
Drone Fishing Setup & Release Mechanism
Hobbytiger H301s Ranger Drone Review
Eufy Security wi-fi Video Doorbell Review
Blade Chroma vs Yuneec Q500 4k