It is one of the low priced quadcopter and with some great features that you can go for in 2020. Though it came long back, still it is a favorable choice by beginners. The quadcopter is made by UDI Company is known for making high-end products. Their other products are also very popular on the internet. It has all the features that you will find in a very high-end quadcopter that includes gyro system, good design, powerful motors, four channel transmission and much more. Though when it comes to its range, the drone can fly up to 40-50 meters.
If you compare it with the other drones in this range, then it is good looking and seems a bit sturdier than the others. The quadcopter is a perfect fit for beginners, kids, and recreational flyers. It has so many features in that makes every single penny of investment completely worth.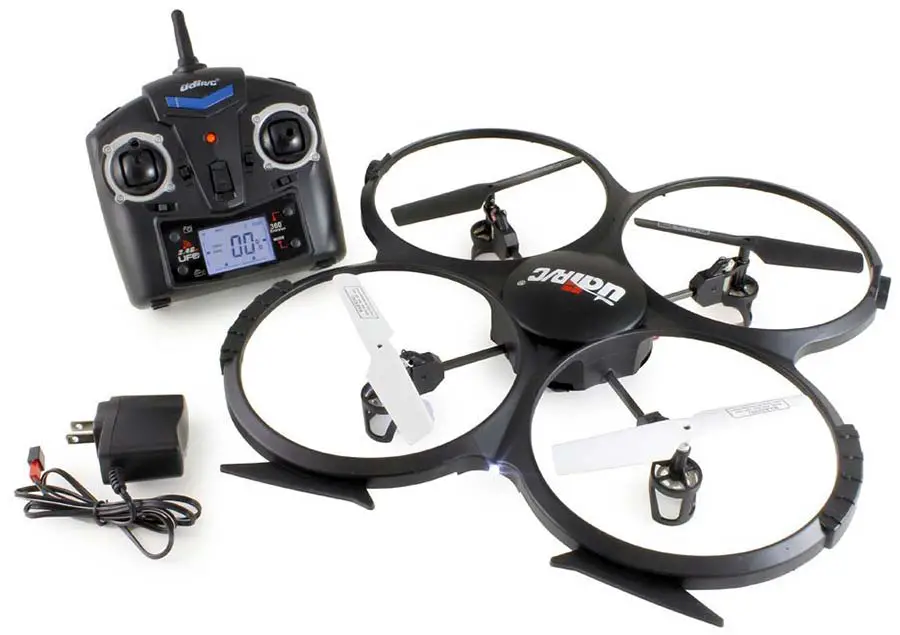 This is the best seller on Amazon and customers have given really good reviews to it. This is a kind of UAV that you can fly a hundred times, but it will again start and fly. It has ring-like propeller guards that keep your drone safe from any collisions. When you are flying a quad for the first time, I am sure first few flights would be crash flights only, but this one with good prop guards make the drone more safe and secure.
It also gives you the live transmission which is again an edge over other drones at this range. It can support up to 8 GB of micro SD Card. When it comes to drone size, it has a very compact size. You can fly it indoors as well if you have good flying experience. Flying indoors is not recommended for beginners, you might end up hurting or damaging something inside your home. When it comes to quadcopter performance, it is very responsive to the controller.

What I love about this drone that, to charge it, you don't need to take the battery out. You can plug it in a laptop or with USB charger, and it would be full in only one hour. It can perform a rotation in all the directions that include left-right, up-down and forward-backward, thanks to its six gyro system.
Earlier when the drone came, it was super priced, but now you can get it on Amazon at a discounted price. This is a perfect beginners drone, and at this price, you won't find anything better than this. Below are items that you would be getting inside the product box.
U818A quadcopter (1)
4 GHz controller (1)
350mAh LiPo batteries (2)
USB charger for the battery (1)
Micro SD card (1GB)
Spare propellers (4)
Power bank (1)
User manual (1)
UDI U818A HD Drone Review 
In this section, we will talk about all the important aspects of the quadcopter that you should be aware of. In case, we miss an important point; please let us know in the comments below, your suggestions are the most welcome.
1- Build Quality & Design:
When it comes to UDI U818A drone build quality and design, it has sturdy build quality. The quadcopter has high torque motors that give you the stable movement and drone changes the direction spontaneously free from any hassle. It doesn't come with conventional prop guards. Instead, it has ring-shaped inbuilt propellers safety guards that provide better safety and security.
The drone is small in size, it can easily come in the small pocket of your bag, and you can travel with it. I would call it the best drone for ten years old. It is very lightweight as well which allows the drone perfectly its action quickly, but that could be a downside when flying in a windy situation. You also get spare props with the drone which gives you the freedom to take risks, and you can fly your little quad without fear.
The quadcopter is suitable for indoor and outdoor flight as I was watching some people on youtube, flying comfortably inside their home. You also get two batteries with the drone which allows you to have two consecutive flights without putting it in charge again and again.
The plastic quality of the quadcopter is also very good which helps the drone to survive the minor crashes, what I love about this drone that its spare parts are easily available and can be easily replaced. So, even though you crash any part, you are going to find an alternative very easily.
Apart from having the decent build quality, the company also claims that it has integrated safety measure that decreases the possibility of sudden crashes. At first sight, it might look like a flimsy plastic box, but let me tell when you fly it then only its sturdy quality because it will take off again and again.
2- 2.4GHz controller transmitter (4 Channel):
When it comes to the transmitter, it comes with four-channel which gives better control like quick response, longer distance control, less power consumption and anti-interference ability as well. 2.4GHz has become the standard frequency range for remote-controlled aircraft. This frequency eliminates the possible clash with othe radio signals. If you are flying your drone nearby to any radio station, you don't need to worry about the signal loss or anything.
3- Quadcopter Performance:
Apart from having the good build quality, the quadcopter also has the remarkable flight performance. You get two-speed modes with the drone that you can try, either you can go with Mode 1 (low speed) and Mode 2 (high speed). When you are starting with the drone and don't have any experience with a flying drone, it is advised to start with low speed, and gradually once you get the hang of it, you can change the speed mode. The drone came around three years back, and it doesn't have altitude hold and headless mode, but still, it is capable of doing the 3D flips that certainly makes it unique. Once you become an expert in flying the u818a, you can remove the prop guards who will make the drone lighter, and it will give you a better flight performance. But, remove the props only when you are sure about your skills and know it won't crash anymore.
It is also equipped with a small LED searchlight at the front which is on when you are flying it with headless mode turned off. Once you turn on the headless mode, the light will be off. Front and back lights would be different in colors so that you don't get confused with the orientation.
What I am really surprised about that most of the other UDI products come with only one battery, but this one has two batteries that certainly makes things more convenient for you.
4- Camera Quality:
Earlier when the drone came in the market, it didn't have a good quality camera, and people really complained about it but recently they have launched the U818A HD version which gives great quality pictures and video, especially for beginners, it would be great. It has a 720P HD camera that is capable of producing 1280 x 720 resolution videos and images. Some users might not be very happy with this resolution; I would suggest you google about the other drones at this range, you will know the truth. Having a camera itself at this price range itself a great deal. An earlier version of the drone didn't have the FPV, but this one has the first-person view that gives you better control over shot and frame composition.
5- Battery Life:
When you unbox the product, make sure you charge it fully before taking it off. Though Company says the battery charging time is around 60mins, but to get it fully charged, you need to put it for 80mins.
You might see the problem of battery getting hot after charging, so I would recommend to let the battery cool then only take off the drone. You will get around 10 – 15 minutes of flight time that is good enough considering the beginner drone.
6- Advanced Features:
Apart from having a good build and camera quality, there are some advanced features as well that make the drone a great deal. It has so many different modes that you will need some to understand all of them. So, let's dive into all the important features one by one.
FPV Mode: This is a very important feature that is required for a beginner drone. It allows you to have the better control of the drone because the drone is in your sight as well and you also see the things from the camera point of view. This mode will work with wifi connectivity. The bird's eye view will give a completely different perspective about video shooting.
RTH Feature: One click Return to Home feature brings back the drone in a single press of a button. When you are flying the drone as the beginner, in the starting, you will find some situations when you don't know what to do then press the home button, and it will return safely from where you started. Sometimes, you will also lose the connection, and at that time, you are surely going to thank this mode.
Flips & Rotation: The quadcopter is also capable of doing some acrobatic flights that add the fun part to the quadcopter. You can showcase these stunts in front of your friends, and I am sure they are going to love it. What I appreciate, these rotations and flips are super stable. Make sure when you are performing these stunts, it is at a suitable height so that your quadcopter doesn't hit the ground.
Headless mode: This feature is also an essential mode for beginners. It lets you control the drone irrespective of its orientation. In this mode, any part of the quad can work as a nose, and all the controls will remain the same. So, next time when you are confused about drone's front and back, you know what mode, you should use.
Technical Specifications
| Flight Time | 7min-9min |
| --- | --- |
| Battery Type |  3.7V LiPo |
| Charging Time | 60mins |
| Communication Distance |  300ft |
| Camera | 640×480 pixels |
| Skill Level | Beginner |
| Weight | 131g (with battery) |
| Dimensions | 330 x 340 x 55mm |

UDI U818A HD Drone Pros & Cons
In this section, we will talk about the quick overview of the Pro & Cons of the product that you can go through and have an idea of whether the drone is suitable for you. If your priority is to have a drone which has fun and some advanced features then this could be your choice, if you want something with high-quality video capability, they could not be the right choice. So, go through all the below points and decide by yourself.
Pros
The quadcopter comes with spare parts like batteries and props that provide you the backup in case you have any crash.
It doesn't have regular prop guards. It comes with ring-like guards that provides your propellers better safety.
Headless mode gives the beginners better control & the drone can also be flown indoors as well.
It is ready to fly a drone, durable and have good battery backup compared to other drones in this range.
You get LCD on the controller itself. Different color LED lights on the drone gives you the understanding of drone orientation during flight.
Cons
 The camera of the drone might not deliver the high-quality pictures that you are expecting.
Battery life fluctuates a lot. Sometimes, it can last up to six minutes only.
You will see the problem like battery heating. You also can't upgrade the camera. The replacement parts are a little bit costly considering the price of the drone.
Conclusion
The U818A came three years back then came its updated U818A HD Version which is a great value for money. And you should go for it without thinking twice. I would say it is the perfect combination of toy and professional drone. It has fun features like drone flip and rotation and at the same time, some advanced modes as well.
Being the beginner, the drones are prone to minor crashes that the company has kept in mind and gives you unique prop guards. It's a very durable drone. It will crash and fly again.
The quadcopter is super affordable and worth every single penny of investment. If you are thinking of buying a drone for a kid or a friend who never flew the drone before, this could be a good one to start.
Watch the Video till End
Trending Gadgets in 2021