EMAX is the company known for making affordable drones, especially for beginners. They have built some cool racing drones that include Babyhawk R and Pro Models. Tiny Hawk is one of the best under $100 racing drone that you can buy in 2019. It's smaller and faster which makes it unique.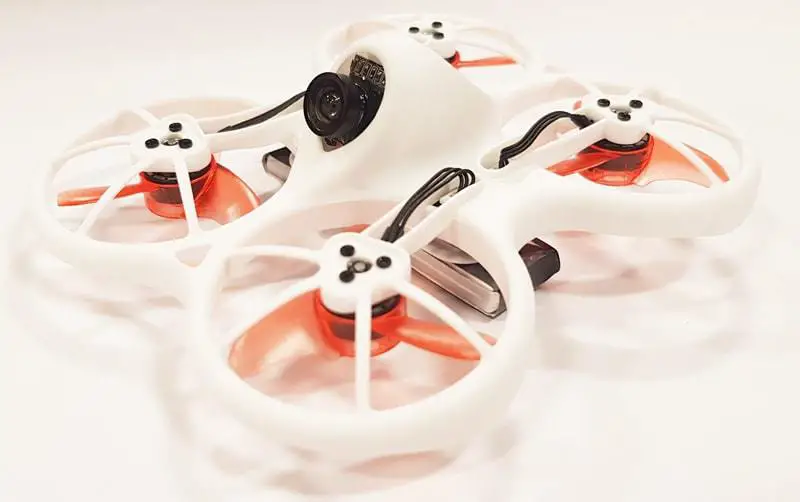 The Company has already made dozens of FPV drones which dominated drone races around the world. They have some good RTF and some awesome BNF version as well. Tiny Hawk is a fast pace quadcopter, so don't expect the batteries to last much longer. It's highly recommended to go for some spare batteries so that you can have back to back glitch free flight experience.
This 75mm drone comes with brushless motors which give it more torque and pace. Emax also claims that it has ball bearings that keep the maintenance low. It can fly up to 56kmph which is pretty remarkable and in case you crash the quad, it has beep feature so that you know exactly where it is fallen. The quadcopter weighs less than 30grams that gives you an idea about how lightweight it is. The drone dimension is 110*95*39mm. The battery specs are 450mAh with 1S.

What I appreciate the drone that you get proper accessories with the product. It allows you to repair the quadcopter by yourself in case of minor crashes. Though a lot of people don't feel comfortable with these DIY stuff but don't get overwhelmed, you need to watch some youtube videos and things will start to get going.
The spare parts of the drone are also easily available at affordable rates online which are helpful because these high-speed drones are prone to crashes and you can't afford to buy a new drone every time it hits the ground.
During the time of delivery, you get a small box with good packaging. In case, you receive a defected product; you can ask for the replacement as they are quick to respond, you might have to bear the delivery charges. Below is the list of items that you would be getting with the product.
1x Tiny hawk
1x 450 Mah Lipo Battery
1x USB Charger
1x Spares pack (Pigtail, grommets, screws & screwdriver)
1 x Screwdriver
1x User Manual
1x Emax Sticker Sheet
Tiny Hawk RTF Drone Review
Build Quality:
When it comes to the build quality of the drone. It's pretty solid and sturdy. The drone is very lightweight, so not recommended for windy conditions. Good quality plastic is used in the drone body which makes the quad very durable. The company claims that it is a low maintenance drone and very rarely you will have to spend extra bucks for its proper functioning. Its dimensions are 110*95*39mm, and it weighs around 29gram which makes it super lightweight. Polypropylene is used in the frame material.
Super Fast:
The quadcopter can fly up to 56kmph that makes is pretty quick and fast. If you are a beginner, I would recommend you to handle the drone with care. You don't want it to end up crashing at very first flight. The quadcopter also has the MPU6000 gyro that gives it vibration free flight. It also has the advanced processor that also adds up to your stable flight experience.
Battery Backup:
You get four minutes of battery backup with the quadcopter that's not very decent enough. I would recommend you to buy some spare tips. There are a couple of things that you have to keep in mind regarding battery safety. Don't overcharge the battery and if you are some different charger, make sure it has the same voltage and ampere rating.
FPV Feature:
It also has FPV feature as well which gives you real-time transmission. It has a 600tvl camera with 25mw which provides you with not very high by the decent picture and video quality. The drone also has advanced technology which eliminates the latency problem so that you can have glitch free real-time transmission.
Flight Performance:
When it comes to flight performance, it's a fun flying it around. The drone is like a toy. If you are flying it inside the room and it crashes, nothing will damage. Neither the surrounding nor the drone. It will rise and fly again. The quadcopter is quite responsive to the transmitter, and you will have good control flying it. There are multiple modes available as well, so you can choose the one that suits your requirement. It is compatible with FrSky D8 receiver, and you also get other options to choose from as well. You get a lot of options in terms of selecting the controller that gives you more freedom, and you can customize the controlling.

Tiny Hawk RTF Drone Pros & Cons
Though the drone is very tiny, still, it gives a very good indoor and outdoor performance.
It is also very durable at the same time. It can easily survive minor crashes.
It is also very easy to set up. 15mins after unpackaging, you can start flying in the air.
There is no turtle mode in the quadcopter. In case it crashes, you only have to put it back and make it ready for flight. Though, Company is saying that in the future, they will come up four blades propeller so that it can fly by itself even though it's upside down.
The battery backup is very less; you have to spend extra bucks to buy some spare batteries. A lot of people complained about their availability.
How to Setup the Drone
Setting up the drone is pretty simple. It can be done in a few minutes. Follow the below steps one by one and get things done.
First set up the Tiny Hawk for flight. Once it's done, you can bind it with Taranis with D8 mode.
If you have EU LBT firmware on the radio, then you can reflash it which will enable the D8 mode. Then, you can do the configuration of my modes in beta flight.
You only get one spare UART to make the connection. You have to add your receiver over here. FrSky is the most recommended one.
Technical Specifications
| Tiny Hawk | Specifications |
| --- | --- |
| Size | 110mmx95mmx39mm |
| Weight | 29grams |
| Frame Material | Polypropylene |
| Flight Controller | F4(MATEKF411 firmware) |
| Battery Capacity | 450 mAh |
| Battery Voltage | 1s 4.35v HV |
| Channels | 37CH |
| VTX Power | 25mw |
| Price | Check Here |
US New Stealth Drone:  Watch Video till End
Conclusion
This is one of the best FPV drones that you can buy in 2019. This is an impressive drone under $100 range. The drone is a pro racer, and you are going to have a good time playing with it. It's recommended to buy some spare batteries so that you can have glitch free flight experience. The quadcopter is also very durable as well; it will crash and fly again. If you are looking for alternative FPV drones, below are some of the options that you can have a look at.
Top 10 Trending Drones