When it comes to selfie drones, there are dozens of options we have in the market. But Eachine E52 is the one that stands out. This quadcopter is small and compact that makes it a suitable pocket drone as well. You can take the individual selfie or can also go for a group picture with this device. But, you might be wondering that is quality of the drone camera good enough or not? That we will discuss in the below section.
The point is when you are looking for your first quadcopter, you can't directly jump into costly DJI one. You might end up crashing it in one minute that you certainly don't want. So, this drone has all the high-end features but don't expect those features to be very high quality. You have too little bit compromise with the quality here, but features are decent enough for a beginner to start with.
Eachine is always known for making some affordable quadcopters, and Eachine E52 is one of them. When it comes to its weight, it weighs less than 100grams. Its lightweight build gives it a longer flight duration. When it comes to battery specifications, you get 500mAh battery that is also removable at the same time.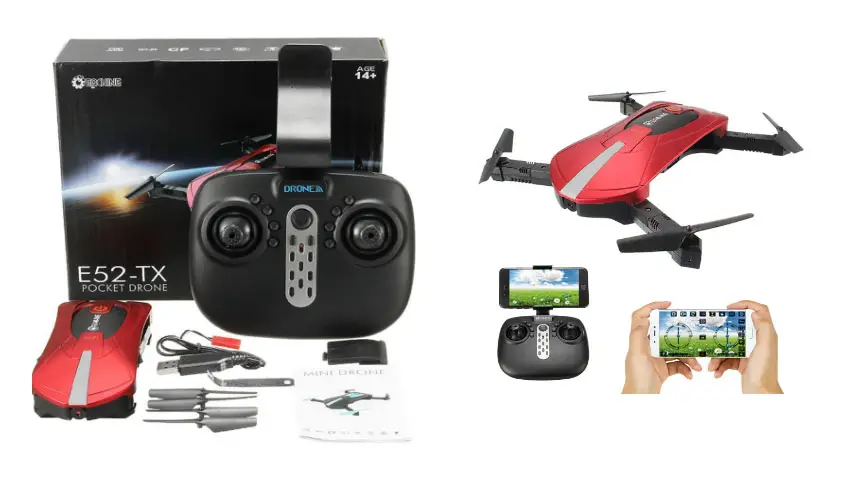 Apart from being affordable and advanced in technology, the quadcopter also comes with decent build quality. It is made up of good quality plastic material which has a matte finish on top of that. When it comes to color options, you get only two options to choose from. You can either go with red, or you can go with black.
It's super small like a smartphone and can easily fit in your pocket. So, if you want to carry it while traveling, you won't face any kind of issue with it. All the props of the quadcopter can be folded that makes it more compact. Charging of the battery can be done through the USB Charger. There are two different versions of the drone that you can buy online.
RTF Version: RTF Version is called Ready to Fly version which you can start using right out of the box. In this model, you will get the controller. Below is the list of items that you would be getting with the package.
Eachine E52 Quadcopter (1)
3.7V 500MAH Battery (1)
USB Cable (1)
Spare Propeller (4)
User Manual (1)
Transmitter (1)
Phone Holder (1)
Screwdriver (1)
BNF Version: BNF Version is knowns as bind and fly version. In this model, you will not be getting the transmitter. It's good because you get options for customization, it's bad because you have to do the complete binding by yourself. Below are some of the items that package includes.
Eachine E52 Quadcopter (1)
3.7V 500mAh Battery (1)
Spare Propeller (4)
USB Charging Cable (1)
Screwdriver (1)
User Instruction Manual (1)
Eachine E52 Review
In this section, we will talk about all the essential aspects of Eachine E52 drone that you have to be aware of. We will talk about the drone build quality, camera specifications, flight performance and much more.
1- EACHINE E52 BUILD QUALITY:
It is one of the most compact selfie drones in 2020. Its folding design makes it super tiny, and at the end, you get the drone that can fit in the small pocket. The drone dimensions are 22*15*3.5cm. If we talk about its outer look. It looks very sporty and streamlined. Its sleek design helps it aerodynamically and gives the drone a better lift. A power button is located on the top of the drone and battery is located underneath the body. What I like that battery can be removed very easily because of its quick release system. There are two color options; red or blue. The blades fold inwardly properly, and the drone becomes super small in size. That's why we also call it, pocket drone as well.
2- CAMERA QUALITY:
The camera can also be adjusted up and down manually, so it is recommended to set the angle properly before you take off the drone. It comes with 0.3MP Camera so don't expect good quality footage out of it. It won't give you a very high definition image, but you will learn a lot about a frame and shot composition. You might see some video lag, but you have to bear with it. There is no SD Card slot in the drone; everything will be saved in the smartphone directly.
3- FLIGHT PERFORMANCE:
You get around 6-8 mins of flight time that is decent enough. Getting this much time at this price range in beginner's drone is great. Though flying could be a bit difficult at starting; you have to maneuver it manually. I would suggest, fly it a couple of times and you will gradually get good control over it. It is highly recommended to do the calibration before you start the flight. What I love about the drone that it can easily survive the minor crashes because its props arm comes back as soon as it hits back some object. The parts of the drone also easily available online in case you break something, you can easily buy the spare parts and replace it. Though when it comes to flying indoor, you won't face any problem as such, but in the case of the windy atmosphere, it won't have a stable flight. I would recommend if you are a novice then probably fly it in the open ground at the starting and later on, once you become master of it, you can fly it wherever you want.
Make sure, when you are flying, you don't cross the flight range. You might lose the flight connection in that scenario. There are a lot of cool things that you can do with the drone and showcase in front of your friend. You can do flips, spinning and 360 rotation as well. There are different speed modes as well, at the starting, fly it at low speed, and gradually, you can increase the speed.
4- EACHINE E52 TRANSMITTER:
When it comes to Eachchine controller, you get two options, either you can control it with a remote controller, or you can go with a smartphone app as well. But most people prefer the control by manual controller only as with virtual smartphone control; things won't be that smooth and responsive. Eachine fly App, you can download from the playstore. It is supported by iOS and Android both. If we talk about the build quality of the transmitter, then it has good quality plastic, and the controller fits perfectly. It also has embedded phone holder on the top, make sure when you fit the phone, you don't want the holder too much, it might break. All the buttons are in the reach of your fingers; you won't have any problem operating it.
5- BATTERY POWER:
Here, you won't be getting Lipo battery like other Eachine Drones over here. Here, the drone comes with a proprietary battery which is 3.7V and 600mAh. The battery takes around one and a half hour to get fully charged, and after a full charge, you can fly the drone around 6-7mins. There are a couple of things that you have to keep in mind regarding battery safety. Don't overcharge the battery, in case you are using the different charger, make sure it is of same ampere and voltage. What I like that spare battery for the drone are available at very cheaper price. You can get six batteries combo at just $30.
6- ADVANCED FEATURES:
Apart from having a good build quality and affordable price, it also has some features that make the drone high end. Below are some of the main features that you have to take a look at.
360 Flips & Rolls: This feature adds fun to the drone, and you can have some real fun doing it. Though it will take some to master it once you get the hold of it, you will have a really good time while flying it.
One Key Return: You also get one key return feature with the drone. However, it won't be that precise and accurate. You might have to do some manual maneuvering for safe landing. Remember, the drone doesn't have GPS, so it's better when you are using one key landing feature, the quadcopter is not at too much height. Otherwise, the landing could damage the quadcopter itself.
Headless Mode & Altitude Hold: The drone comes with a headless mode that allows you to have better control. You don't have to worry about the drone's orientation because in this case, any part of the drone can work as a tail. It also has altitude mode which keeps the drone at the same height once you leave the sticks. It will help you in taking pictures free of shake and jelly effect.
Technical Specifications
| Drone | Specifcations |
| --- | --- |
| Frequency | 2.4G |
| Channel | 4ch |
| Gyro | 6 axis |
| Product battery | 3.7V 500mAh |
| Charging time | 60-70mins |
| Color | Red, Blue |
| Camera | 0.3MP, 2MP wide-angle blue |
| Quad's size | 25.5x25.5x3.5cm |
| Material | Electronic Components, Plastic |
Eachine E52 Pros & Cons
In this section, we will be talking about some pros and cons of the drone. So, take a brief look at all of them and decide whether it suits your requirement or not.
Pros
The quadcopter has high-end features and costs less than $50 which makes it one of the most affordable drones as well.
It is very small in size, also known as pocket drone which makes it easy to carry while traveling.
There are two kinds of control options you would be having over here. You can either use the remote controller, or you can also go with virtual smartphone control.
It has a 720P camera with FPV Mode that allows the real-time transmission, and you can see the things from drone's perspective.
Cons
Though it has a limited flying range that is up to 50 meters.
You won't have good quality video though it's 720P. There are not good enough to be shared on social media.
It comes with a proprietary battery. So, you can use regular Lipo battery with it.
Final Thoughts
If you are looking for a small size quadcopter with some advanced features, then it could be a good option to try. It is a good drone to start with. There are dozens of selfie drones in the market, but trust me, you won't find any better deal than this one at this price.
Watch the Video till End
Trending Gadgets in 2021