When we talk about action cameras, the first thing that comes to our mind is GoPro. Their cameras are sturdy, and high quality but they are not very affordable at the same time that's why a lot of enthusiasts don't get a chance to use to buy those. That's where other companies like Wewdigi comes into the picture which makes affordable action cameras for common public. It is a very powerful compact action cam which supports up to 64gb micro SD, and you can shoot some excellent content in it.
Its 4k recording gives you the high-quality footage, and you also have multiple recording options for 3, 5 or 10mins that you can choose from. You can also play with the angle change it from 70 degrees to 170 degrees. It also features the motion detection feature which gives you an idea about its capability. With the motion detection feature, if it doesn't detect any motion for 10 seconds, then it will stop working.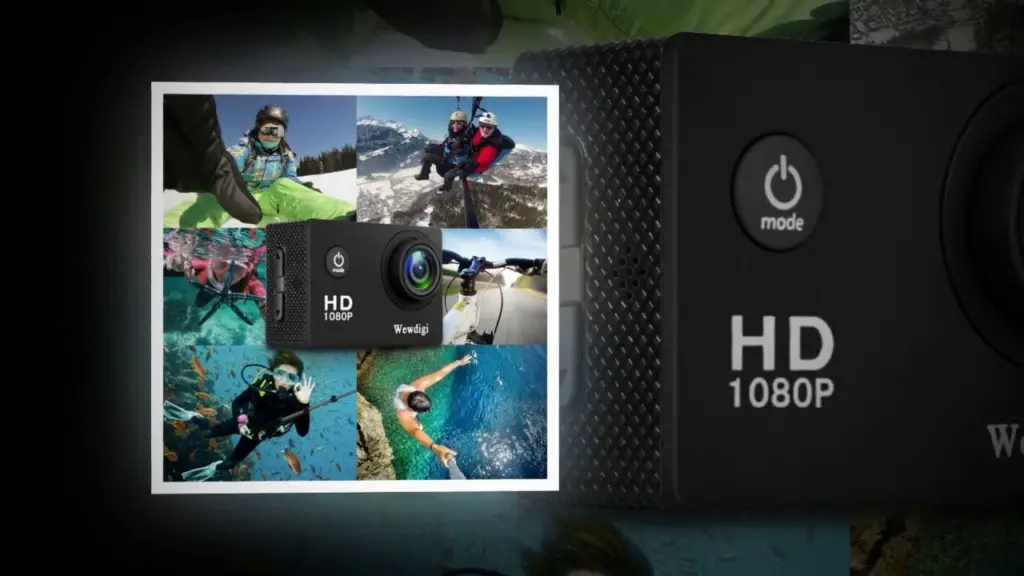 It also has wifi as well. When it comes to building quality, it is pretty decent. It has a nice foam padded case, and you also get a lot of accessories with the product. This is one of the best cameras under $100, I mean what else do you want in $80. It also has a 4X optical zoom that takes your filming experience to the next level. Below is the list of items that you get once you make the purchase.
1 X waterproof case
1 X Hand Bar
1 X Back clip
1 X Mount 2
1 X Helmet Mounts
1 X Mount 3
1 X USB cable
1 X Bandages
1 X Battery
1 X User Manual
Wewdigi ev5000 action camera Review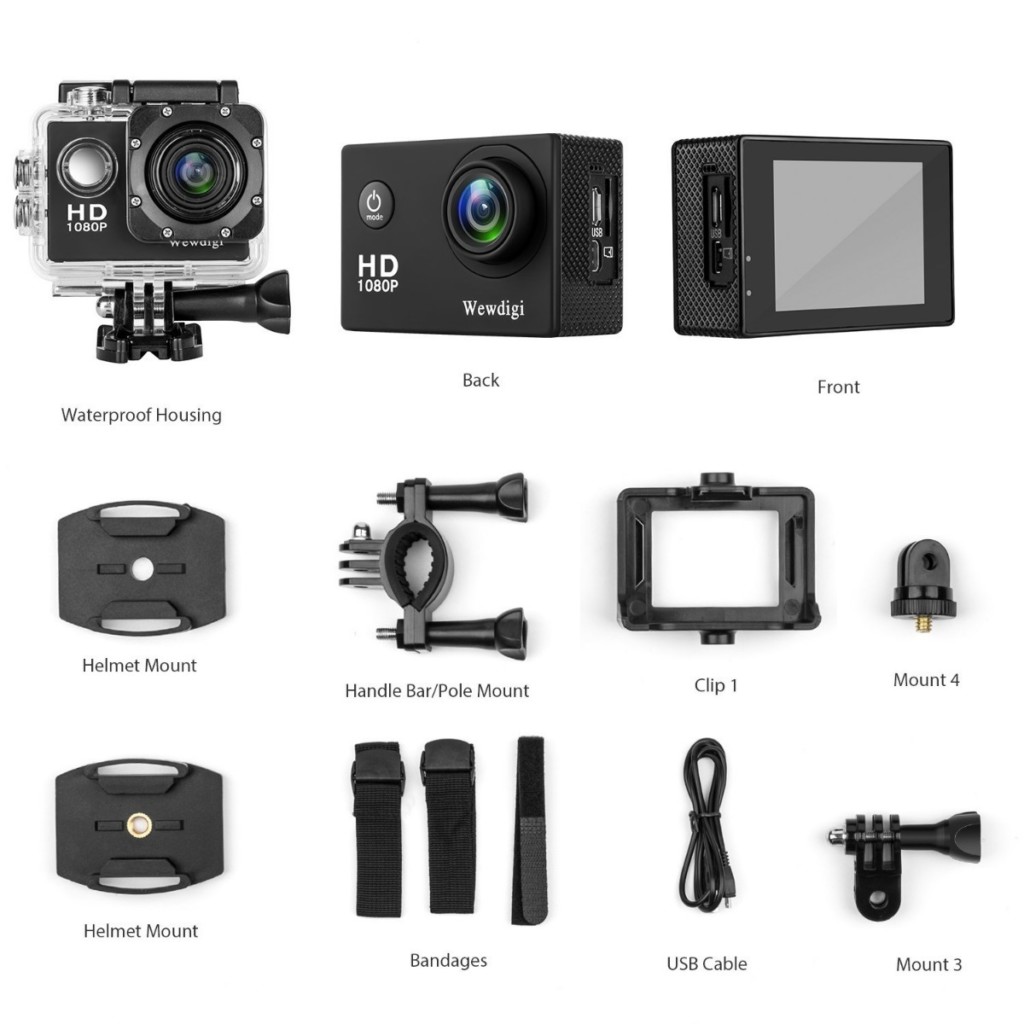 Picture & Video Quality:
It delivers you the 4k HD Video quality. You can use the high definition footage to make some awesome videos. The image resolution is pretty good, and its electronic image stabilization system gives you the shake-free images. It can record up to 30fps and click pictures in 12MP. It has the 140-degree ultra wide lens, and the display is 2 inches wide. What I like that you can quickly preview videos and photos without any lag. There is also the options of doing a lot customisation; you can change the exposure, sharpness, IOS and even white balance as well.
Build Quality:
It has a pretty solid build quality that makes it sturdy and durable as well. You can drop it, and it can easily survive the minor crashes. The finish and outer look of the product are also pretty good; when you hold it in hand, it gives you the feel of a high-end product. It is built with an IP68 waterproof case which gives you the freedom to shoot under 30 meters. It also gives you a good battery backup. It has a 1050mAh battery; once it is fully charged, you can use it for 90mins.
Good Compatibility:
What I appreciate about the camera that it is compatible with almost anything. It supports a lot of accessories. You can use it with helmet, cars, bikes or surfboards as well. Its mountable design allows you to fix it anywhere you want. You can use it as a security cam or dash cam as well.
Drones for Real Estate Photography
Technical Specifications
| Wewdigi Action Camera | Specifications |
| --- | --- |
| Item Weight | 0.32 ounces |
| Package Dimensions | 10.3 x 4.8 x 2.3 inches |
| Batteries | 1 AA batteries |
| Color | Black |
| FOV | 140 Degree |
| Battery | 1050mAh |
| Water Depth | Up to 30m |
| Zoom | 4X Optical |
| Battery Backup | 90mins |

Conclusion
It has received really good rating online. If you are looking for an affordable yet good quality product, then this could be one of the best options that you can go for. It costs around $80 which is a perfect price for the beginners to start with. There are also other cameras online less than $50, but I would recommend not to go with them because you will only find a cheap quality product. This is the best action camera under $100; you can check the alternatives that we have mentioned below.
Trending Articles
Best Camcorder for Wedding Videography
Panasonic HC-WXF991K vs HC-VX981K
Camcorder video camera yeehao Review