Today, we bring you one of the most advanced drones at an affordable price. It has received excellent reviews online because of its durable build quality and fantastic flight performance. If you are looking for an entry-level drone, this could be a good one to start with.
D88 comes with stable flight performance, and you can fly it in windy situations outdoor. Its altitude hold is very accurate and precise, which allows you to capture some great cinematic footage. It comes with a 2k camera which is the upgradation from 1080P. The drone comes in a solid metal box, which makes it easy to carry from one place to another.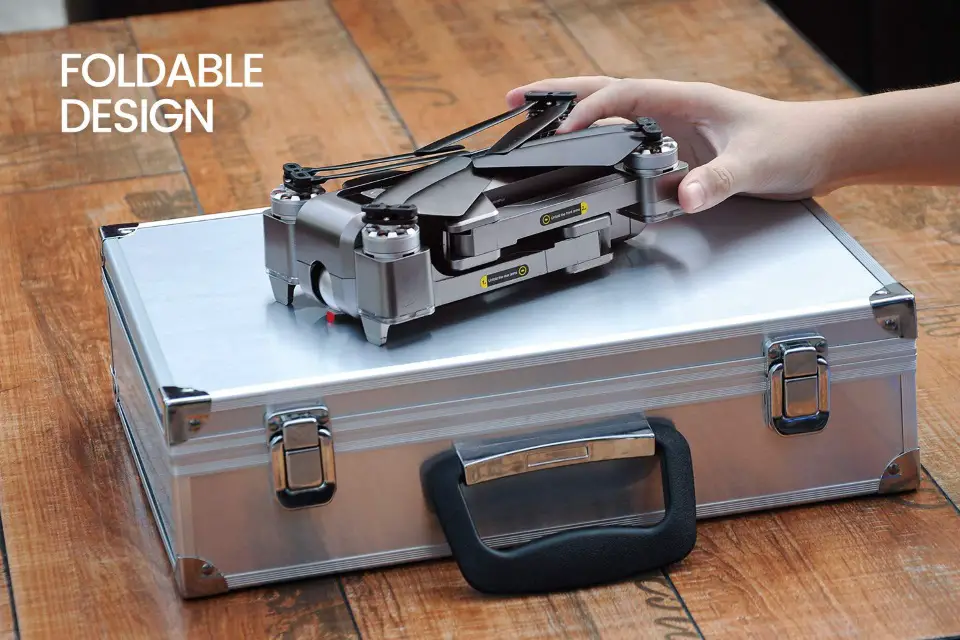 It gives you the feel as if you have a very high-end drone. Though there are some cons as well as it comes only with one battery, the great news is that the battery charger module can charge two batteries simultaneously. Remote Controller is also pretty good that we'll talk in detail in the below section. Below is the list of items that you'll be getting with the package.
Potensic D88 GPS Camera Drone
Remote Controller
One Battery
Charging Hub (Supports up to two batteries)
Travel Case
Manual
Technical Specifications
| Potensic D88 | Specifications |
| --- | --- |
| Package Dimensions | 15.1 x 12.2 x 4.7 inches |
| Item Weight | 5.43 pounds |
| Battery Capacity | 3400mAh |
| Flight Time | 20 mins |
| Camera | 2K camera |
| Age Recommendation | 13 years and up |
| Battery | 1 Lipo included |
| Motors | 1350KV brushless |
| Wifi | 5G Transmission |

Review
This is the review section, one of the most crucial section of this post. If you are interested in buying this product, i would highly recommend you read this section thoroughly so that you have proper clarity about the product that you purchase. It would be foolish to spend $300 on a product that doesn't fit your requirement. So, do the proper research by reading the below mentioned essential aspects.
Build Quality
Its sturdy build quality is the forte of this potensic model. It is very easy to carry as it comes with a metal case with handle. Though, this case makes it bit bulkier, not suitable for backpack travel but can easily fit in the back seat of your car. At the front of the quadcopter, you have this powerful 2k HD Camera. Its brushless motor provides it excellent torque which allows the drone to fly at a higher speed.
It doesn't have three-axis gimbal. It only comes with one axis gimbal; this is where you have to compromise. According to the company, it comes with aerofoil technology, which allows its propellers to fold. It is a bit heavier because of its full metallic body. Though, if you don't want to carry the case, you can carry the drone and remote controller only which will easily fit in your bag.
One Axis gimbal allows the camera to move up and down. It can't move left and right. For, left and right movement, you have to turn the drone only.
Battery Specifications
It comes with 7.6V 3400mAh high capacity battery which gives it around 20mins of battery backup. It comes only with one battery; i would recommend you to buy one as it will allow you to have consecutive flight experience. And the charging hub also supports two battery charging simultaneously.
Charging time of both the batteries would be around four hours. You can buy the Potensic D88 replacement battery over here at affordable price.
FPV Experience
The drone comes with 5G Wifi transmission, which provides seamless transmission and you don't have any glitch during flight. Though it has only one axis gimbal stabilization, it does the job pretty good. If this is the first drone that you are buying, it will teach you a lot of aerial photography basics like how to frame the shots and composition.
Its FPV experience provides you a very clear and sharp image. It supports memory card up to 32GB.
You can watch everything from your smartphone attached to the controller. It doesn't support the VR goggle that's a bit downside of this drone. You will not have that immersive experience that you can have with 3D Goggles.

Easy to Use
The drone is very easy to use. Even though this is your first time flying the drone, you'll easily get hold of it. What i really love that you can easily share the captured footage by the drone on social medial instantly through the App.
Different Flight Modes
This drone comes with different flight modes option, which makes the flying easy for a beginner. Some of these are really advanced modes, so make sure that you have control over the quad before you start trying the below-flying modes.
Point of Interest: This is one of the coolest modes that you can try and take your videography to the next level. In this mode, you decide the subject and path around it. The drone will follow the same path capturing some breath-taking view.
Way-point Flight: In this mode, you decide the trajectory in the map through the App, and the drone starts following the mentioned path precisely. Be careful while deciding the trajectory; there should not be any obstacle in between to avoid the possibility of a crash.
Orbit flight: In this Mode, it will revolve around the subject, keeping it in focus. To use this mode, you have to enter parameter like distance, speed, and subject focus, and it will complete the one orbit accordingly.
Altitude hold & RTH: The quadcopter also has very good altitude hold that allows the drone at the same height. You can use this mode by leaving the throttle. It also features RTH (Return to Home) function that allows the drone to return safely from where it started autonomously.
Maintenance & Warranty
It is a very low maintenance drone and lasts for years if you know how to fly it correctly.  It is highly recommended to go through the manual before you start flying this drone. Know your drone better than anyone else like its different parts, modes, charging method, and more. In case you face any problem, you can contact the customer care through their official website. In case you are interested in buying a replacement battery, you can buy it from here.
Watch the Video till End
Conclusion
We have covered all important aspects of the drone that you should know before buying it. Also for better understanding, watch the above video completely. It is one of the best drones under $300 and has received Amazon's Choice Award as well. If you are a beginner and interested in beginner's photography, i would highly recommend you to go for this drone.

If you have any questions, you can ask in the comments below.
FAQs(Must Read)
Does the camera have a light or flash?
No, it doesn't come with LED lights. So, not suitable for night flying.
What's the drone range?
The range of the drone is around 2000feet. As it goes beyond the range, you'll lose the FPV transmission.
Where to buy the spare parts?
You can buy it from Amazon at a lower price.
Do we have any better alternative of D88?
You can check out this drone, which is far more popular than D88.

Trending Drones