If you are looking for a cheaper, smaller and faster drone, then Syma X20 should be the one that you should consider in your wish list. This is one of the most affordable and latest models by Syma company. The drone is suitable for both kids and adults. You can play with the drone indoor and outdoor and have a great time flying it.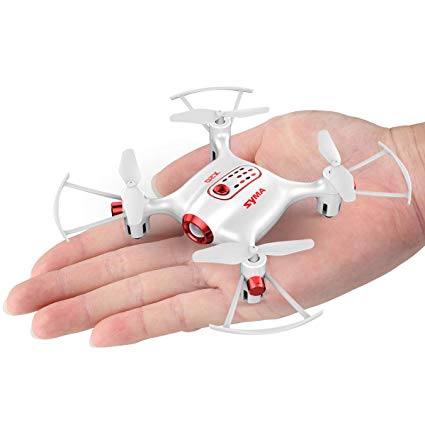 If we go back in time, then X5C used to be the drone that was very popular. It received mixed reviews online, but since then, the company has done a lot of progress and now the quadcopters that you get are technologically advanced and deliver very high-end performance. Then came X20 which was really appreciated by the users and now its upgraded version X21.
There were few downsides of X20 that it didn't have any replacement battery or removable parts that made things very difficult in case of a minor crash. With X20, the battery was inbuilt and so was the propeller guards.

Syma X21 has very decent build quality as well. Its good finishing touch makes it look aesthetically good. The good quality plastic material is used in building the drone, and it can easily survive the minor crashes. Though the drone is very lightweight, and you might not be able to control it properly if you are flying outside in windy condition.
Technical Specifications
| SYMA X20 | Specifications |
| --- | --- |
| Dimensions | 105 x 105 x 25mm |
| Platform | Quadcopter |
| Diagonal motor distance | 69mm |
| Propulsion | brushed motors / 39mm 2-blade propellers |
| Weight | 23g (with battery) |
| Battery | 3.7V 180mAh 1S Li Po |
| Charging time | about 50 minutes |
| Flight time | about 5 minutes |
| Control distance | approximately 20m |
Review
In this section, we'll talk about the different aspects of drone one by one. We'll cover build quality, design, flight performance and much more. In case, you have any questions after reading this; you can let us know in the comments below. So, let's dive into each feature one by one.
Build Quality:
It is very well designed with dimensions 10.5 x 10.5 x 2.5 cm including the prop guards. It weighs around 22grams. It has foam landing pads which make take off and landing very smooth. You also get LEDs with the drone which allows you to fly the drone in the night time as well.
Flight Performance:
When it comes to flight performance, the drone is very easy to fly. Even a kid can easily become very good at it after a couple of flights. It has good altitude hold as well, you leave the sticks, and it would keep on hovering at the same place. You can also do 360 flips with the drone that adds fun to it.
Conclusion
Overall, Syma X20 is a good beginner drone at an affordable price. It is so cheap that even though you crash its very first flight, you won't regret it. Below are some of the other alternatives that you can have a look at. For any confusion, don't forget to let us know in the comments below.

Top 10 Trending Drones