This is one of the most affordable Eachine drones that you can buy today. This mini quadcopter costs around $10. I mean, what else do you need at this price? The Chinese company is always known for making high-end products at low cost, and this one is the perfect example of it.
And what I really appreciate that, they make products in a variety of sectors, be it FPV drone, racing quadcopters, toy category, aerial drones and much more. Today, in this article we will talk about Eachine H8 Mini RTF quadcopter. In this review, we will also talk about the spare parts availability, RTF Function, and modes like headless mode and altitude hold. We will also throw light on the calibration process, troubleshooting and much more.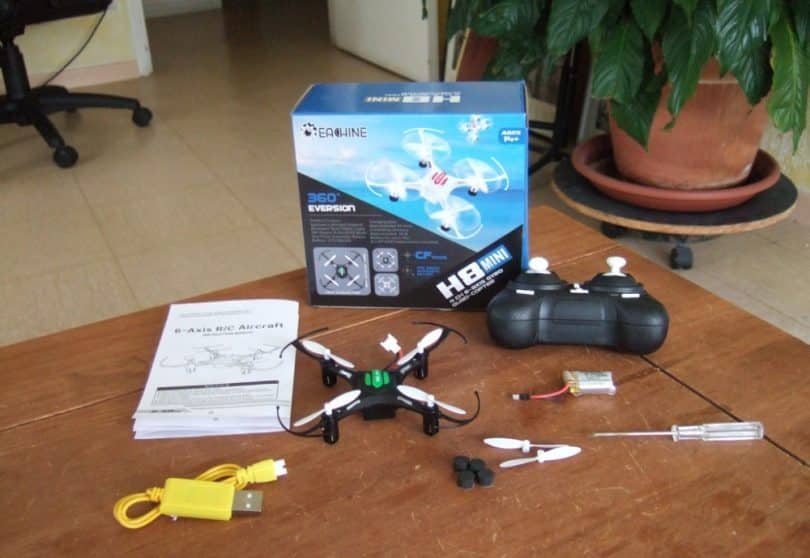 This mini quadcopter is full of fun and gives you the perfect flying experience. This is one of the drones that beginners should consider. It is also suitable for kids and recreational enthusiasts. What I love about these cheap drones that even though you crash them after a couple of flights, there is nothing to regret.
At the starting, when you are learning the drone flying, the minor crashes are pretty inevitable. That's why most of the drone experts recommend that you should always learn the drone with a basic cheap one and do all kinds of experiment that you can do.
Just imagine that you buy a DJI drone that costs, thousands of dollars and at very first flight, you crash it. It would be a real pain. This drone is suitable for newbies as it comes with some advanced features as well that we will discuss in details in the below sections.
There is a lot more room for customisation as well as you can add First Person View function to the quad. The drone is available for shipping worldwide, though you might have to pay the extra shipping charge.
The drone build quality is not very great, but it is decent enough to survive the minor crashes. Below are some of the items that you would be getting with the package.
H8 Mini Quadcopter (1)
3.7V 150MAH battery (1)
Transmitter (1)
USB charger (1)
Replacement Props (A & B)
Soft Foam Landing Cushions (4)
Screwdriver (1)
Manual (1)
EACHINE H8 MINI REVIEW
In this section, we will talk about all the important aspects of the drone. We'll cover the build quality, controlling, Camera Quality, flight performance and much more. So, let's dive into each one of them, one by one.
1- Drone Dimensions:
The drone is tiny in size, and you can carry it inside the bag but not possible to carry it inside the pocket. When it comes to drone dimensions, it's around 5.3 x 5.3 inches, and the weight of the quadcopter is less than one pound. The drone size is not very big and not very small which makes it be an optimum size. Most of the super tiny drones get swayed away by the small wind blow, but this drone can fly in the windy atmosphere.
2- Build Quality & Controlling:
The drone is build of good quality plastic material that provides is sturdy build, and it can easily survive the minor crashes. The reason why this drone has received good rating online, because of its lightweight build, it is very stable, quick and reliable quadcopter. It does all the flips very smoothly. The quadcopter also has LED lights inbuilt which help to fly the quad in low light conditions as well.
Apart from having a good build quality, when it comes to the controls; they are pretty simple to understand and use. Even though you are a beginner, you don't have to put too much brain into it. If you are not an experienced pilot, it's recommended to start the drone indoor and then go outdoors. It also has one key return feature which will allow the drone to come back so that you don't lose it.
3- No Camera Support:
It doesn't have any camera that could be a significant disadvantage. If you are buying the drone, only for fun, in that case, you can go for it. But, if you want some First person view real transmission, then we have mentioned some great alternatives at the bottom of the post.
Though it doesn't have the camera whatever features that you are getting at this price, makes this drone worth every single penny of investment.
4- Battery:
The remote controller uses three AAA batteries that you have to buy separately. When it comes to drone, it is powered by 3.7V 150mAh that you would be getting one with the product. The battery gets quickly charged in 45 minutes, and then you get around 5 to 7 mins of battery backup after the full charge. I would say to buy some spare batteries so that you don't have to charge the battery after every flight. The spare batteries are available at a cheaper price at Amazon.
5- Flight Performance:
After the full charge, the drone flies maximum up to 7 mins. The quadcopter range is around 30m. The quadcopter can easily do flips and other acrobatic stunts with a click of a button. You also have the option for different flight modes that allow choosing the one that you are comfortable with. The drone speed can be changed from 40% to 100%. If you are a novice, start at 40%, and gradually, you can increase the speed. When the speed is maximum, it literally converts into a racing drone that gives you the fantastic flight experience.
The drone has six-axis gyro stabilisation and works with 4 frequency channel. If you compare it with other drones with this price range, the stability and smoothness that you get are actually remarkable.
The quadcopter can also roll in 360 degrees from left and from right as well. The controlling of these advanced features will be entirely different in different speed modes, so make sure you know it beforehand, how to control the drone. When you are doing the flip, keep in mind that drone is at a suitable height, you don't get it to end up bumping in the ground.
6- Advanced Features:
The drone also has some distinct advanced features that make the drone more unique. Let's dive into those features one by one.
6 Axis Gyro: Most of the eachine drones come with 6 axis gyro stabilisation that provides you the better stability, and you will have a good experience flying it.
360 Degree: You can also do full flips from multiple directions that adds fun to the drone. This feature will take some time to master, so make you don't start trying it at very first flight. Once, you become a good pilot, you can try these stunts, and I am pretty sure, your friends will love it.
Multiple Speed Modes: Here, you can change the speed from 40% to 100% at your disposal which allows you to fly the drone at your comfort zone. Start at low speed and gradually, you can increase the speed.
LED Lights: It also has bright LED lights that will help you to fly the drone in low light condition. Flying in the dark is only recommended for experienced flyers, as it takes skills to maneuver it.
One Key Return: This is the feature which helps you to bring back the drone with the click of a single button. This feature is helpful when you to lose the drone and don't know what to do.
Headless Mode: This is an essential feature of the drone and helps the beginners in taking off the drone at the starting. In this case, you don't have to worry about nose and tail, and you can operate the drone with the same controlling, no matter at what direction it is facing.
How to add FPV to the Eachine H8 Mini?
Do you know that you can also convert your Eachine H8 Mini drone into an FPV drone? There is good news for you, yes you can. Below are some of the essential steps that you need to follow to add the FPV feature.
Firstly, you need to remove all the 8 screws so that you can get the frame apart from it. The four screws are for motors, and four are for arms.
Once, the screws are removed, you can remove the top of the upper plate. Make sure that there is enough space so that FX797T camera can fit over there.
It should not be tightened too much. Otherwise, it might break the frame which is not very sturdy.
Then, you have to make the cutouts at the bottom, so that battery can be fit over there. In this case, we would be using the XK X100 250mAh battery which is optimum keeping the drone weight and capacity into consideration.
Then, the splitter cable that you got with FX797T camera, you can attach it to FPV camera and take it below under the battery section.
Once, the connection is done, you can use the elastic band and double-sided tape to secure the things in place.
Technical Specifications
| Eachine H8 Mini | Specifications |
| --- | --- |
| Frequency | 2.4G |
| Gyro | 6 axis |
| Product size | 11*11*2.8cm |
| Quadcopter weight | About 20g |
| Charging time | 45mins |
| Flying time | 5-7mins |
| R/C distance | About 30m |
| Color | Black |
Watch the Video till End
Read More
Conclusion
This is one of the cheapest Eachine drone loaded with some advanced features. This entry-level quadcopter is suitable for kids and beginners. If you want the quad which is fun and has sturdy build at the same time, you won't find any other option than that. Below are some of the Amazon best selling drones that you can have a look at.
Trending Gadgets in 2021