This is one of the unique drones that you will find in 2019. It is quadcopter, hovercraft and a boat at the same time. Eachine E015 with flight bloat, apart from being so capable also comes at the super cheap price. It costs you less than $30. I mean, you can't find a better deal at this price. You also get two batteries with the product. You need not buy any spare battery separately. If we consider its outer look, it looks very cool, and your kid is surely going to love it. It has a red and black color design on the white body. To use it as a boat mode, you will be getting a boat pad with the product while for hovercraft mode, you don't need to use the pad.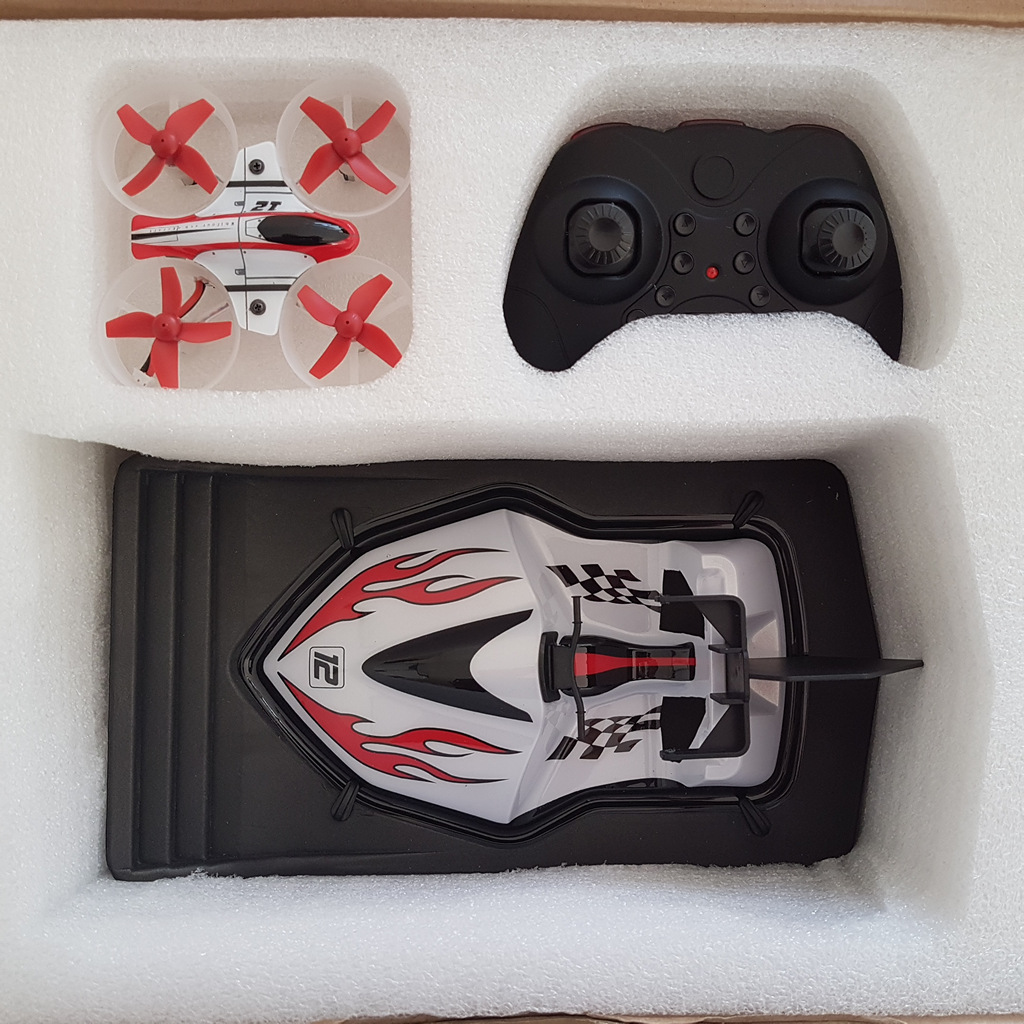 You can buy this Eachine E015 either at Banggood or at Amazon at an affordable price. There are a lot of other things that make this drone a complete fun package that we will discuss in the below sections in detail. Below are some of the accessories that you will be getting with the product.
Quadcopter (1)
Transmitter (1)
Boat pad (1)
Motorboat body (1)
220mah battery (1)
Screwdriver (1)
USB charger (1)
Propeller (2)
Instruction Manual
Eachine E015 Review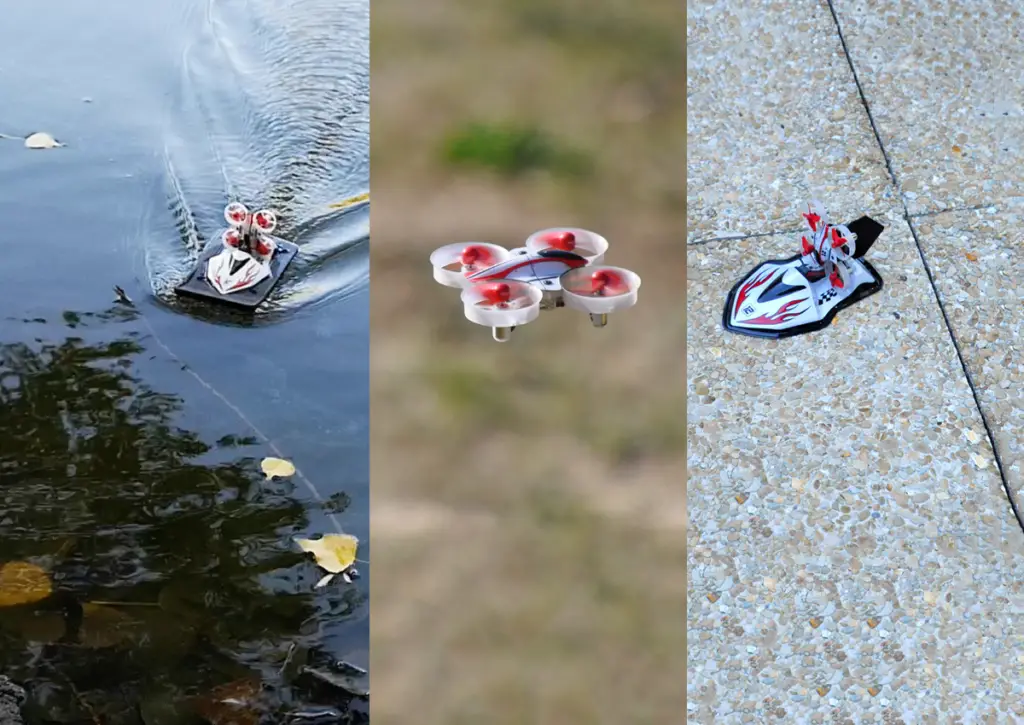 Eachine E015 is a drone recommended for kids and beginners. If you are a recreational enthusiast then also it could be a good fit for you. You get six gyro stabilisation with 2.4G with four channel. Let's dive into all of its important aspects one by one.
1- Build Quality:
The drone is super compact and has good build quality. In flight mode, it only weighs around 23 gram. You might be wondering; it might topple when using it in car mode but don't worry, it will give you a smooth performance. Its thinner body makes it resistant to failing. With the product, you would be getting Motor boat body and boat pad as accessories which are very good in build quality. You get two options to choose from one is yellow and the second one is red. This machine is super cool; I am sure that it's going to draw some eyeballs when you are using it outdoors.
2- Battery & Flight Duration:
When it comes to battery specification. It comes with 220mAH 3.7V battery that takes around 40mins to get fully charged, and you get around five minutes of flight duration. Though, when you are using it in car mode, the duration might vary depending on the surface, you are using it. In water, you can expect around 4-5 mins of flight time. Make sure that you take care of the battery properly. Do not overcharge them. When it comes to battery options, there are several other alternatives as well. You can also go with a little bit higher ampere battery that will enhance the drone flight time.
3- Three Unique Modes:
You see the three different versions of Eachine E015. It can fly in the air, run on the land and swim on the water. So, let's dive into all three modes one by one and let's see how you can use them.
The Quadcopter Mode: This is the way, you can use this device. The quadcopter

Eachine E015 has its propellers covered from the protector. It flies super smooth. Even though you are a beginner, you would be able to control the drone easily. It's fun to fly indoor without worrying about it bumping into something. The drone is very responsive, so make sure you throttle it very slowly. In Aircraft, its dimensions are 83.5*83.5*31mm. When you are doing the flips, keep in mind it is at enough height. Otherwise, you would end up hitting on the floor.

The Car Mode: In this mode, you can use Eachine E015 as a hovercraft. For this, you would be getting a separate car body in which this mini-drone fits perfectly. We have already seen some companies doing the same, making a car out of a drone but this one does it elegantly. The mini quad fits perpendicular on the body. When you are using E015 in this mode, the controlling would be bit different, so make sure that you start the hovercraft slowly and gradually, you can gain the momentum. In this case, the left stick will provide the forward thrust where you can do the left and right turning with the help of a right stick.
To use the drone in this mode, you need to find the flat surface. Keep in mind that there are not much ups and downs in the surface otherwise you would end up toppling it down. It has a very simple design and thinner at the bottom that won't let the car to topple. I really liked the way they have adjusted the center of gravity. I was watching some videos on youtube and found that it is very durable and can easily bear the minor crashes. Its rigid body is superb; I know after a couple of drives, you are going to get hold of it.
The Boat mode: You can also use it in the boat mode. But, what I have realised that this mode is not that smooth. The floating won't be that fast. But, still, you can enjoy this mode. It's a unique kind of experience see ing you drone getting converted into a boat. Be careful while using it on the water, if it topples, the electronics of the drone would be destroyed.
4- Indoor & Outdoor Flight Performance:
This drone is not very suitable for outdoor flights. Because it is so lightweight that with a small wind will blow it away. So, make sure when you are flying it outdoor, the weather is calm. The controlling distance is around 60 metres which are decent for beginners. When you are using it in car mode or boat mode, the range is less (around 20meters). The quadcopter is more suitable for indoor use; there you won't have any problem.
5- Headless Mode:
It also has a headless mode that is actually remarkable to see in a drone at this cost. In this case, you don't have to worry about the head and tale of the quadcopter. The controlling would be the same no matter whatever direction the drone is facing. This mode is really helpful for the beginners, and you can easily control the device without getting confused.
6- 360 Degree Flips:
You can also do some cool stunts with the drone that with the click of one button. Doing, this flip is very simple. You will quickly master it after a couple of flights. To have a good flip, you should have drone at a good height from the below surface.
Eachine E58 | A Mavic Pro Copy
Eachine E56 Most Affordable Selfie Drone
Technical Specifications
| Drone | Specifications |
| --- | --- |
| Product Size | 83.5*83.5*31mm |
| Gyro | 6-axis |
| Body Battery | 3.7V (220mAh) |
| Charging time | 40 minutes |
| Flight time | 4-5 minutes |
| Flight weight | 23grams |
| Working temperature | -10℃- +40℃ |
| Channel | 4CH |
| Frequency | 2.4G |
Final Verdict
Eachine E015 is a great deal. At this price, getting all these features, different modes make one of the best drones under $30 in 2019. It has a smooth and stable flight performance. If you are looking for a drone with a camera, then there are other Eachine drones available as well. You can check below given Eachine which are the best sellers on Amazon.
Watch the Video till End
Top 10 Trending Drones