Holy Stone is known for making some really cool drones. Their drones are suitable for beginners and come at a really affordable price. Today, in this article, we'll talk about one of the best selling drones of Holy Stone, which is HS170. It has some really great reviews online. If you are thinking of buying your first drone, this could be a good one to start with.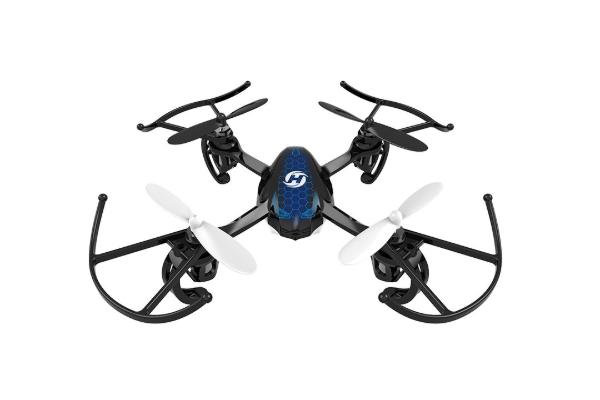 It has the solid build quality and stylish design, which gives it a premium look. You can perform the mid-air roll just by the click of a single button. A lot of beginners face a problem with drone orientation. This quadcopter comes with a headless mode which solves the confusion, and you can fly the drone without any problem.
After DJI, Holy Stone is another Chinese company which does millions of dollars in sales every year. This drone came a couple of years back, and after that, some upgrades also came, but still, this is one of the most popular drones. Since its launch in 2015, there are a lot of other companies have come to the market like Hubsan & Eachine, which are giving really good competition to Holy Stone Company.
It also has colored LED lights, which make it suitable to fly in low light conditions. What i really like about the drone that you can fly it indoor as well, which makes the flying more fun. It doesn't have any integrated camera, but still, it has other features which make it worth the investment.
The quadcopter is very easy to fly and also very good if you are trying to learn how to fly the quadcopter. In this article, we'll talk about all the important aspects that includes build quality, camera specifications, battery backup, and much more. Below is the list of items that you would be getting with the package.
Holy Stone HS170 Predator
Battery
Remote Controller
USB Cable
Screwdriver
User Manual
Technical Specifications
| Holy Stone HS107 | Specifications |
| --- | --- |
| Flight Duration | Up to 8mins |
| Battery Type | 750mAh 3.7V |
| Charging Time | up to 70mins |
| Range | up to 50m |
| Camera | None |
| Transmission | 2.4GHz |
| Headless Mode | Yes |
| One key Roll | Yes |
| Price | Check Here |

Watch the Video till End
Holystone HS170 Review
In this section, we'll deep dive into the different aspects of the drone. Read this section carefully. It will give you a better understanding of the drone so that you know exactly what you are buying.
Build Quality & Design
It is a very small compact drone with 5.3inches in width. It can easily fit inside your bag, and you can easily carry it from one place to another. It is a very lightweight quadcopter less than half a pound. So, when you are flying it outside, make sure there is no wind. Because in a windy situation, it is not stable at all. A good quality plastic is used, and it can easily recover from minor hits. It also has propeller guards as well, which makes the drone more safe and durable. The design is very stylish, which gives the quadcopter a premium look, and you don't feel like as if you are flying a toy.
Flight Performance
The quadcopter is very easy to fly. It is suitable for both beginners and advanced users. If you are a beginner, you have a headless mode to try. You will learn a lot of drone basics by flying it. If you are flying the quad first time, be ready for some unexpected crashes. But don't worry, it has prop guards, the quad will fall and fly again. In the drone, you get three-speed options to choose from. As a beginner, you should always go with the lowest speed mode at the starting, and gradually, you can move to the third speed mode.
It has six-axis gyro stabilisation which gives you smooth flight experience. I also love the fun side of the drone, which allows you to do a lot of flips and rolls with the click of a single button.
Transmitter
You get a pretty sturdy remote controller with the quadcopter. It is big, and you feel like as if you are holding a gamepad in your hand. The ergonomics of the transmitter is good as all the required buttons are at the right place and you don't feel the strain on your fingers. Apart from ON/OFF, there is no inscription on other buttons. I would recommend you to go through the user manual before you start fiddling with it.
Battery and Flight Time
It comes with 750mAh 3.7V removable battery which gets fully charged in 45mins. As you get only 6-8mins of flight time with the drone. I would recommend you to go with spare batteries to have consecutive glitch free flight experience. Also, there are a few things that you need to keep in mind regarding battery storage. Keep it away from the hot and humid area. Don't overcharge the battery. If you are using some different charger, make sure that it has the same voltage and ampere rating.
Flight range is around 30-50m, which is decent enough considering its price tag.
Extras

If you are a IronMan Fan, then there is a DJI Ironman Drone which gives you amazing flying experience as it is loaded with some advanced features as well. In Drone Industry, there are a lot of cool inventions also happening, now there is a Drone which can be launched through Grenade Launcher.
Holystone hs170g manual & Instructions
A lot of people have been asking questions about drone manual instructions and troubleshooting.Though considering the price tag, it might look like a toy but believe me; it is not. There are a lot of safety precautions there that you have to keep in mind. It also covers how to fly the drone, what to do if it crashes and much more. The manual covers all important aspects like.
Parts Descriptions
Battery Installation
Battery Charging & Safety
Flying Operation
Gyro Calibration
Flip Mode
& General information.
Download the User Manual from here.
Holystone HS170 parts
You can buy the drone body parts separately, and it will ante up your flying experience. You can buy the body shell, propeller guards, long and short screws and rotors, all less than $10. When you are buying the propellers, make sure you fit them in the right position, black ones are for clockwise rotation whereas white for counterclockwise.
Buy the drone parts here under $10.
HS170g is the upgraded version of HS170 where you get better fight experience. According to the user, the altitude hold is much better; the drone is more steady. Also, you'll see some changes in the controller as well because HS170g is a bit bigger than the HS170. Apart from that, you'll see there is a little price difference. According to the company, they have made several changes, but everything other like headless mode, 3d flips, and other features are the same.
Holy Stone Hs170 Pros & Cons
Better Alternatives (Expert Recommendation)
Summary
This is one of the best selling drones in 2019 that you can go for. You get all the necessary parts with the drone; you don't need to buy anything separately. Just take it out of the box, charge the battery and you are ready to take it off. It is a low maintenance drone. All the parts are available at a lower price online. The drone also looks very stylish at the same time. It could be a perfect birthday for your son's birthday.
In case you have any doubts about the drone; you can let us know in the comments below. We'll try to respond as soon as possible.

Trending Drones
Yuneec H520 Commercial Drone Review
Top 10 Drones for Real Estate Photography & Videography
Sensefly Ebee X, SQ, Classic & Plus| Price, Manual & Parts
Xiaomi Fimi A3 5.8g 1km fPV GPS Drone Review
Xiaomi fimi x8 se 4k GPS Drone Review