This is one of the best selling Eachine mini-drone. It is suitable for kids as well as for adults. The drone is ready to fly out of the box, so you can just take it out of the box, and it will be hovering in the air within minutes. The quadcopter is super small, and you can easily carry it while travelling. The quadcopter is made up of good quality plastic that makes it durable and gives it a longer life.
If we talk about the price of the drone, it comes at a very affordable rate. You won't find any other drone at this price range with these many features. The drone is easy to control, and even the novice drone enthusiasts can fly it without much practice.
Eachine E010 Mini also boasts about its one key return feature, which brings back the drone to its home position, in case it goes out of control. As the quadcopter doesn't have inbuilt GPS, so landing won't be that precise, so be ready for some manual maneuvering as well. It has some other amazing features also which make the drone more advanced. What I really appreciate about the drone that it is quite simple to use. Read the manual, and it gets paired very quickly. You need not to worry about any other technical stuff; everything is pretty simple over here.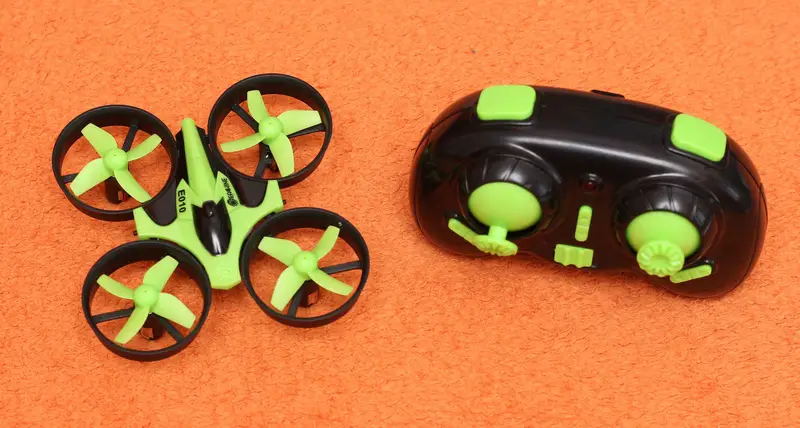 The drone is also capable of doing 360-degree flips with the help of a single button. Its bright LED different colour lights helps you to differentiate between nose and tail part.
The battery of the Eachine drone gets charged very quickly and then you have 6 to 10 mins of flight time that is not bad, keeping the drone price range into consideration. It also has a low battery indicator that also helps you to bring back the drone manually before the battery fades out. I would suggest that for better flight experience, you should purchase some spare batteries, it will allow you to have a consecutive flight without putting it on charging again and again. The spare batteries are available at a very cheaper price, so it's better to buy some extra batteries with the product itself.
The controller of the drone is tiny and compact, so in case you are gifting it to your kid, he won't have any problem handling it. If you ask me to compare its indoor and outdoor flying experience, I would say that it is suitable for indoor flying. In Outdoor flying, small wind can easily blow it away.
Its fan is ducted which allows the quadcopter to survive the minor crashes very easily. Though, the drone doesn't have altitude hold function that could be a really big disadvantage for you. Below are some of the product items that you would be getting with the package.
Quadcopter (1)
Transmitter (1)
USB charging cable (1)
manual (1)
Spare propellers (4)
Eachine E010 Mini Review
This is the Eachine E010 Mini-Review section, where we will discuss all the essential aspects of this quadcopter. We'll cover the drone performance, build quality, affordability and much more. So, let's dive into each one of them one by one.
1- Eachine E010 Mini Performance:
The quadcopter is super small, and its propellers are quite bigger in comparison to the drone size which gives the drone better lift and takes off. If you are a beginner, then you can choose among the different speed modes at your disposal that provide you the better control. For novice pilots, it's recommended to fly it at slow speed, and once you get the hold of it, then you can gradually change the speed mode. I am pretty sure that you will crash the drone during initial flights, but don't worry, it will crash and fly again. The drone is almost unbreakable, and that's why I love it. In case any part gets broken, the spare parts are easily available online, so need to worry.
Some of the users said that the drone doesn't have a stable flight if the battery is not fully charged. So, make sure that you charge the battery fully before you connect with the controller. If you never flew the drone before, in that case, don't start using the advanced modes from your first flight. Make sure that you become experienced in this, then only you try flips with it. When you are trying the 360 rotation, make sure that quadcopter is at a suitable height, so that during the flip, it doesn't end up hitting the road.
As, its props are safe from the plastic covering, so when your quad hits the wall, it will bounce back and start hovering at the same position. Read the manual thoroughly, before you start playing with it. You should know all its essential functionalities. The drone flight is super stable and smooth; it's very rare to find the drones with this excellent performance at this price range.
2- Remote Controller:
If we talk about the size of the controller, it's pretty small. It is suitable for even 8-10 years old kid. You can easily reach all the buttons without putting a strain on your fingers. You can also do the remote controller customisation; the thumbsticks length can be changed at your comfort. It requires AA batteries for power input. You can change the speed of the drone during flight with a click of a single button. You won't be getting the AA batteries that you have to buy separately. To get the connection done, you have to turn on the quadcopter first then controller.
For the pairing, you need to push the left lever up and down which will enable the connection between both quadcopter and transmitter. If you are still unable to see the connection, then you can go with two lever function that you can do with reading manual instructions. Don't try to fly the drone out of the range; you might lose the connection. In case you lose the drone connection in the range only, in that case, try the two lever function, and you will be connected again.
In case, nothing is working, and you see the quadcopter crashing into something. You can turn off the quadcopter, or you can also run and grab it, it will reduce the damage percentage.
3- Battery Power:
When it comes to the battery specifications, it comes with 150mAh battery that takes around one hour to get fully charged, and then you get around 6 minutes of average flight duration. The battery is 3.7V. There are a couple of things that you have to keep in mind regarding battery safety. Don't overcharge it. In case, you are using a different charger, make sure that it has the same ampere and voltage.
4- Advanced Features:
There are a couple of advanced features that drone has which makes it a unique drone. Let's dive into them one by one.
Durable Build Quality: When it comes to Eachine E010 build, it is very compact, and it can easily survive the minor crashes.
Compass Mode: It also has compass mode which allows the quadcopter to fly it at a fixed height. It gives you more stability and smoothness.
One Key Return: You can also use the one key return function, and the drone will return to you. It won't be that precise; you have to do some manual handling as well.
LEDs: It also has LEDs which allow you to fly the drone in the night time as well.
Battery Indicators: Once the battery is low, you will get the notification and also a buzzer so that you don't crash the bird.
Technical Specifications
| Eachine E010 Mini | Specifications |
| --- | --- |
| | |
| Quadcopter Size | 9.5X9.5X5CM |
| Gyro | 6-axis |
| Frequency | 2.4G |
| Battery | 3.7V 150MAH |
| Flight time | about 5 minutes |
| Charging time | 30 ~ 50 minutes |
| Flying distance | 30 meters |
Eachine E010 Mini Pros & Cons
In this section, we will brief you about the pros and cons of the Eachine E010 Mini. We'll discuss both the sides of it (positives & negatives). You can go through all and decide whether it matches with your requirement or not.
Pros
The drone has all the features that a beginner should need. One key return feature allows you to come back to home position with the click of a single button.
You also get four spare propellers with the drone in case, any one of them gets broken, you have other replacement.
You can also perform 360 flips with the click of a single button. It adds fun to your flying experience.
It comes with six-axis gyro stabilisation that provides smooth and stable flight.
The drone is super small and compact in size that allows you to carry it without any glitch.
The good quality plastic material is used which makes the drone more durable and it can easily survive the minor crashes.
In case any part of the quadcopter gets broken. The spare parts are easily available.
Cons
The controller is very tiny. For many adult pilots, it might not be very handed to use.
It is not very good in the windy atmosphere. Only recommended outdoor when the weather is calm and composed.
It doesn't have any camera. So, it's basically a toy and suitable for kids to have some fun.
It has only 5 minutes of flight time which is not very ideal.
Read More
Eachine E32HW FPV Fly More Combo
EACHINE E010S PRO 65mm Shark Drone
Final Verdict
I hope that we have covered everything about Eachine E010 that you should know. The drone is one of the Eachine best sellers online. It has received really good reviews from its users. It has some of the best features that you will find in thousands of dollars of DJI drones. In case, you are looking for an alternative; you can have a look at below options.
Trending Gadgets in 2021