When it comes to drone flying, I am sure more than 60% of people find their drone stuck in the tree sooner or later. Trees are the enemies of drones.
Sometimes, you can take out the drone very easily, while sometimes it becomes quite impossible.
It happens because of inexperience in drone flying, or too much confidence could also be the reason. Or sometimes, you can have a bad day with bad weather where heavy winds blow it off.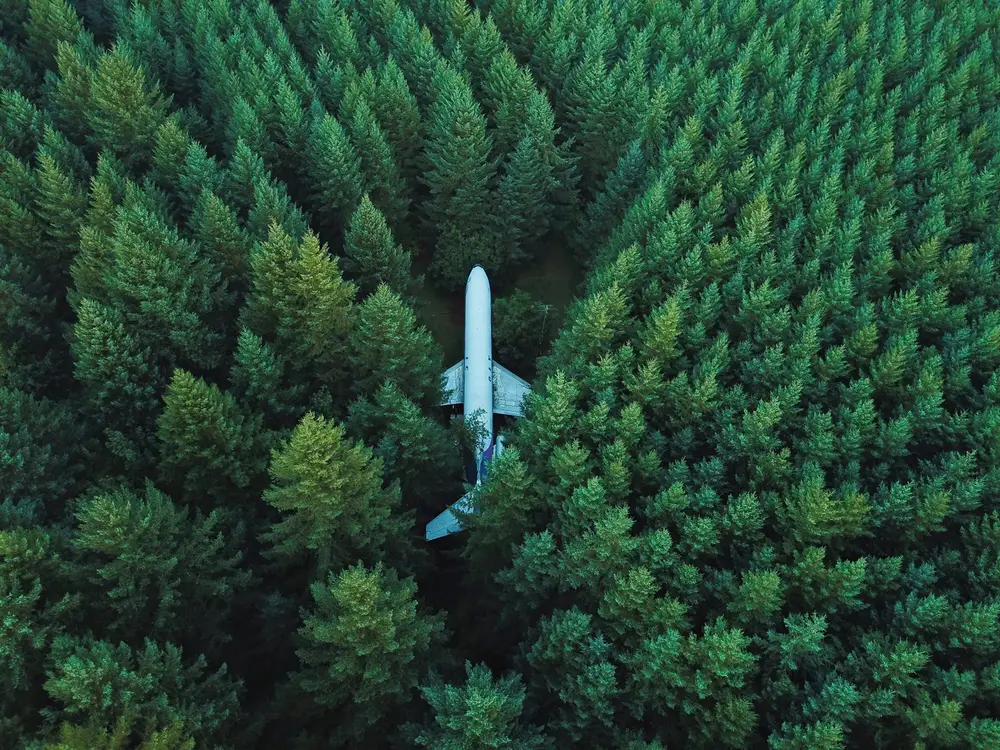 Let me share my experience when the first time I got my drone stuck in the tree. I was flying in the jungle only, and it happened when the drone went out of my sight, and I was controlling everything with FPV.
I will call it carelessness, but luckily I got my Mavic bro back, I had to climb the tree.
You also have to cross-check whether the drone is stuck or not? In the starting, you should try to take it off using motors only. It might work when blades hit the branches; it might detangle itself from the branches.
So try first with the controller only because once the battery runs out, you won't have this chance. You can try it, by rotating the props in different directions.
There are a lot of discussions going on online where people share their funny experiences about drones getting stuck in the tree. Also, daily email shares a story in which a person himself gets stuck while trying to retrieve the drone.
Watch the below video till the end, you'll surely get some creative ideas about how to get your drone out of a tree.
When it comes to getting your drone out of the tree, there could be several ways, and you have to decide which one is the best for you?
Make the right decision, because a silly mistake can damage your drone. Below are some of the different options that you can go for to get your quadcopter out of the tree.
Shake the tree
Use the Pole
Climb
Ladder
Drone helps the drone
Rock the branch with Sling Shot & fishing Wire
PVC Pipe & Duct Tape
Fire Department
Mechanical Lift
Use your brain & Combination
10 Ways to Take the Drone out of a Tree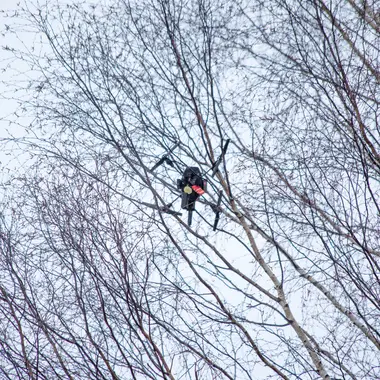 1- Shake the tree
This is the first option that you should try. It won't work with all the trees especially with tall trees like palm and pine, but if the tree is not that tall, you might get it just by shaking it.
Sometimes, you would be able to reach the branch but not the branch where the drone is stuck, so you can shake the branch as well if shaking the tree is not possible.
Here, you have to use the brain and see what's working and what's not. It would be better if you have someone to assist you so that if the drone falls, someone is there to catch the drone.
If the drone directly falls on solid ground from this height, this might do more bad than good. So, remember to have some friends around then only try to shake the tree.
Sometimes, it might dislodge the drone, and it can come to a different branch then you can shake that particular branch to get it out of the tree.
2- Use the Pole
If you have a long pole available nearby that can reach the drone and you can lift it then it could also be a good option.
Make sure the pole that you are using is light in weight because large and heavier poles would be difficult to control. You can go with any plastic or fiber ones.
If in case you are lost in the jungle then try to find a long stick nearby that you can use, and if it's not reaching, then you can stand on the higher place from where you can reach the drone.
You have to analyze the situation and use the available resources that you have. You can also use duct tape to connect multiple pipes to the pole, which might help in case the pole is shorter.
When you are using the pole, I would suggest instead of pushing the drone out of the tree, better you try to put it between the landing skid that won't let the drone fall, and you can easily bring it back.
If you are wondering what it might fall and get damaged, have your friend around you can catch it.
3- Climb
Sometimes climbing up the tree could be the only option. If it's a palm tree forget about the climbing. A tree with a lot of branches where it is easy to climb could allow you to climb.
Keep in mind; you have to climb up and climb down as well. One should only climb the tree when he has done the climbing before, and he is sure of taking the drone and coming back safely as well.
If you are a novice, you might save the drone, but you might hurt yourself. Keep in mind when you are climbing the tree, you are not wearing any valuable item, and your attire is also not very loose so that it doesn't get stuck with any branches.
Never climb the tree if it's wet because in that condition, it becomes very slippery and you can hurt yourself. You can also remove your shoes and socks for better safety. Know the step-by-step process of climbing with the image on Wikihow.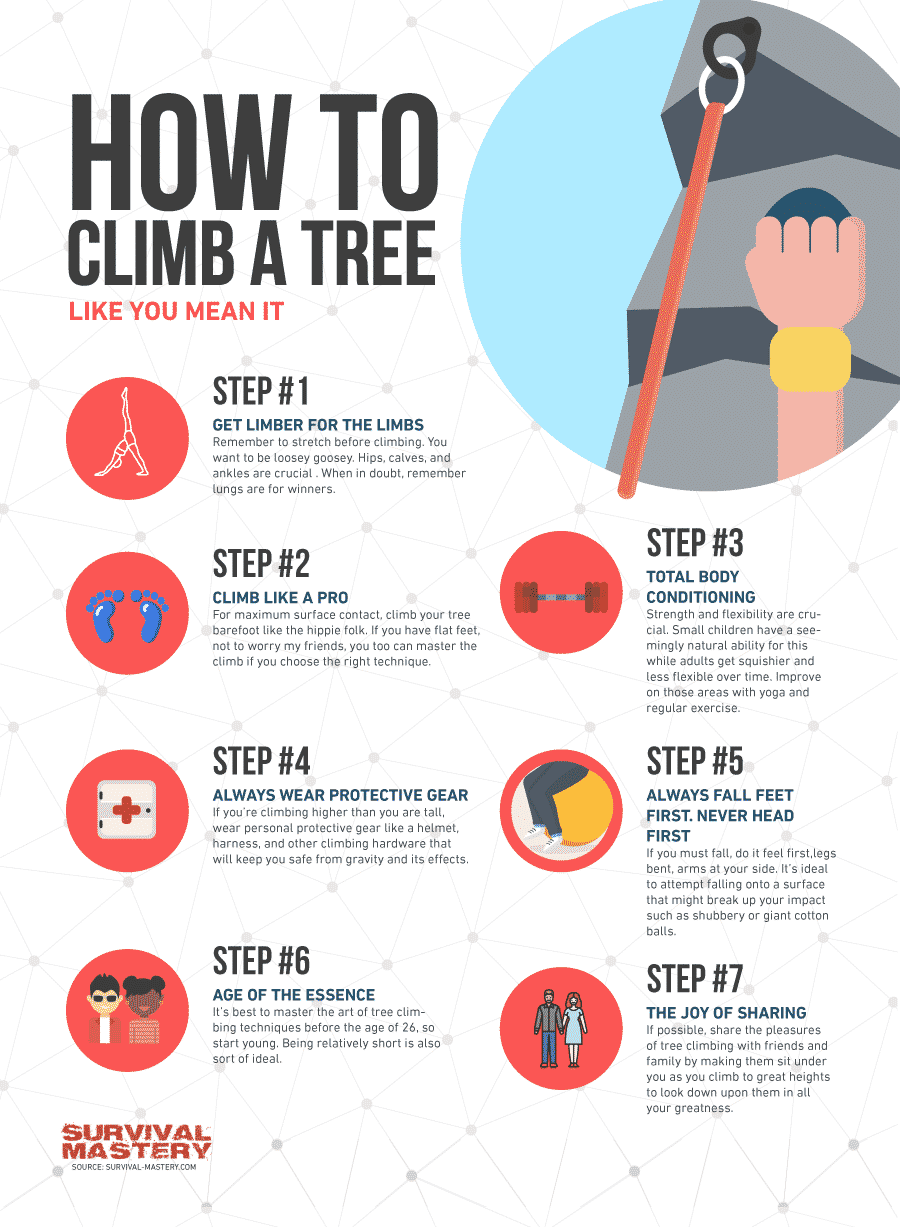 4- Ladder
If the ladder is available then it could be the safest way to take your drone out. In case, you don't have one; you can also take it on rent. The ladder is much safer than climbing a tree.
When you are using the ladder, it is very important to have someone at the bottom to hold it, because if you fall from it, it's going to hurt badly. While using the ladder put it on flat ground so that it is steady and you remain safe.
If you are a heavy and bulky person, make sure the ladder is also strong enough to support your weight.

5- Drone helps the drone
It might not sound very practical, but you can use another drone to get this drone out of the tree. It could be a costly method. For this purpose, you can take your friend's drone if any one of them has one or you can buy one as well.
In this case, you have to use the string, fishing hook with the drone. Before using this drone, make sure that this new drone is capable enough to carry the weight of the stuck drone.
If it can, then attach the string and fishing line with the second drone. This is only recommended for experienced pilots where you know how to maneuver the drone properly.
Try to put the hook at any part of the stuck quadcopter and then you can fly it off. Don't bring the second drone too much close to the tree because you don't want to end up losing your second drone as well.
Here, your drone skills are going to play a huge role in your drone rescue mission.
6- Rock the branch with Sling Shot & fishing Wire
In this case, you should know how to use the slingshot. The idea behind this is to through the fishing wire around the branch with the help of a slingshot and then shake the branch.
It might seem very simple, but if you are not good at aiming, it might not just work for you. To set up this, you need to have a slingshot, fishing wire, and lead weight.
Then attach the lead weight carefully with fishing wire and give them enough slack for the fishing depending upon how far the branch is.
Here, your aiming is very decisive; you should aim a little higher to the branch so that it wraps around the branch.
Once the fishing line wraps around the branch, then you can give it a good shake, and it might fall if you are lucky enough. Make sure; you have your friend at the ground to catch it.
You might also need gloves to hold the fishing line properly because grabbing the fishing line with bare hands might not be a good idea.
Also before using this strategy, make sure nobody is around in case you miss the weight, you don't want somebody to get hurt. Use your best judgment, and we wish you luck.
7- PVC Pipe & Duct Tape
This is the advanced version of using the pole method. Here, you would be attaching a couple of pipes with the help of duct tape, and then you will try to retrieve your drone.
This method might work only if your drone is under 5o ft, more than that would be quite difficult.
Using PVC pipe and Duct Tape, you will make a long stick with a sticky end that will grab the drone from the tree to retrieve your drone safely without dropping it.
This method only works if your drone is under 50 ft. Anything past that height makes the piping very flimsy and hard to handle. When it comes to setup, you should have four PVC pipes then connecting pieces, and some duct tape.
Then connect the pipes using the connector. If they do not fit properly, you can use duct tape to get them fixed.
8- Fire Department
If you know, you won't be able to do it on your own, then call the fire department. If the drone is stuck in a public area, it would be completely pointless to use slingshots and other tactics.
This also depends a lot on your luck whether they will come or not. Because for your drone, they don't want to send their crew.
So, it's up to your convincing skills, and if you get lucky, they probably find some time for your drone rescue in their busy schedule.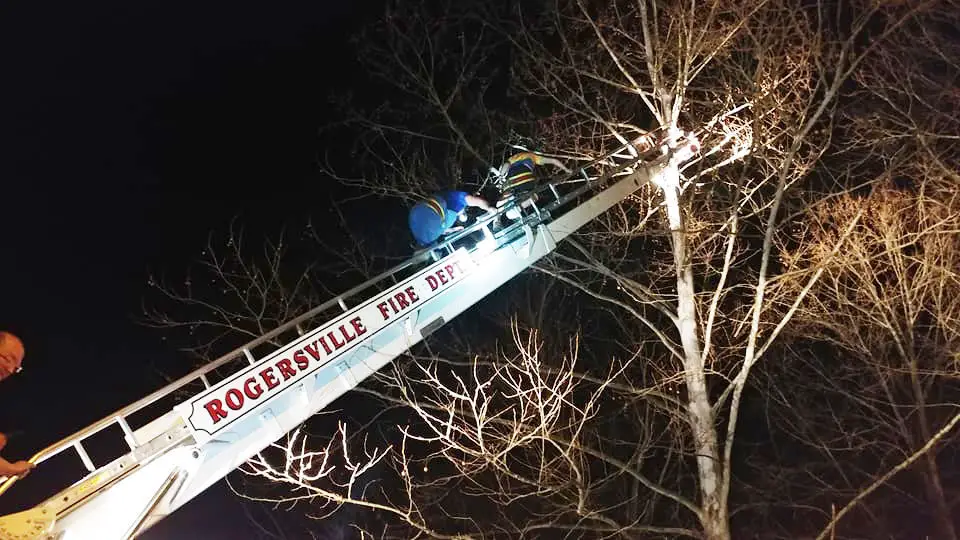 9- Mechanical Lift
You can also use the mechanical lift if it is available nearby. Though, you have to pay some amount for the same. Make sure that your quadcopter is worthy of that investment.
You don't want to invest the 60dollar for a $50 drone.
If it's a high-end drone that cost you thousands of dollar, then don't think twice and go for a mechanical lift because it would be the safest way to take your drone off the tree.
10- Use your brain & Combination
Everything depends on your situation. It all depends on what tree drone is stuck, at what height, what is the surroundings and what are the available resources. So, use your brain and make the right decision.
If the drone is stuck in a very tall tree, you might have to use the ladder and pole together. You never know. Right? Also, keep your safety into consideration, you don't want to hurt yourself to save the drone.
Take proper safety measures, and we hope you get your drone back. Till then.
Final Thoughts
You should also consider how much your drone is worth to you at the end of the day. If the drone is under $50, it's usually better to just walk away and get a new one.
The majority of tree rescues will cost you more than $50 in time and effort. If it's a more costly drone, though, be sure your safety comes first.
If you suspect any form of risk during your drone rescue effort, call the cops right away!
Happy Drone Flying 🙂