Digital cameras have become part of our life long ago, and no outing can be done without a digital camera hanging around your neck.
But as time went on, Digital Action cameras were released to shoot all your outdoor activities and sports like surfing, skiing, etc.
All the speedy activities can be captured in the best quality and from different angles with the help of an Action Camera.
An action camera is usually compact and rugged and mostly comes with a waterproof surface level, so the action camera can easily capture all the fast activities that a normal digital camera fails to capture.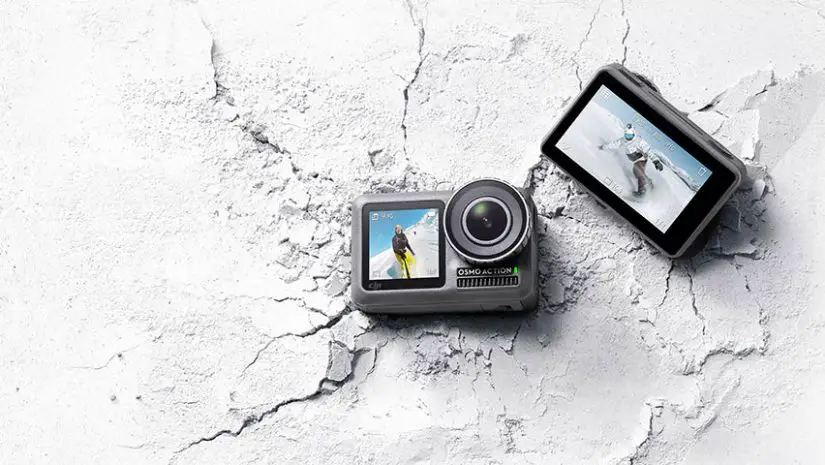 DJI Osmo Action Cam Digital Camera garnered much attention when it was announced to be released as expected because of the reputation DJI held for the drone, and it did not disappoint us in the slightest with the assortment of features the waterproof action camera proves to be superior in more ways than one.
So without wasting any time, let's see what it has to offer us in its bag.
DJI Osmo Action camera provides you with all the necessary tools that you might need to use immediately out of the box.
Osmo Action camera.
Camera Frame.
Flat Adhesive Mount.
Quick-Release Base.
Battery.
Battery Case.
Locking Screw.
USB-C Cable
Check the Best Price on Amazon
Features
Dual screens
DJI Osmo action camera has a dual-screen to easily capture whatever you want from behind the lens and use the front screen for selfie purposes; these days, we shoot ourselves more than we capture others.
You can turn on and off the front screen as your will, so you don't have to waste extra batteries on a screen you are not using, and you can switch the front screen on with the double-tap with two fingers on the rear screen, easy and accessible for everyone.
The rear camera size is 2.25 inches; it is touchscreen along with water and touch-screen repellent coating; the front camera is 1.4 inches that comes in handy if you are into vlogging or like to capture yourself on cameras.
HDR and Rocksteady
HDR Video mode helps capture the images and video with more dynamic details; it adjusts the colors of your footage to make it more natural and vivid, enhances the picture quality, and restores the surrounding detail that usually gets lost in the bright lightings. It provides clearer and crisp quality footage that will leave you in awe.
As the name suggests, Rocksteady gives you stable and shake-free footage; The EIS is combined with complex algorithms that make Rocksteady, it gives you stable footage no matter how hard, and speedy the action gets.
However, you can't use both the HDR mode and Rocksteady feature simultaneously.
Waterproof
The DJI Osmo Action camera is one of the best waterproof action cameras out there; it gives you an 11M underwater waterproof feature means this action camera will as well as it does on surface underwater above 11M.
The watertight seal sealed off the battery, Micro SD slots, and the USB ports with the seal flap and hydrophobic coating on the rear screen.
All this made the DJI Osmo action camera reliable underwater, and you can take underwater without fearing damage and shoot the marine life as much as you want.
All the shooting Modes
Many other shooting modes are provided by DIJ Osmo action camera, which you may or may not find in other cameras easily, but these are worth mentioning:-
Creative Shooting Mode: This mode helps you shoot on-the-fly moments; suppose you are shooting someone bungee jumping, then this is the mode you would want to use to get the best shots to capture the moment.
8 x Slow Motion:  Use 8 x Slow motion to get crisp clarity and detailed footage in 1080p and 240fps.
Timed Shooting Mode: This mode comes in very handy when you have to set a few sets before capturing a picture, just set a timer, and the camera will do the work for you.
Time-lapse: DJI Osmo also provides Timelapse for easy and fast results.
Battery
DJI Osmo Action camera comes with a rechargeable lithium-ion battery; it is included inside the package along with a battery case.
It gives you maximum runtime of two hours with a single charge, and it takes almost 90 minutes to completely charge it, A long time, in my opinion, considering the runtime, but you can take spare batteries with you if you want to have more runtime.
You can charge it with the USB; a cable is also included in the pack, but no AC Adapter.
This Action camera also provides you with an Auto sleep feature to save up power; you can adjust Auto sleep according to your preference with a minimum of 1 minute.
Storage & Share
Everything you record with the Action camera is saved in the microSD card that you have to put one for yourself as it doesn't come with the camera. It can support up to 256 GB microSD cards.
You can also connect your smartphone with the DJI Mimo app to edit, share, sync photos and videos.
It can also be connected with Bluetooth and WiFi for an easier sharing experience though it doesn't have any cloud storage feature.
DJI Osmo Accessories
DJI Osmo Action camera gives you a series of accessories that help you get a more exceptional experience with your Action camera. The Adhesive mount comes included with the package to use on flat or curved surfaces.
You can get the waterproof case for extra and to reach more depth on the underground, while you will get up to 11M underground with the camera, you can get approximately 60M underground with the case, and if you are a marine life enthusiast, then don't think twice to buy it.
It also comes with a 3.5 mm mic adapter for connecting external microphones.
It also comes with an assortment of filters for a better experience of shooting your environment.
DJI Osmo Action Mount
DJI Osmo Action External Mic
General Information
DJI Action camera comes with Built-in Mic and Speaker along with a sensor.
The Osmo Action camera's video format supports MOV and MP4, so you don't have to worry about them not supporting your other devices. It supports audio format AAC.
The still image resolution is 12 MP, usually in JPEG.
You can also see the remaining time that displays on your screen during recording, and the capacity of your memory card will be displayed while you take photos.
While the rear screen is equipped with a touchscreen feature same cannot be said about the front, that screen is only for viewing.
Check the Best Price on Amazon
Technical Specifications
Camera Sensor:- 1-Chip 1/2.3″ CMOS
Sensor Resolution:- 12 MP
Maximum Aperture:- f/2.8
The angle of View:- Wide: 145°
Display Type:- LCD
Touchscreen:- Yes
Screen Size:- 2.25″
Screen Resolution:- 640 x 360 (325 Dots)
Aspect Ratio:- 16:9
Pros and Cons
Pros:
This provides you very Impressive steady image.
This had dual-color screens.
The quality of the image is something else
It's waterproof up to 11M without needing a case.
Cons:
Many modes like Rocksteady can't be used simultaneously with HDR.
The DJI Osmo Action camera looks don't appeal to some buyers.
Summary
This DJI Osmo Action camera is equipped with many features and qualities that appeal to many users and give GoPro a run for its money; this action camera is also a bit cheaper than GoPro, so you can save some bucks if you decide to go for this.
It seems like we finally have something that gives tough competition to GoPro with many good and extra features like Dual screen and Rocksteady.
The picture quality is one of the best with great resolution, and many buyers feel happy with this product.
Check the Best Price on Amazon