Eagle 3 Pro Drone has recently come into limelight because of its low price and high-end features. Today, in this article, we will talk about DRW388B lightweight drone features, how to fly, assembly process, battery specs, replacement parts and much more. The quadcopter is very lightweight and doesn't think about flying it in the windy condition because a simple wind will blow it away.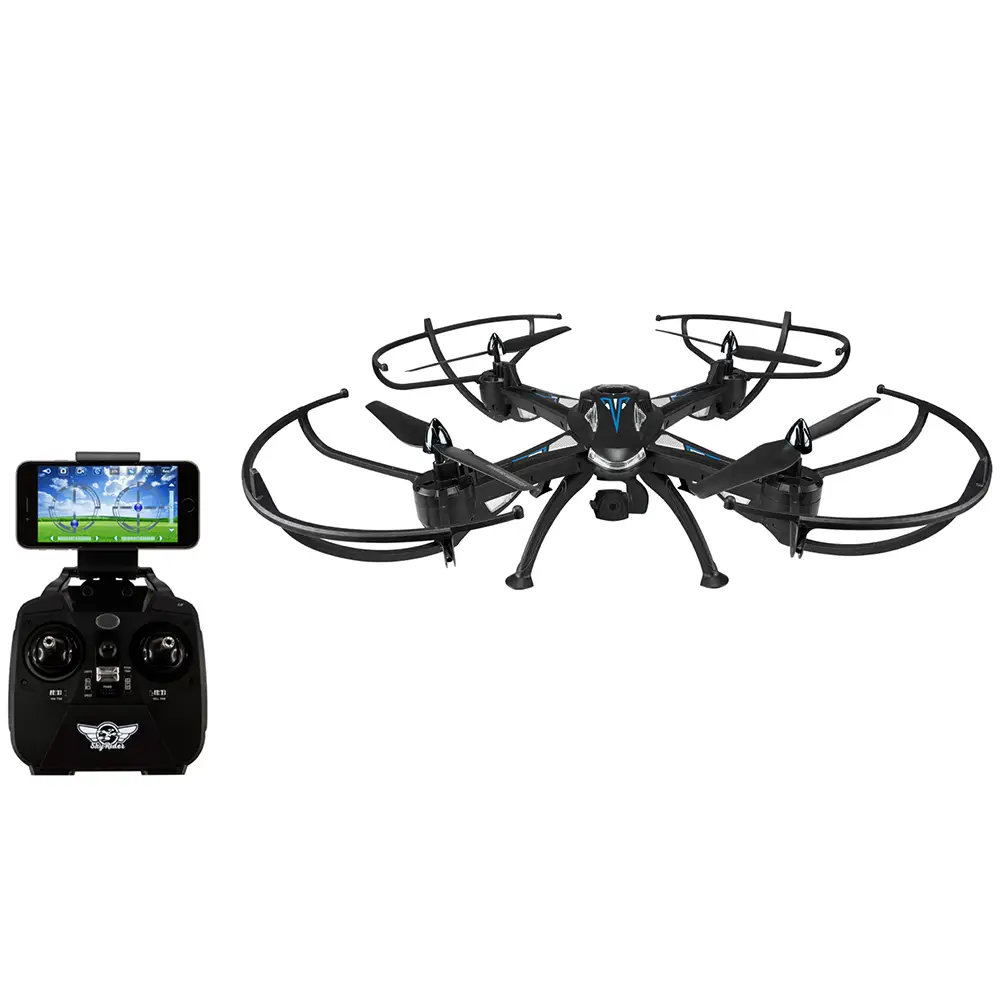 The drone is for beginners, but it's not very easy to fly. You are definitely going to have a hard time controlling it if you a novice flyer. You can also do a lot of cool stunt with this drone that adds fun to it. The quadcopter falls in the toy category, so don't expect it to be used for professional purposes. The build quality of the quadcopter is decent but not very sturdy. It might survive the minor damage depends on what kind of crash you have. Though, people are not very happy with the controller build quality, but what do you expect in $30 range drone.
Though, drone seemed to be fine keeping the cost into consideration. But, a lot of users complained that they received a defected product during the time of delivery. So, that depends on your luck, in case you receive a defected piece, you can ask for the replacement.
If you are buying the drone for your kid, make sure, at the starting, you fly it indoor only, and once you become good at flying, you can take the bird for an outside adventure. Also, do the quadcopter calibration before you take it off. The quadcopter also has four LED lights which allow you to fly it in low light conditions as well.
The drone is also very responsive well. You can fly the drone in multiple speed levels. So, when you are flying at the starting, start at low speed, get good control over it and gradually, you can increase the speed. The six-axis gyro stability provides better stability, but users said that it would move around a lot and you have to control the quadcopter manually. The quadcopter also has a lot of features that are helpful for novice flyers. The headless mode helps you not to get confused with the drone orientation, and you can easily control the quadcopter. Below is the list of items that you would be getting with the package.
Eagle 3 Pro Drone
Remote Controller (batteries not included)
USB Charger
Four Spare Propellers
Screwdriver
User Manual
Eagle 3 Pro Drone Review
In this section, we will talk about the different important aspects of the quadcopter that you should be aware of. We will dive into multiple modes option, build quality, camera specifications and much more. So, read this section thoroughly, to get better clarity about the drone.
Build Quality:
It has a shiny black design, and it is also sturdy at the same time. For propellers safety, you also get the prop guards that keep the blades safe from any kind of possible damage. Though, you don't get many options in terms of color choices. It has different color bright LED lights which help you to keep track of the nose and tail part of the drone. The Controller is also in black color which has a total of six buttons and two joysticks. While holding it, you will feel like as if you are holding a gaming controller. The quadcopter has six-axis stabilization.
Battery Backup:
With the drone, you get regular Lipo battery that gets charged in two hours and then you have around 6-8 mins of flight time. I would recommend buying some spare batteries so that you don't have to put your drone for charging after every five minutes. The spare batteries are available at a cheaper rate online. There are a couple of things that you have to keep in mind regarding battery safety. Don't overcharge them; keep them at a safe place. If you are using a different charger, make sure it has the same ampere and voltage reading. Keep in mind, the flight duration here is very less, so you have to bring back the drone before the battery runs out.
Headless Mode:
The quadcopter also has a headless mode that allows you to operate the drone with the same controls no matter at what direction it is facing. Here, each part of the drone can work as the nose and you will not be confused about the drone orientation. This mode will help you a lot if you are a beginner.
360 Flips:
You can also do 360 flips with the drone. It adds fun to your flying experience. The flip happens with the click of a single button. Try this flip once you have good control over it. Make sure that the drone is at a suitable height; you don't want it to crash it during first flight only.
Multiple Speed Modes:
The quadcopter also gives you the option of choosing among multiple speed modes. You can choose among low, medium and high-speed modes. If you are flying the drone for the first time. Make sure that you start at low speed, and it will give you better control. Also, have in mind while doing the flips, the speed will vary, so choose the drone height accordingly. At the low-speed flip, it will need more height. The speed can be easily changed with the click of the button present on the controller.
Camera Quality:
The camera quality is not very good, but it would do the job. This drone will teach you how to frame the shots and composition. You can also adjust the wifi camera angle that provides you more freedom and flexibility. It also has FPV feature that gives you real-time transmission. The company says that it is also VR supported. You can buy the VR Goggles and have an immersive experience.
LED Lights:
The drone also has the LED lights which allow you to fly the quadcopter in low light condition. The nose and tail LEDs are of different color, and you don't get confused about the nose and tail part. Though it helps you to fly the drone in the dark, but if you are a novice player doesn't recommend the night flying.
Remote Controller:
You get a 2.4GHz remote controller with four channel frequency. The remote controller is powered by a double AA size battery that you can buy outside. The controlling distance that you get with the transmitter is around 300ft.
Technical Specifications
| Drone | Specifications |
| --- | --- |
| Flips | 360 Degree |
| Gyro | 6 Axis Stabilisation |
| Speed | Multiple Modes |
| Remote Control | 2.4GHz |
| Headless | Mode |
| Charging Time | 120 Minutes |
| LED Lights | Yes |
| Charging Time | 120mins |
| Material | High Quality |

Watch the Video till End
READ MORE……
Best Drones with Camera in 2019
How To Get A Drone Out Of A Tall Tree
Smallest Gimbal Camera in the World
How to take a perfect Dronie shot
Lightweight Drone for backpacking under .55lbs
FPV Racing Drone Kit with Goggles
Conclusion
The drone is of average quality, better not to have much expectation from it. But its affordable price makes it worth giving it a try. If you are looking for a toy drone, then this is kind of a drone that even though you crash it at very first flight, you are not going to regret it. Below are some of the better alternatives that you can have a look at.
Trending Drones
DJi Flame Wheel F550 Hexacopter Review
Drone Fishing Setup & Release Mechanism
Hobbytiger H301s Ranger Drone Review
Eufy Security wi-fi Video Doorbell Review
Blade Chroma vs Yuneec Q500 4k