Eachine is known for making some of the best affordable drones. Eachine Windmill E014 is one of them. It has some of the advanced features that you wouldn't find in any other drone at this price range. The Wifi Drone is super cheap and costs less than $50. You only get one colour option that is black to choose from. Its ducted propellers make the flight safer that allows the quadcopter to survive the minor crashes.
The quadcopter also has the optical flow technology that makes it more stable. When it comes to camera capability, you get 720P Camera and real-time transmission at the same time. I would say that Company has done the great job building Eachine Windmill E014 in terms of its build quality, features, and aesthetic look. To, use all of its features, you need to install the Eachine Fly App that you can download from the playstore which is supported in iOS and Android both.
A lot of people compared it with Ryze Tello. But, I would say that Tello is a better option as flight performance is its forte, but if you are looking for a cheaper version, then it could be a right deal for you. The drone is suitable for beginners, recreational flyers, and kids. When it comes to its features, the list is never-ending. You get gravity sensor, optical flow, one key return, headless mode and much more. We will dive into all these features in detail in the below section. Below are some of the items that you would be getting with the package.
One RC Quadcopter
One Battery (3.7V 300mAh)
USB Charger
Four Spare Propellers
Remote Controller
User Manual
EACHINE WINDMILL E014 REVIEW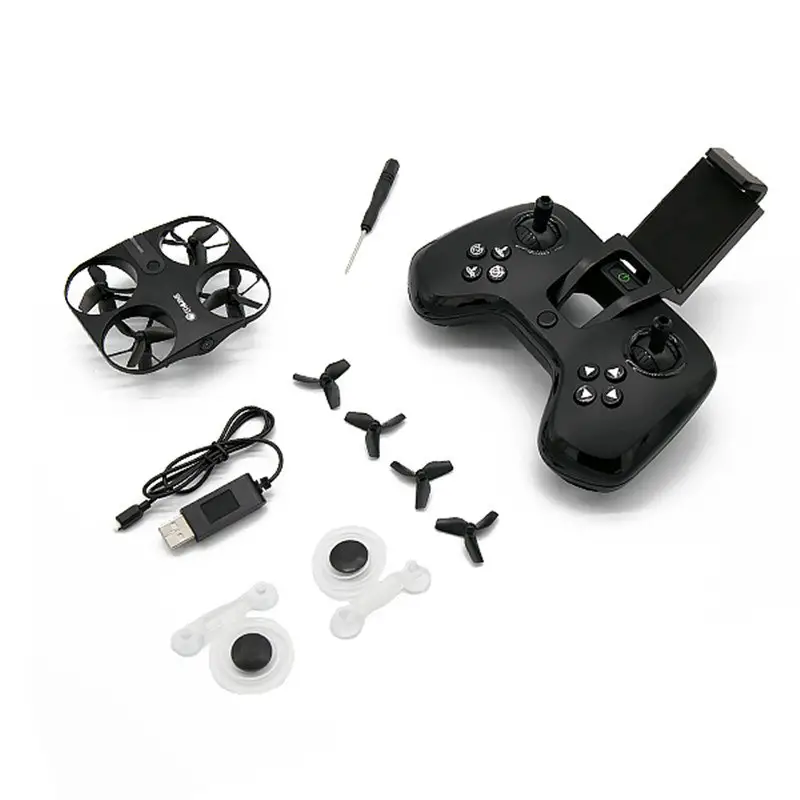 In this section, we will talk about all the different aspects of the drone that you should know. These are the features that make this drone and the perfect choice for the beginner.
1- Hand Control:
Yeah, you heard it right. I said,"hand control." You can control the drones with your hand as well that itself is unique. The company says that this gesture sensing technology is driven by infrared sensors. To use the gesture mode, you need to put your hand below the drone keeping Gesture Mode On; then if you move your hand downward and upward, the drone will move accordingly.
2- Throw & Go Mode:
The quadcopter also has thrown and go mode that adds fun to it. You can simply through the quadcopter in the air after switching it ON, and it will start hovering. Make sure; you read the instructions properly before using this mode. You don't want to end up crashing your quad at very first flight.
3- 3D Flips:
You can also do a 3D rotation with the drone with a touch of a single button. Make sure when you are doing this stunt, your quadcopter is at a suitable height, then use the button, and it will rotate smoothly. You can showcase this feature in front of your friend, and I am pretty sure that they will love it.
4- One-Key Return:
Now, you don't have to worry about losing your drone. As Eachine Windmill E014 comes with One key return function. It brings back the drone from where it started. Though, keep in mind that it won't be that precise. So, for accurate landing, you have to do some manual maneuvering as well.
5- Headless Mode:
This is an essential feature that I believe that every beginner drone should have. Eachine Windmill E014 comes with a headless mode which means that you don't have to worry about the drone's orientation while flying it. Most of the novice drone enthusiasts, find the controlling bit difficult and get confused with the nose and tail. But, this mode makes the things bit simpler, and you can control it using the same pattern, no matter where the drone is facing.
6- Trimming:
Trimming function allows you to tilt the drone during flight and have stable flying experience. There are a very few drones at this range that have this function. I am really glad that Eachine Windmill E014 has this feature.
7- Intuitive App Control:
App, you can download from the playstore. It supports iOS and Android both. You can also use the gravity model that allows you to control the drone with the mobile movement. You can also use the VR option if you want the more immersive experience. While using this feature, you can split the screen into two parts that provide you the different view.
8- Trajectory Flight:
You can also preset the trajectory path of flight, and the quadcopter will follow the route accordingly. Let me tell you; this is the feature that you get in the drones which cost thousands of dollars but here you are getting it at just $50. I mean, what else you want.
9- Decent Picture & Video Quality:
It comes with 720P HD camera which allows you to have some aerial shooting. Though, don't expect the quality to be very good. You have to bear with it. You can also use the FPV function, which gives you real-time transmission and you see the things from the drone's eyes.
10- Optical Altitude Hold:
It doesn't use conventional technology when it comes to altitude hold. Here, you will get altitude hold driven by optical flow. The infrared camera at the bottom of the drone senses the distance between ground and quadcopter and try to maintain. You will see the drastic difference in altitude hold precision compared to other drones. Here, the variance is very less.
Technical Specification
| Drone | Specifications |
| --- | --- |
| Weight (Included Battery) | 34g |
| Control distance | 20m |
| Action Time | 5 minutes |
| Dimensions | 88*75*29.2mm |
| Controller Mode | MODE1,MODE2 |
| Remote Distance | 20m |
| Channels | 12 Channels & Up |
| Power Source | Electric |
| Material | Plastic |

Eachine Windmill E014 Pros & Cons
In this section, we will brief you about the drone pros and cons; you can have a look at them and decide whether it matches with your requirement or not.
Pros
The drone is super cheap considering the features it comes with.
There are multiple flying modes that you get with the drone, so you can choose the one that suits you.
The drone is protected from all the sides. You can fly it indoor as well.
It has some advanced optical flow and gesture sensing technology that you won't find in any other drone at this price range.
Cons
The maximum flight distance with FPV is only up to 4 meters that is very less. The total control distance is around 20meters
There is no electronic stability control with the quadcopter.
The battery is not removable. So, you have to charge the drone again with every single fight.
Read More
Eachine E32HW FPV Fly More Combo
EACHINE E010S PRO 65mm Shark Drone

Final Thoughts
I would say that it is a perfect beginner's drone. It has all the features that a drone pilot dreams of. Build Quality is good, performance is also decent, the price is affordable and what not. I would say if high-end camera quality is not your priority and you want a drone which is fun to fly; then this is the best deal that you can get. If you are looking for some alternatives then below are some of the best selling drones on Amazon.
Watch the Video till End
Trending Drones
DJi Flame Wheel F550 Hexacopter Review
Drone Fishing Setup & Release Mechanism
Hobbytiger H301s Ranger Drone Review
Eufy Security wi-fi Video Doorbell Review
Blade Chroma vs Yuneec Q500 4k