Eachine M80 is one of the drones that is known for its great flight performance. It comes with a fully functional FPV System that allows you to take control of your drone in a better way. Today, in this article, we will discuss everything that you should know about this drone that includes, what is the difference between RTF & BNF Version, How to set up the drone, how to test it, how to do the beta flight flysky binding and much more.
This micro FPV drone has four brushed motors that give your quadcopter, good torque, and a better lift. Its propellers are 44mm long, and it weighs around 50grams with the battery. It is super lightweight, you can easily carry it easily in your bag. There are three mode options that you get with the drone that includes Acro Mode, Angle Mode and Altitude Mode which allows you to make the flight at your disposal. The drone can also bounce off the wall, without crashing into it. It also has a unique drone which is known as tortoise rolling, which allows you to flip back the drone when it is crashed.
It comes with a Camera which is 600TVL & 1/3 inch sensor. When it comes to the field of view, it has 140-degree FOV. The transmitter works on 5.8Ghz frequency. It can fly up to 6-7 minutes after a full charge of the battery. When it comes to the receiver, you get multiple options to choose from. You can go with Frsky, Flysky or DSM2 receivers.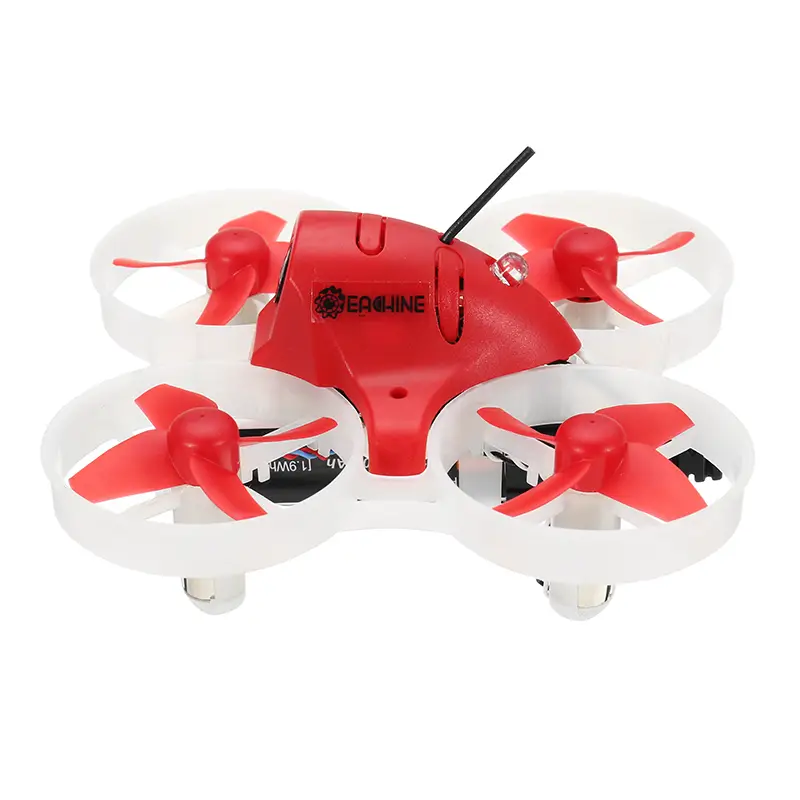 Keep in mind that the flight controller, in this case, is not open source. So, you can't use the beta flight firmware. Keeping its build quality into consideration, it looks pretty sturdy. All of its propellers are covered by the plastic body. You can fly this Eachine model indoor also. But, make sure when you are flying it outside, the weather is not windy. Because it can easily be blown away by the small wind also. The drone costs around $50 which makes it pretty affordable as well. Below are some of the items that package includes.
1 x Eachine M80 Frame Kit
1 x Flight Controllers
4 x 44mm Propellers
1 x Battery 3.8V 500mah
1 x USB Cable
1 x User Manual
1 x Transmitter
4 x 8520 Brush Motors
1 x 5.8G 600VTX w/Camera antenna

EACHINE M80 Drone Review
In this section, we will talk about all the important aspects of the drone that you should. We will cover the build quality, all important features, and battery specification. In case you want us to add something, you can let us know in the comments; we will update the article correspondingly.
1- Camera Quality & FPV:
It comes with real-time transmission FPV feature. The camera is 600TVL HD CMOS with a 1/3 inch sensor. You also get a 140-degree wide angle view which is really good for capturing the beautiful landscape. I would say that this is one of the best drones with the camera under $50. Though, don't expect the video quality to be very high end. But, if this is your first drone, there is a lot, you will learn in terms of frame and shot composition. Because drone photography is very different from phone or DSLR photography, here you have to control the camera and drone at the same. This quadcopter will train you, in case you buy a higher end drone in the future, you already know what needs to be done and how is to be done?
2- Build Quality:
Build Quality of the drone is compact, solid and also looks cool at the same time. It's a very tiny drone fits right into your palm. It is very lightweight, around 50g with the battery. Though you won't get any other options in color to choose from; you only have this red and white available for sale. Its ducted propellers allow the drone to survive the minor crashes easily and the camera is protected by the canopy. The props which are used here are not of two blades instead they have four blades that give you smoother and stable flight. The drone is charger with USB Charger, and you also have battery protection function with it.
3- Battery:
Here, you get a high voltage charger that allows the battery to get charged quickly. It comes with 3.8V 500mAh battery which gives you around six minutes of flight time once it is fully charged. It also has a battery protection function that makes more durable. There are a couple of things that you have to keep in mind when it comes to battery safety. Keep the drone away from moisture and hot atmosphere and don't overcharge it. In case, you are using a different charger, make sure that it has the same voltage and ampere reading.
4- Multiple Modes:
You get multiple modes option with the drone that allows you to choose the controlling option at your disposal. The three modes are Acro Mode, Angle Mode, and Altitude Hold. Read the manual properly before you start using these modes. It is recommended so that you know, how to handle the drone before you take it off.
5- Tortoise Rolling:
It is a very rare and unique feature that you will find in a very few drones. It allows the quadcopter to flip back after the crash, so you don't have to do the walk of shame in front of your friends and pick up the drone. Though it doesn't work all the time perfectly, so it's recommended not to depend on it completely.
6- One-Key Return:
The drone also features the one key return feature that allows your quadcopter to come back to you, just by the press of a single button. It won't be that precise, so be ready for some manual maneuvering while handling the quad.
Technical Specifications
| Drone | Specifications |
| --- | --- |
| Wheelbase Size | 76mm |
| Flight weight | 52g (Include battery) |
| Drone Size | 100*100*50mm |
| Propellers Size | 44mm |
| Video Output format | PAL / NTSC |
| Battery Power | 3.8V 500mah Lipo |
| Flight Duration | 6 minutes |
| Motor Specs | 8520 Brush Motor |
| Transmitter | 5.8g 25mw 48ch |
Eachine M80 Vs. Eachine M80S
A lot of people are asking the difference between M80 & M80S. Most of the parts of the drone are entirely identical, and there is a slight price difference as well.
Eachine M80 comes without a controller, so you have to do the binding by yourself only. This BNF is also a pain if you don't know how to bind, but at the same time, you also get options for customization.
Though, Eachine M80S comes with Ready to fly mode, so everything is sorted here. And all other features are almost the same. So, you can choose accordingly once you have gone through both of the drone's specifications.
Read More
Eachine E32HW FPV Fly More Combo
EACHINE E010S PRO 65mm Shark Drone
Conclusion
Eachine M80 is an excellent choice for beginners. It has a decent quality camera which will suffice the beginners' requirement. Build quality is great; its props are safe from any crash damage. You can also fly it inside the home. It's quite tricky to find the drone with these many features at this price range. If you are looking for some best selling options, you can check out the below deals.
Watch the Video till End
BETTER & AFFORDABLE ALTERNATIVES (RECOMMENDED)
Trending Drones
DJi Flame Wheel F550 Hexacopter Review
Drone Fishing Setup & Release Mechanism
Hobbytiger H301s Ranger Drone Review
Eufy Security wi-fi Video Doorbell Review
Blade Chroma vs Yuneec Q500 4k