Nowadays, we can see a surveillance camera no matter where we go in offices, malls, parking lots, Hospitals, schools, colleges, they have become a necessary part of our life, it helps to reduce crimes like thieving and help to capture the culprit too. The surveillance cameras are very necessary these days but should it be limited to a crowded place only? No, it shouldn't. The safety of our home should be our primary concern and Dophigo camera help you with that perfectly. It keeps your home secure while you are away not doing so and monitor your baby as you are busy with work. So let's take a look at what features the Dophigo cameras are providing us.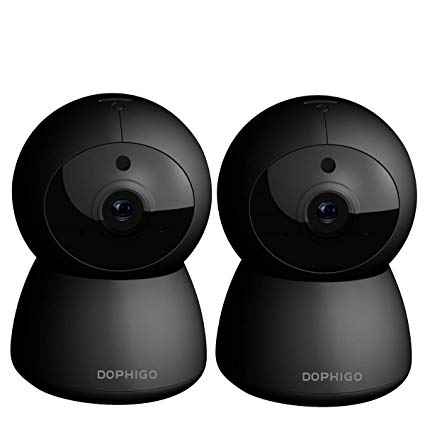 Features
Camera
You can get a DophiGo 1080P Dome under $80; It is a full HD camera with a 1920*1080P resolution at 25fps that provides the feature to access the live stream via your iOS or Android mobile phones. You can see crystal clear video from this camera that will give you the feeling that you are seeing everything on the spot and not through the screen of your phone. A better resolution and HD camera with good video quality is what you want in your home and to monitor your baby.
Angle Rotation
This DophiGo camera gives a wider viewing angle with the tilt and pan, the vertical 90-degree tilt and horizontal 355-degree pan that covers your home perfectly at a better angle. Another feature that impressed the users is that this product doesn't make sounds as it moves around so that others won't know that you are watching.
Enhanced 1080P HD Night Vision
The Night Vision allows the camera to give a clear picture even in total darkness. The Dophigo camera is accomplished by IR-Cut Smart System and powerful IR-LED for the night vision to give continuous Day and night surveillance. The cameras cover up to 65ft. The Night Vision is an impressive feature to have in your home surveillance camera as it will provide you with a good quality picture in the dark and detect any unusual movement with no problems at all.
Baby care and Motion detector
DophiGo uses Activity Alert technology to detect motion and send a notification to your phone immediately so that you are connected to your home 24/7 and would get notified at the moment. This feature is free of cost, so you don't have to worry about getting 70 cents per month cloud subscription to get this feature. With the full 1080P HD resolution the camera provides complete coverage in high definition, and you can easily zoom in up to 4x and focus on the smallest details with just double tapping on your phone. Motion Detection could notify you at the first time when your baby wakes up.
 With built-in high accuracy motion detection technology, the camera sends notifications to your smartphone alerting when, where, and what movement was detected, so you always aware of the things that are happening around your home.
Military Grade Cloud Server
DophiGo Military-grade technique provides us the safety and protects the customer information from leaking all the time, so you don't have to worry about privacy.
Panoramic Navigation 1080p
The DophiGo is a tilt and pan camera. It captures the complete panoramic scene in 1080P HD with the 122-degree wide-angle professional grade lens and bi-directional rotation. It practically doesn't have a blind sport and captures everything precisely. There is also an Auto-masking mode means the lens go under the covers to give you an extra sense of security and ensuring that nothing is recorded against your will.
Wider View angle
Pan and tilt function on the product gives it the ability to capture a wider view angle with 4x digital zoom. You can easily zoom in and zoom out with your two fingers while watching the live stream and keep eyes on the better space; you can also set the perfect location for your reference.
Two-way Talk
Two-way talk is also one of the best features in the DophiGo camera, it makes talking to your baby very convenient, and you can listen to what your baby is saying through your smartphone. Intercom mode lets you activate your speaker and microphone so you can send commands and messages at home, even you can scare off an unwanted visitor. Hands-free mode allowed you a two-way conversation with your family and loved ones in a very flexible and comfortable way.
AWS Cloud 70 Cent Per Month
To get the cloud storage you only have to pay 70 cents per month and bam you have a very good storage, it supports DophiGo AWS cloud to avoid the risk of losing the footage from any other storage device and grants the security of the said footage, the videos are protected with the most efficient compression and highest protection of the data. If you are not comfortable with your data being in cloud storage then it gives you the option of local backup, It supports up to 32GB class10 microSD cards with FAT32 format.
Starlight Level Night Vision
This feature gives you high definition live video no matter in the cover of darkness as well. Night Vision is a really good and useful feature to have in your surveillance camera as it gives extra protection and clear information if something happened near your home at night.
Technical Specification
| Camera | Specifications |
| --- | --- |
| Brand | DophiGo |
| Smart Home Protocol | Bluetooth, Wi-Fi |
| No of Cameras Included | 2 |
| Connectivity | Wireless |
| Model | Snowmen |
| Application | Indoor/Outdoor |
| Price | Check Here |

Pros and Cons
Pros
It's a great product to invest money on; a great value for money product indeed.
It's easy to set up.
With 1080P HD and great resolution, the video quality is great.
With practically zero blind spots it proves to be a very good surveillance camera.
The motion detector is precise and gives an alert within seconds.
Cons
The night vision is good for only 20ft.
It doesn't support 5GHz WiFi.
The audio quality is not as good with the small speakers.
The secondary user access is limited for example the secondary user will not get motion alert as opposed to the primary user who will get all the alerts.
Cheapest Sports Adventure Camera
Summary
The DophiGo 1080P HD dome is no doubt one of best surveillance camera out there with so many features included that makes your life stress free while you are away at work and your baby is at home. With this surveillance camera, you won't feel like you are away from home and didn't know what is happening while you have been out working. With the many interesting features included it truly makes for a great addition to your home and gives you a peace of mind while working.
Trending Drones
Fader Drone with HD Camera 2693 Review
Hubsan X4 Calibration, Factory Reset, Battery & Binding