The Holy Stone HS120D has a design that is similar to the DJI Phantom drones, but it is smaller and lacks many sophisticated functions, which is why it costs less.
Its color scheme is all-black, which I prefer to the all-white of the DII Phantom drones.
It's a very light drone, weighing just over 221g. Drones weighing less than 249g do not need to be registered with local authorities if you live in the United Kingdom, the United States, or Canada.
Thus you may fly this drone without worrying about whether it's legal or not.
It's also a little drone, not as small as a folding drone, but small and light enough to carry anywhere. The HD camera is positioned on the drone's belly, and landing legs assist protect the camera when the drone lands.
The drone is powered by a 7.4v 1200 mAh lipo battery, which is one of the newer modular batteries that hold a charge for longer and has a reasonable flying duration.
The Holy Stone HS120D has an official flying time of 18 minutes, although test flights have revealed that it has a shorter flight time of roughly 15-16 minutes.
That is still a decent flying duration for an affordable drone that costs less than $300, but I would strongly advise you to get a second battery or two so that you can fly for longer periods of time without having to wait a few hours for your battery to recharge before you can fly again.
There are several large LED lights beneath each rotor that will assist you to fly the drone at night and also signal when the drone's compass is properly calibrated.
The drone remote controller resembles the DJI Mavic controller, which I like since it's compact, simple, and has two fold-out grips from the bottom.
A smartphone holder comes out from the center and can accommodate a large smartphone but not a tablet.
The controller has buttons for automated home return, emergency landing, and one-button take-off and landing, as well as two knobs on the back that adjust the camera angle and speed mode.
The drone's advertised FPV range is 300 meters, while its users have reported that it is much less.
However, because the Holy Stone HS120D is a toy-grade drone, you wouldn't want to fly it that far out anyway.
To use the FPV function, you'll need to download the official Holy Stone software, which is called HS GPS Pro and is compatible with both iOS and Android.
It's a solid program, if buggy at times, but it's updated often and should operate as intended if you follow the directions in the manual.
Check the Best Price of HS120D on Amazon
Technical Specifications
| Holy Stone hs120d | Specifications |
| --- | --- |
| Product Weight | 250 grams |
| Affordability | under 200 dollars |
| High definition | 2048 * 1152p |
| Flight time | 36 minutes |
| Batteries | 2 (included) |
| Camera | FPV (adjustable) |
| Control scope | 300 M |
| Charging span | 2 hours (maximum) |
| USB charger | 1 (included) |
| FOV | 120 degrees |
| Modes | follow me, altitude hold, auto return home |
| Connectivity | WiFi |
| Tracking | GPS location |
| FAA registration | Not required |
| Recognition | Face Recognised |
| Smart usage | customisable path |
| Compatibility | 3D VR set |
| Propellers | 4 |
| Landing gears | 2 |
| User Manual | Check Here |
| iOS App | Access Here |
| Android App | Access Here |
| Online Reviews | Read Here |
| Better Alternative | Best Compact Drone |
| Affordable Alternative | Potensic Drone |
Holy Stone FPV HS120D Features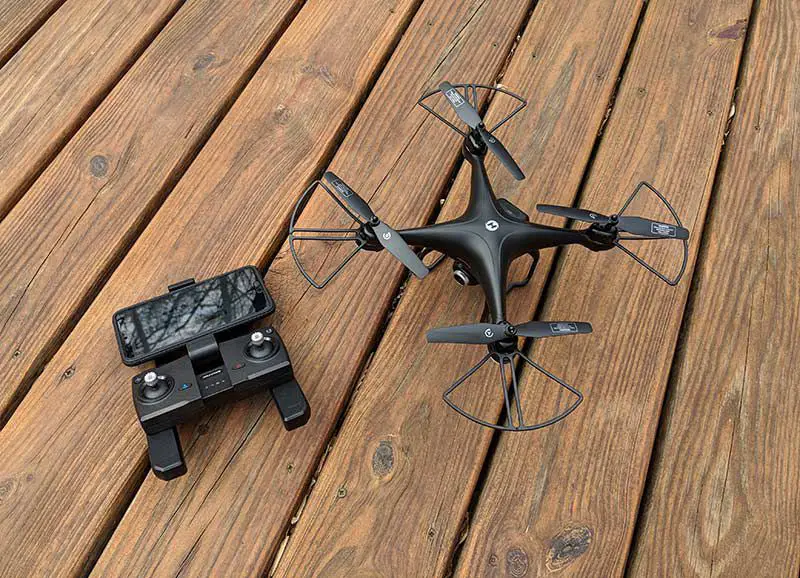 Let's delve into the features for a better picture:
Design

It is a quadcopter and usually comes in red and white color. This increases the visual power when the drone is in the sky. It is a lightweight machine which weighs just 250 gms.
The material used in the making is plastic. However, it is very strong and does not break even when drones crash.
The design is one of the important features of a drone which decides its major flight time and impacts the operation if the design does not mean the quality standards.
Hence, having a great, tested, and robust design is of utmost importance.
High-Quality Images

The machine can capture high-definition images with its HD WiFi camera installed. The camera is 2K ultra HD and can capture clear videos in live mode.
The view that will be captured would be like that from a bird's eye.
The machine comes with an LCD screen and LED lights to capture quality images, and the camera connects with Wifi and is adjustable to 70 degrees.
You can control the equipment with 50 to 100 significantly large meters. Moreover, there are no issues with the drone when using it during the night or in dark mode.
It can capture the nuances of a high-definition image or video pretty well. The LED lights are better suited to work for the night mode and help the users enhance their target or destination impact.
Battery Life

You need to charge the equipment for 60 to 90 minutes on an average and 120 minutes maximum.
On average charging, it will give 10 minutes of flight time and 16 minutes on a complete charging with a single battery.
It flies with a carefree mode and uses the technology to its best for an incredible flying experience.
The machine comes with two batteries, and you can fly it for a good sixteen-minute on each battery that equals a total of 36 minutes.
Having a quality battery life can be one of the defining features of a drone, as a battery determines when the drone will stay afloat.
Hence, good battery life is always a great ask for these drones.
Smart Operation

The equipment uses GPs for the flight, and it can come back to its original position where it started on its own.
When the drone loses signal, or it crosses the required range, or if the battery dies, you do not have to bother about the drone landing in an absurd location.
It will trace back to wherever it started. You can capture good moments and selfies, and it will provide you with lots of posts for your social media handles.
This amazing feature of back traceability is the most pressed in a drone.
Whether the drone is used for some military, intelligence, or family purpose, this feature keeps the drone secure, protected and ensures its durability.
Path Customization

You can tap at different locations on your phone screen while controlling your drone, and your drone will automatically tread on the same path and open a whole new panorama to your view.
In addition to that, it also has the mode – follow me, in which it will capture for itself the location and keep moving in the direction where you go.
You would be the center of the frame, and it can take complicated shots with a candid effect.
This is essential for having a good time with your social media profiles.
Easy to Operate

There is just one key for taking off and landing the drone.
It can hold onto a particular height and make necessary alterations for speed.
This makes the drone very handy to operate, even for amateurs or children.
If you fly the drone in headless mode and set the drone's direction facing you, then the drone would never lose the direction, and it would be very easy to access it even though it is at the height of 300 m. The ease of operation is one of the most desirable features of a drone.
A user should be able to understand the machine to operate it, and hence it is vital to make that easier for the customer.
Visibility

The equipment is coated in black with the framework designed to easily locate it in broad daylight and during the night because of the LED lights present towards the end of its arms.
The battery is installed on the backside, and the drone flies with the placement of the camera such that when it lands on the ground, the camera does not touch the ground for safety reasons.
Add-ons
The machine does not come alone. It brings with it a lot more. Here is the list:
1 HS120D Drone

1 Carrying Backpack

1 Transmitter

2 Batteries of 3.7V 1200mAH

2 Landing gears (extra)

4 Propellers

1 USB Battery Charger

1 User Manual
These things come in handy while flying the drone.
The good thing is that the batteries or the charger come with the machine, and you do not have to purchase anything separately.
Check the Best Price of HS120D on Amazon
Holy Stone HS120D vs. HS100
Holy Stone HS120D is lighter and smaller than Holy Stone HS100D, while Holy Stone HS100 has a better flying range and flying time than Holy Stone HS120D.
They can only be purchased from Amazon or the official website of Holy Stone, perhaps.
Holy Stone HS100 has a camera that captures pictures and videos at a resolution of 720.
The cameras come with GPS enabling features that play a vital role in tracking.
Check the Price of HS100 on Amazon
Holy Stone HS120D vs. HS165
Holy Stone HS120D provides a flight time of 36 minutes more than that of Holy Stone HS165, which provides 30 minutes.
Further, Holy Stone HS165 provides a field of view of 90 degrees, whereas Holy Stone HS120D provides 120 degrees.
However, Holy Stone HS165 can be folded and kept. That is the main difference and the most attractive feature.
Both the cameras can capture high-resolution photos and videos, making it interesting to shoot scenes from an altitude.
The cameras are suitable for beginners as well to start with and even tech-savvy children who would like to capture moments.
Check the Price of HS165 on Amazon
Holy Stone HS120D vs. Potensic T25
Holy Stone HS120D is lighter, around 0.55 pounds, while Potensic T25 weighs 4 pounds.
The Holy Stone HS120 model measures 10.63 x 10.63 x 4.72 inches which are exactly the dimensions of Potensic T25.
Potensic T25's camera lens can be adjusted to 120 degrees, whereas the camera lens of Holy Stone HS120D can be adjusted up to 70 degrees.
However, both the cameras promise high-quality images and videos, operate smartly and connect to WiFi. You would not notice any lag while using these cameras.
Check the Price of Potensic T25 on Amazon
Holy Stone FPV HS120D Video Review
What Are the Benefits of Using a Drone?
The times have enormously changed, and we see new inventions with each passing day.
Be it any industry, and the technology revolution has taken over everything from IT to networking to how we shop, interact or even socialize.
Also, this new and mainstream revolution is here to stay! A lot of innovation is happening with drones, and they have changed our normal way of living and experiencing this change.
Not only can we see surgeries being performed virtually but also seeing our food packets and essentials being driven by drones instead of humans.
Today, we can take high-quality HD pictures and videos from it and use them in experiments, military equipment, and for driving a country's national security.
The benefits and use cases of these drones are immense and impactful. What is better than flying a drone outdoors and controlling it to see what you cannot from the ground level.
It captures the bird's eye view and provides a whole new weltanschauung to what you see regularly.
This is just the beginning, and much more to come.
This is a world of possibilities, and technology has been the true catalyst for the change that has made this possible. This neoteric age has begun the revolution that is ongoing but also necessary.
Today, most companies invest in newer and innovative technologies that promise the new future, the new normal.
The result directly impacts millions of lives, making it more purposeful.
Technology has reached the entire globe, yet there are many problems to solve, many questions to be answered, and many puzzles.
Today, drones are capable of many useful capabilities; each passing day adds more functionality to them that can make our future much better, brighter, and fulfilling.
Conclusion

The Holy Stone HS120D is a good HD camera drone with several convenient features including one-button take-off and landing.
It features an autonomous return home feature that kicks in when it flies out of control range or when the battery runs out.
It has a flying time of about 15 minutes and a 300-meter official FPV range. Although this is a good drone, there are cheaper and better alternatives.
The Holy Stone HS120D was debuted early this year and has quickly become a popular drone.
Check the Best Price of HS120D on Amazon
FAQs (Must Read)
Q: Does the camera need an activated smartphone?
A: No, it just needs WiFi to download the application.
Q: What is the maximum memory SD card the machine can support?
A: As per the manual, the machine can support an SD card of 128 GB.
Q: Does the equipment trace back its path?
A: The drone returns if WiFi is connected to the original location.
Q: What does gesture mode do?
A: There is a gesture mode to capture still pics and videos.
Q: Can you spot the drone at night?
A: Yes, you can because of the LED lights present towards the end of its arms.
Q: Does the application work properly with an android tablet?
A: Yes, there is no problem with syncing the machine as such.
Q: Where do I buy holy stone hs120d replacement parts?
A: You can check out replacement parts here.