Since the last couple of years, we have seen the increase of aerial drones in oil and gas pipelines monitoring. It could completely transform the monitoring industry according to the research done by scientists around the world.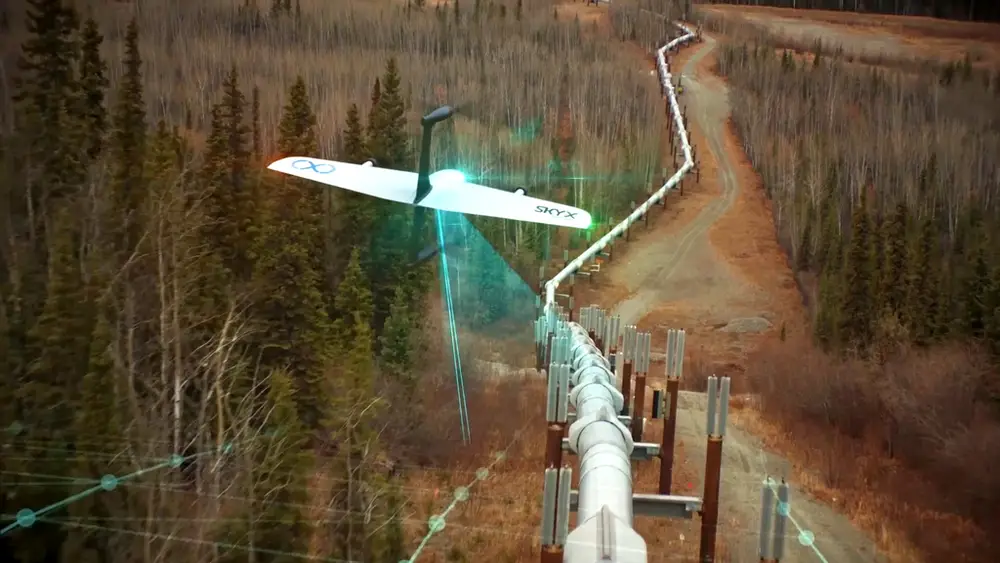 These pipelines require regular monitoring and inspection to ensure safety and security. Earlier the maintenance of the pipeline used to cost a lot because their survey was done by either by helicopters or by manual inspections. But, nowadays the transition can be seen from the traditional way to drone way as the use of drone makes things more convenient and efficient. Researches believe that drone application would be helpful in remote areas where physically going is quite difficult.
When it comes to Oil and Gas network, they span around thousands of miles. The geographical diversity is enormous, and sometimes, they have danger from outsiders, weathers and unexpected challenges. If the leakage goes undetected, it might cause some serious damage. There were several cases when gas leakage turned out to be a disaster. Whenever these incidents happen, it causes substantial economic loss, environmental loss and also can cost lives in some cases.
That's why regular inspections are required to eliminate any possibility of damage. If the pipeline is in open, rusting and corrosion of the pipeline needs to be checked. If the pipeline is underground, the existence of methane and other gases can cause potential damage. So, going there manually is difficult and dangerous at the same time. So, that's the use of drones come into the picture.
Why Manual Inspection is not the ultimate solution?
Manual inspection used to be very popular in the early days. But, as we know that these pipelines spread over thousands of miles, the manual inspection takes a lot of time which reduces the operational efficiency.
It also costs a lot of money and manpower is also required. Sometimes, it is quite challenging to find the leakage in steep terrain. It is also a very time-consuming process; it can take n number of days to find the leakage point. Sometimes, people who are working, they don't have the expertise, and it turns out to be complete mismanagement. You also have to follow the specific rules set up DCS and SCADA System.
Why Drones are required?
Most of the pipeline operators in 2019, use the drones to conduct survey and mapping process. Once the operation starts, it only covers the pipeline but also inspects the surrounding area. This alternative is very useful and gives you access to remote or hard to access areas.
Use of drones allows you to save the cost of surveying significantly. It also automates the maintenance, surveillance workflow, integrity, and data gathering and analysis. You can also make the route selection with the drones which allows you to conduct a detailed survey of the complete project. It also helps you in locating the property boundaries and also keeps track of construction progress and material requirements. It also helps to do thermal detection, and you also have 3D mapping as well. Thermal imaging helps you to distinguish between the surrounding fluid and leaked oil.
These quadcopters apart from helping in finding leaks will also help in finding the structural damage and other potential problems. You also get flexibility while using the drone. You can have 24/7 real-time data collection, and you can have a more in-depth analysis.
Thermal Inspection through Drone
Benefits of Drones in Oil and Gas Industry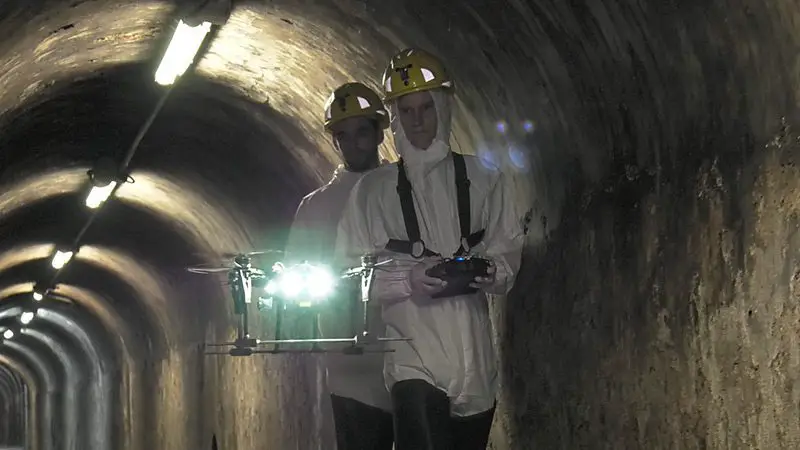 1- More Visibility
Drone allows you to collect the sophisticated data and analyze them. It helps you in finding the issues that are not visible through human eyes. Many times, the pipelines have the problem of corrosion and manually going and check ing it from all the directions is quite impossible. So, in that case, drone goes to places and give you the information about remote areas which are difficult to access. Drones which are used for monitoring are high end. Some of them also have zoom in feature, and you can also have thermal imaging that takes visibility to the next level.
2- Cost Efficient:
Earlier, the pipeline monitoring used to be very difficult and expensive. Engineers have to use the helicopters and road vehicles for inspection. Still many times, leakage go unnoticed. Statistics claim that it costs around billions of dollars every year to maintain the pipelines. With the help of drones, the expense can come drastically down and save a lot of money and manpower.
3- 3D Mapping:
3D Mapping is something that drone only made possible. Earlier, it was completely impossible to create the 3D map; now you can do it with advanced UAV technology. With Drone photogrammetry blended with Computer programs, you can have a 3D map of what you surveyed. It gives you more clarity and understanding of the pipeline areas and surrounding.Drones also use thermal and light sensors which combine the computer programs, and you get a computer generated the actual 3D map.
This 3D mapping technique allows the expert to find hot places where the leakage is very frequent. According to experts, 3D mapping has completely changed the monitoring game and decreased leakage problems significantly.
4- Environment & People Protection:
When you use the UAVs, you don't need to send the crew for scouting and routing. Everything can be done with the help of UAV only. You don't have to send the people in remote locations which eliminates the risk. Sometimes there are very difficult terrains, wildlife dangers and much more, so you can't go at all the places. That's why these drones are a very good alternative and good for people protection.
5- Drone Offers Productivity:
The significant amount of data that you get with the drone boost up the process and makes the whole surveying thing more productive. Before drones, it was never possible to have real-time data, but you can put these UAVs round the clock for continuous surveillance. These data helps you to analyze the future possibilities, and you can anticipate a lot of things beforehand. The companies which are using drone technology said that they had seen the exponential growth in their productivity. Drones have made the whole process more effective and efficient.
When you are using the manpower, you can not put them on work all the time. But Drones can do this for you. There are few drones which can withstand the extreme weather condition as well. So, it would be very naive to deny the importance of drones in increasing the productivity level of oil and gas pipeline monitoring.
Aerial Pipeline Inspection Cost
A lot of people are asking what the cost of Aerial Pipeline monitoring is. It depends on several factors like geographical location, how many Kms of survey required, what all data you need and much more. Many times, these pipeline companies have their own engineers expert in drone surveying which collects a lot of data for analyzation.
Though, Drone Aerial monitoring cost is less than the traditional manual inspection. Below are some of the high-end drones that you can buy and start doing the pipeline monitoring (Good Drone Piloting experience is required).
Top 5 Aerial Pipeline Monitoring Drones
In this section, we'll talk about the best drones in the market suitable for checking the pipeline leakage detection. It is the drone category; there are few good airplanes as well that you can check over here.
1- DJI Matrice 600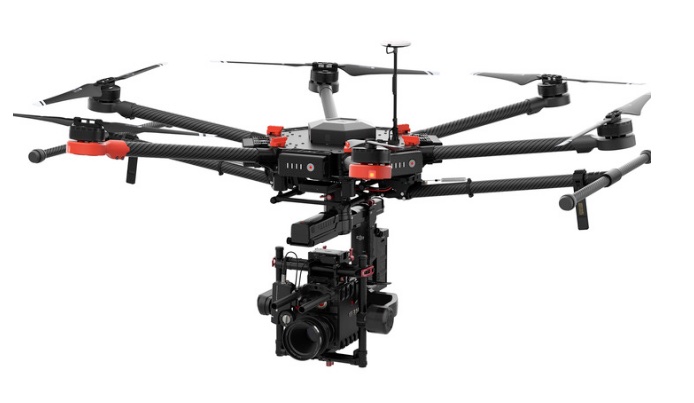 This is one of the best drones which can be used for pipeline leakage detection. What I love about the drone that is so high end, it is still very easy to set up. You can set up the drone in a few minutes. The company claims that DJI Matrice 600 has advanced dust proof propulsion system which protects the electrical components and internal motors from any kind of damage. It also reduces the maintenance cost of the drone and gives it a better life at the same time. Here, you also get the actively cooled motors which don't let the drone to heat up, and you can enjoy the extended flights without putting it on for rest. There are several camera gimbal options that you get with the drone provides you the more flexibility, and you can choose the one that suits you the best.
It has payload capacity up to 6kg. You can choose among Ronin MX gimbal camera or other Micro four and third system.
The drone also flaunts about its intelligent sine-wave technology which makes the flight more smooth and efficient.
It has ultra low latency in the transmission which allows you to set the composition and frame accurately.
Its dimensions are 19.7*17.3*27.6 inches, and it weighs around 8.8pounds. The six batteries give you a decent flight duration.
Though, the camera is not included with the UAV that you have to buy separately. It will cost you a few hundred extra dollars.
It has A3 flight controller, and for storage, it uses the USB, mini HDMI, and 3G SDI port.

2- DJI Inspire 2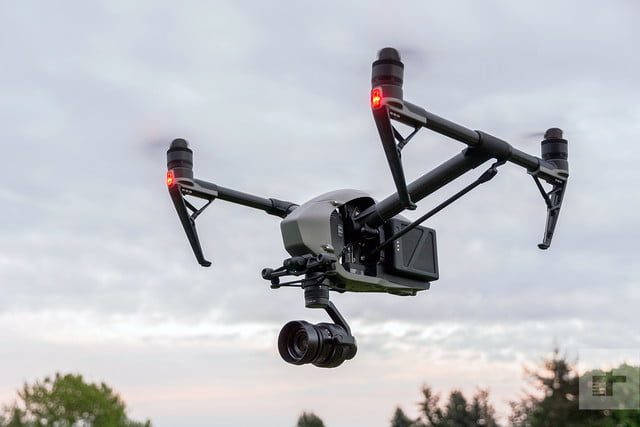 This is the second drone in that category that you can go for. It is a powerful drone with good build quality. The company claims that it has magnesium-aluminum body construction which makes it durable and it can easily survive the minor crashes. Here, with the camera, you get high-grade HD footage. It has an advanced image processing system which allows you to record up to 5.2k in various formats like Apple ProRes, CinemaDNG Raw, and much more. The drone can travel from 0 to 50mph in just 5 seconds which gives you the quick take off and landing.
The drone is pretty fast as well. It can reach up to 58Mph Max Speed and 9m/s Max descent speed.
The UAV has a dual battery system which gives you the flight duration up to 27mins.
The drone can also fly in extreme weather conditions. The company claims that in extremely cold conditions, the drone has self-heating technology that keeps it up and running.
You get two axis stabilization with the camera. The FPV transmission that you get is glitch free.
It uses the CineCore 2.0 image processing which gives the better recording and pixels don't fade out.
You also get a complete cleaning kit with the drone which helps you to maintain it properly.
You get a 16GB Memory card which is limited considering the storage.

3- DJI Phantom 4 PRO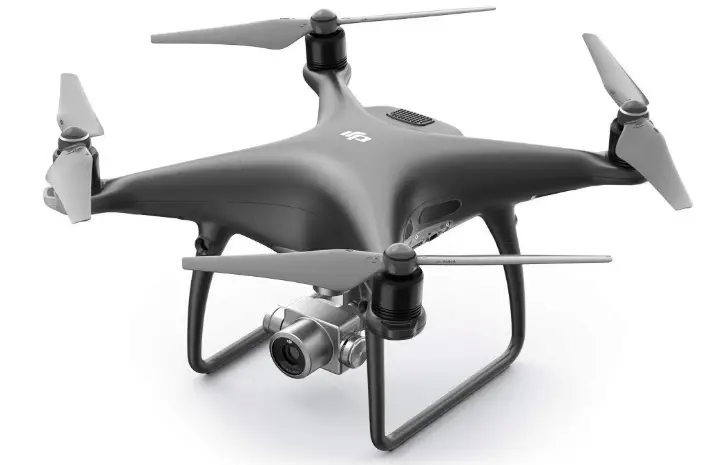 This is the third drone in this category. It's not a very high end like above two drones, but if you are looking for an affordable option, then it could be a good choice. The drone is mostly used for aerial photography and film making. It has 4k Camera gimbal, integrated software, and a smooth controller. The quadcopter is very easy to set up. It is ready to fly out of the box, and you don't need to do any complex setup process.
The Phantom 4 Pro also has GPS+GLONASS technology which makes autopilot modes very precise and accurate. Below are some of the important things that you should know about DJI Phantom 4 Pro.
The drone has good collision avoidance and obstacle detection technology because of its advanced optical sensors which allow you to have more freedom. So, instead of focusing more on drone controlling, you can focus more shot composition.
You also get 3D vision system that gives you more information about the area and its surrounding.
You can easily rely on autonomous drone modes as they take care of the whole flight easily and smoothly.
You also get multiple advanced modes with the drones that allow you to do more experiment and you can choose the one which suits the requirement.
The drone also provides you a lot of telemetry information that helps you to keep track of a lot of things.

4- Force1 F100 Ghost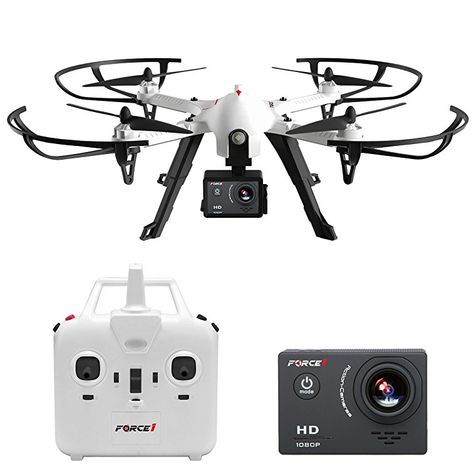 You might not have heard about this drone, but this is also a very capable drone that you can go for. What I love about the drone that it provides you a lot of freedom. It is also a sports camera compatible; you can choose between GoPro 3 and 4. It's known for its stable footage delivery. You get the buttery smooth footage. This is a low budget drone which you can consider if you don't want to spend a lot of money in the drones that we have mentioned above. Below are some of the critical things that you should know about the Force F100 Ghost.
The drone is compatible with multiple sports cameras that allows you to experiment with the flight and customize the things at your disposal.
Though, the battery backup that you get is not very impressive. You get around 12mins of flight duration. The quadcopter is suitable for short flights. It's also recommended to buy some spare batteries so that you can have multiple flights without putting it on charge for hours.
It has multiple speed modes as well that allow the pilot to operate it at its comfort level. At the starting, try to fly the drone at low speed, and once you become good at it, you can increase the level.

5- 3DR Solo Drone Quadcopter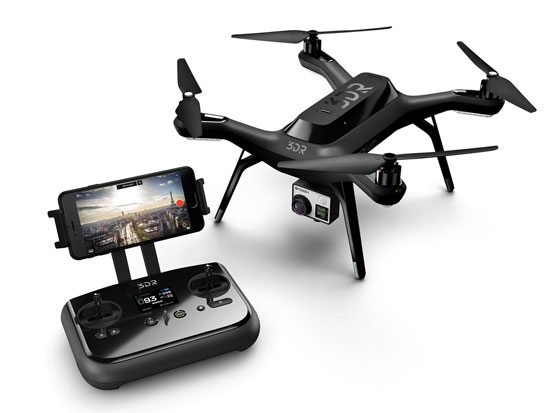 This is the last drone in our top 5 list which is also worth giving a try. The Company claims that it is the only drone powered by twin computers. It is capable of doing the wireless HD transmission through your GoPro to directly to your Android/iOS device. It also has some advanced modes as well which helps you in taking the aerial videography to the next level. The drone has received excellent rating online and could be an excellent option to start your drone aerial photography. Below are some of the important things that you should know about 3DR Solo Drone.
There are very few drones which are capable of doing the wireless video transmission through the GoPro.
Battery life of the 3DR Solo is not very good which is the downside of the quadcopter.
You get a lot of camera settings options which allows you to experiment with the composition and shots so that you can have the perfect frame.
The company claims that it has 3D robotics gimbal with propeller sets which makes the flight performance more smooth and stable.

Watch the Video till End

Trending Drones