Are you ready for this year Amazon Prime Day Sale? This is going to be the biggest offer day in the whole year where you'll find a lot of amazing discounts. In this article, we'll be covering Amazon prime day 2021 drone deals that you can't afford to miss.
People have been asking a lot of other questions as well like how does it work, end date,  for sellers, free shipping products, guide, how many countries and more. We'll try to cover everything. In case we miss out anything, don't forget to let us know in the comments below, We'll try to respond as soon as possible.
Amazon Prime Day is saying thank you to its prime members. So, If you have not signed up yet, you can check out the above link and become the part of Amazon Family. If you are not satisfied with Amazon Prime Services, you can cancel it before 30days, and you won't be charged a single penny. It also allows us to enjoy free delivery in millions of products.
Top 5 Beginner Drones Deals (Under $50)
If you are looking for a beginner drone, these are some of the best drones that you can buy on Amazon Prime Day. We hope to see some good discounts on 15th & 16th July.
1- Holy Stone HS170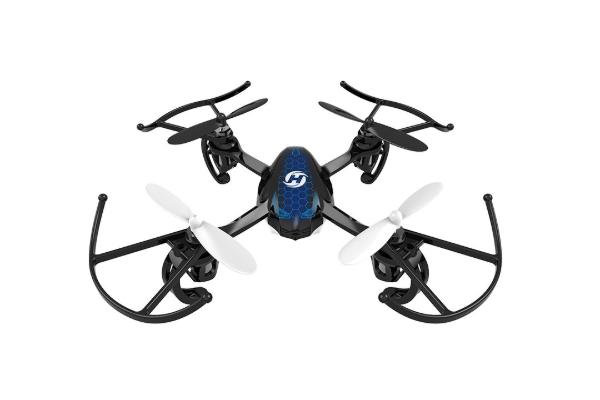 This is one of the highest rated drones on Amazon that you can buy. It is very easy to fly and have some advanced features which are really helpful for new users. It comes with 2.4Ghz anti-interference technology which allows you to fly more than one drones in the same range so that you can have fun with your friends. The drone range is around 50meters, and it also has very good wind resistance as well. The battery gets charged in 45mins, and then you get around 6-8 minutes of flight duration.
It also has the headless mode which is suitable for novice pilots so that you don't have to worry about the drone orientation and the controlling remains the same no matter at which direction, it is facing. You can also do flips and rolls with the drone that allows you to have some fun with this mini quad. There are three-speed modes available, and you can choose the one that suits you the best. It also has colorful LEDs which allows you to fly it in low light conditions as well.

2- FPV WiFi Drone with 720P HD Camera, BOJIANG Mini App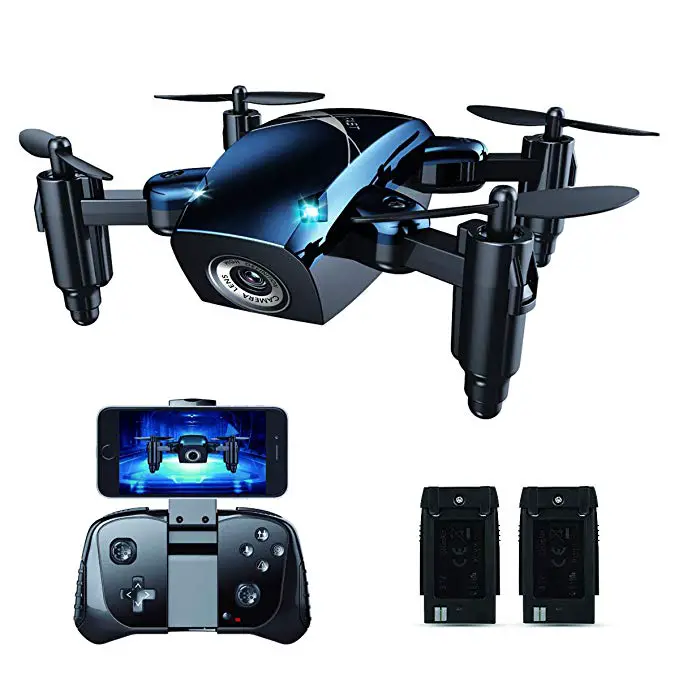 This is a unique drone comes with 720P HD camera. There are three different modes that you can go for. If you are a beginner, try flying it at low speed and gradually you can increase the speed mode. You control the drone through the App, which is easy to use and has a very simple navigation system. It is supported to both iOS and Android both. The quadcopter is very compact, and you can easily carry it around from one place to another.
You also get two batteries with the product so that you can have two consecutive flights without any glitch. It also has some basic voice control system which takes the drone flying to the next level, and you control the mini quad with your voice commands.

3- Cheerwing CW10 Mini Drone for Kids WiFi FPV Drone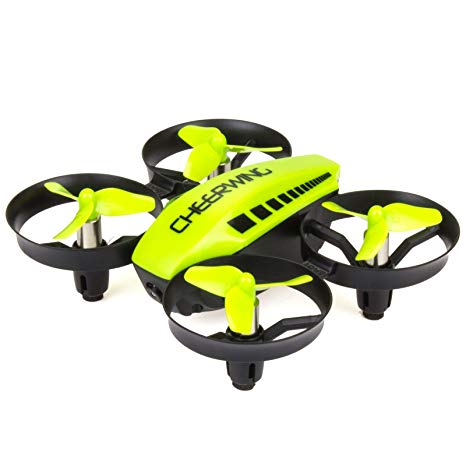 This is the third drone in our top 5 categories of beginners drones. It has very good altitude hold that means when you leave the sticks; it will keep on hovering at the same position. The controlling range is around 15m, which is not very good. But, as soon as the drone goes out of the range, you'll hear the alarm. The quadcopter is super tiny and lightweight. It weighs around 24grams and dimensions are 3.54 x 3.12 x 1.3 inches. It comes under toy category, and you don't need any FAA registration for this drone.
You can also fly the drone without a remote controller. You can use the app. It also features the gravity control system, which is not very efficient but decent enough. In this mode, the drone responds the way you move your smartphone. Be cautious while using this mode as the drone will be very responsive in this case.

4- Newest Syma X20 Mini Pocket Drone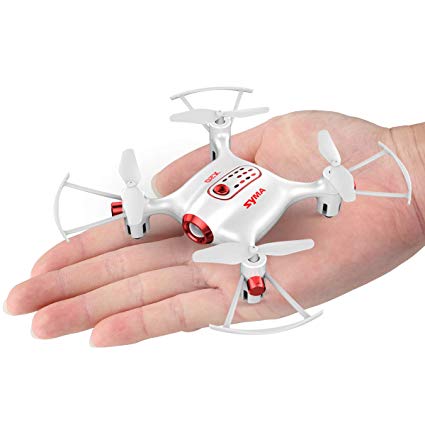 Syma is the company known for making some great drones. Syma X20 is one of their most popular variants. It has a six-axis gyro control system, which makes it easy to use, and you can smoothly fly it around even though you are a beginner. You can also use the drone for indoor flying. When you are flying the drone as a beginner, the chances of a crash are very higher while landing and take off. It automates that feature, and you can quickly take off and land the drone with the press of a single button.
Syma X20 also has excellent altitude hold but not very good wind resistance. The quadcopter can also do 360 flips and continuous rolling with the click of a single button which makes flying more fun. Its colorful flashing lights allow you to operate it in low light condition as well.

5- Holy Stone HS200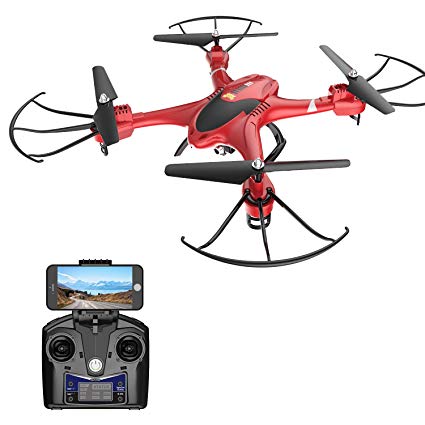 This is one more great drone by Holy Stone Company. HS200 comes with the real-time transmission with 720P HD Camera. This 2MP Camera allows you to capture photos and videos through your Android and iOS devices. Its altitude hold allows you to capture the shake-free images and videos. It also features the gravity sensor control, which is really remarkable considering its low price.
It also has the headless mode and some automated features like One key Return Home, which makes the flight more safe and secure. You can also do 360degree flips with the quadcopter and showcase it in front of your friends.

Top 5 DJI Drone Deals

1-DJI Ironman Drone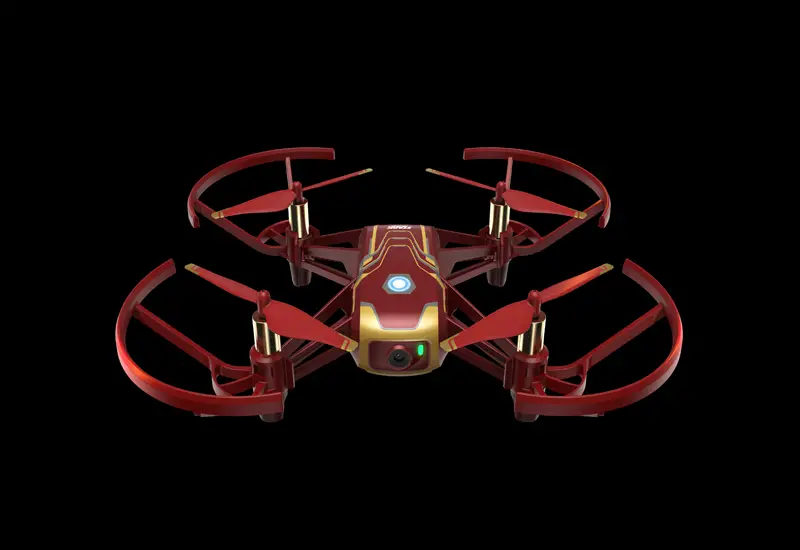 If you are an Ironman fan, this custom built drone is going to be the best companion of you. Its aesthetic look is its forte. It has a heroic Arc, propellers and motors dipped in gold color. You get AI assistant with the drone where you complete different missions while enjoying the smooth flight experience with the quadcopter. It has an advanced intuitive control system which makes flying this quad super easy and comfortable.
The drone also has the VR Headset compatibility, which allows you to have the immersive experience. You can shoot high-quality images and videos with this drone. You'll get all the required accessories with the bundle. It includes propeller guards, battery, Virtual Reality Viewer, and more.

2- DJI Spark with Remote Control Combo (White)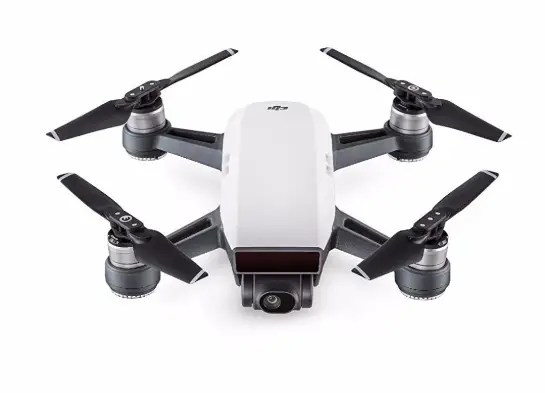 It is an entry level DJI drone with some amazing features. If you want to buy an advanced drone with a lower price, this could be a good one to go for. It comes with a 12MP camera with 2 axis gimbal stabilization. You can also control the quadcopter with your gesture, which makes the flying more convenient.
DJI advanced obstacle detection system makes the drone very safe to fly, and you don't have to worry too much about its crash. There are different modes available in the drone that you can try. In sports mode, you can fly it up to 31mph which is a pretty good speed. The controlling range is around 1.2mile, which clearly gives you an idea about the drone capabilities. Flight Duration is around 16mins, which is also decent enough. It comes with DJI Go App, which allows you to edit and share the videos pretty quickly.

3- DJI Mavic Air Quadcopter with Remote Controller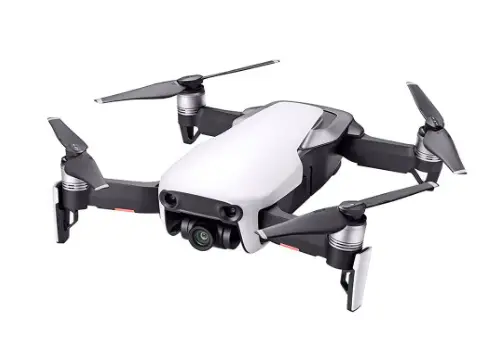 This is a high-end drone suitable for professional users. We hope to see really good deals on Amazon Prime Day. This is a foldable drone which makes it super compact and you can carry it in your backpack travels. It comes with 3 axis gimbal stabilization, which gives the buttery smooth image, and you can take your videography skills to the next level. It is capable of shooting in 4k.
There are a lot of different modes there that you can try. You can try Panorama and take your images to the next level. There are also some slow-Mo modes as well where you can shoot at 1080P 120fps. The obstacle avoidance system of the drone is also super, and you don't have to worry about the drone crash as the chances of any kind of accident are very minimum.

4- DJI Mavic 2 Pro Drone
Mavic 2 Pro Drone is one of the most popular DJI Drones. It comes with 20MP Camera with the 1inch sensor. You can do really amazing videography with this quadcopter. It comes with 31minutes of flight duration, and you can fly it up to 44mph. Though the drone is super compact, but it weighs around 900grams, which is a bit heavy.
It comes with 8gb of internal storage and supports up to 128gb SD Card. With real-time HD transmission, you can set the frame and composition at your disposal and click the perfect picture. The operating drone temperature is -10°C to 40°C. You get all the necessary items with the drone package which includes a battery, gimbal protector, charger, controller, Cables, and more.

5- DJI Goggles Racing Edition 1080p HD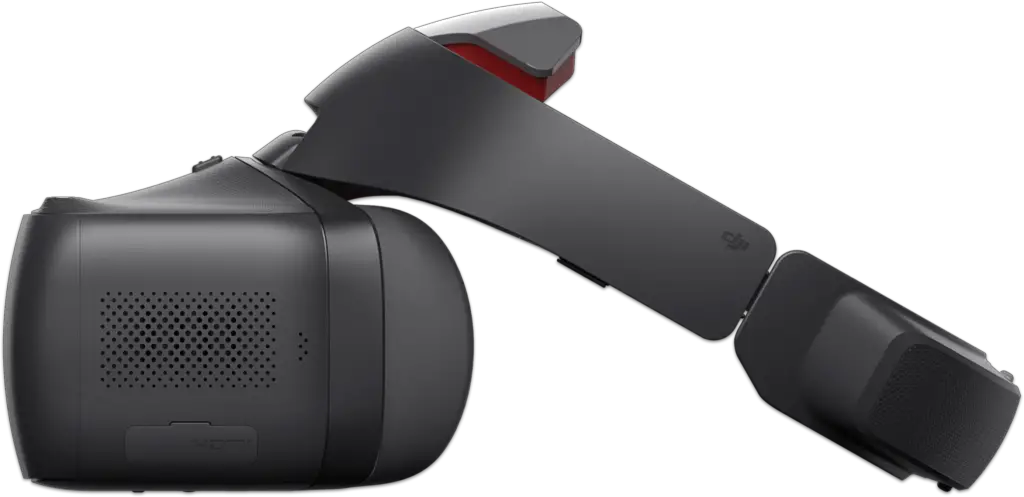 This is not a drone; instead, it's a racing goggle which makes the drone flying very immersive. It is compatible with most of the DJI Models which includes Spark, Phantom and Mavic Series. It does have 50ms of latency, which should not be an issue. It has dual band transmission (2.4GHz and 5.8GHz). It also has an advanced Global Shutter Sensor which eliminates any kind of jello effect. It comes with 148degree of the field of view, which is also great. Below are some different resolution and frames per second.
1280×960 at 50 fps
1280×720 at 60 fps
640×480 at 50 fps
Keep in Mind that these are not 3D goggles. It is an FPV goggle which lets you see the things from drone's perspective.

Top 5 Professional Drones Deals
In this section, we will talk about some of the best deals in professional drone categories. Top 5 list is based on different criteria like build quality, features, price, and more.
So, Bookmark our page (Ctrl+D) and come back on 15th to find the best deals on the internet.
1- Potensic D60 Drone with 1080P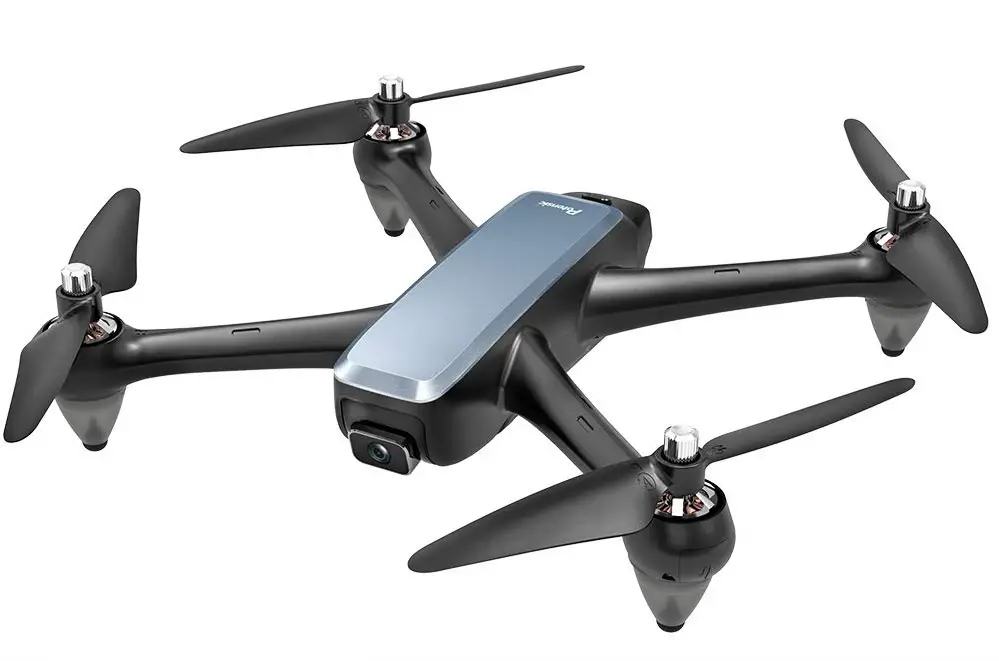 This is one of the highest rated 1080P drones that you can buy on Amazon. It comes with brushless motors which give it powerful propulsion, and you can also fly it in cold conditions. According to the company, it is a low maintenance drone and motor failure and breaks down is very rare. It has one axis gimbal stabilisation but comes with 5G 1080P high definition camera. The field of view that you get is 110degree.
The drone is also very ideal from selfies. The altitude hold of the quadcopter is pretty good. You can easily capture jitter-free images and videos. In the case of signal loss or any technical failure, you can use the RTH button, and the drone will come back to the place where it started. It comes to 1800mAh batter with which you can have around 20mins of flight time.

2- Autel Robotics EVO Drone Camera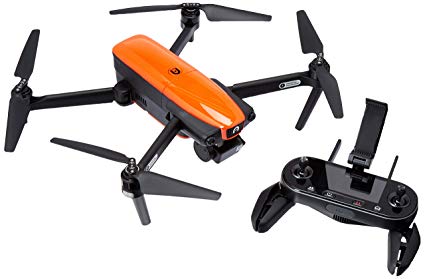 Autel is going to have the biggest Amazon Prime Day discounts according to the sale predictors. Its 4k Camera is its forte which is capable of recording in 60fps. It has a very good build quality and also looks aesthetically great as well. It comes with GPS/GLONASS technology, which makes it more secure and decreases the chances of a crash significantly.
It also has the advanced app that you can download from the app store, support to both Android and iOS, and very easy to use.
What i really love about this company is its amazing customer services. Its range is around 4.3miles which itself boasts about its advanced technology.

3- The Outlaw Se GPS Drone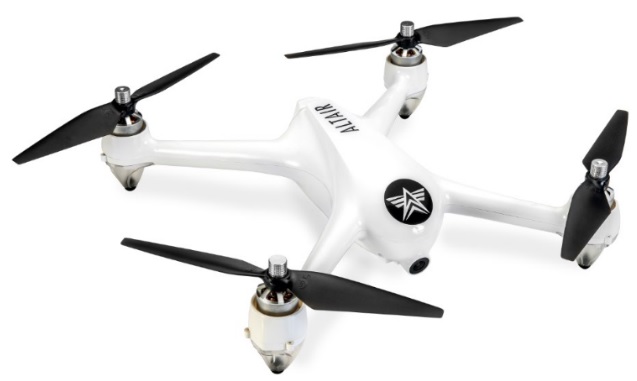 This is again a great drone and worth having a look at. It comes with an advanced GPS System. You can do some really good videography and photography with this affordable quadcopter. It has a 1080P camera, and its real-time transmission helps you to set the frame and composition at your disposal. It is recommended for 14+ years of age. There are also some different modes as well, which allow you to make the footage more cinematic.
It has followed me Mode, which allows for tracking the moving subject. Though you will take some time to master this mode. Once you get the hang of it, you are good to go.

4- HUBSAN X4 H501S Pro Version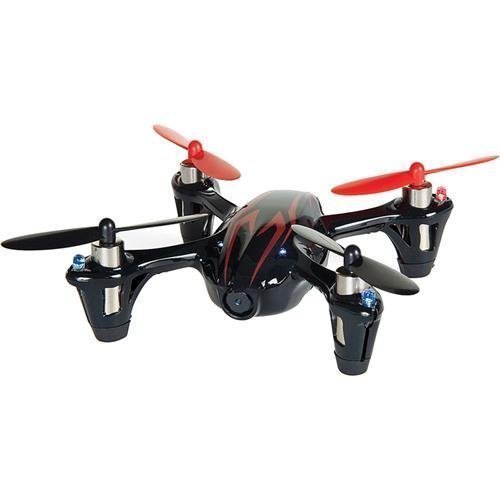 If you are in the drone industry, i am pretty sure that you would have heard the name of the hubsan brand. Hubsan X4 is the flagship drone by the company and has some really amazing features. This is very small in size and can fly at really super fast speed. Its 6axis gyro control system allows you to have better control over it. It has a headless mode, which is really helpful for beginner pilots, and you don't have to worry about the drone orientation.
It also has an expert mode which enhances the quad performance. The quadcopter also has some intuitive features. As soon as, the battery gets down, it returns to the home position.

5- Holy Stone HS700 FPV Drone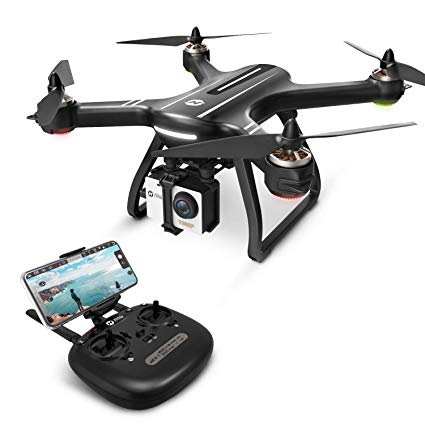 We have mentioned a couple of Holy Stone drones in the beginner's collection. But this one is suitable for professional usage only. It has 5G 1080P HD camera with a 110degree field of view. It gives you high-quality real-time transmission so that you can set the frame and composition at your disposal. You can attach the action camera with this quadcopter and do some really cool videography. It is compatible with GoPro 2,3&4.
It has huge 2800mAh battery which gives you around 20mins of battery backup. There are a lot of autonomous features as well that make this drone more easy and safe to fly. It has solid build quality as well. The noise level is very less as it has brushless motors. Its remote control frequency is 2.4GHz while WiFi frequency is 5GHz.

FAQs (Must Read)
What offers do we have for Amazon Student Prime member?
Yeah, if you are prime student member, still you are going to have a lot of deals. If you are in the college and signup with edu mail id, instead of regular 30days trial period, you get 6 Months Free Amazon Prime Membership. .
Do we have free shipping on Amazon Prime Day?
Last year, we saw a lot of glitches in its Amazon Day. This year, according to Amazon, they have 1day shipping over 10million products. Though Shipping also depends on your location and the product you are ordering. If you are lucky, you can get your product delivered same day as well.
Which countries will participate in Amazon Prime Day 2019?
Last year 17 Countries participated in Amazon Prime Day. They were India, Germany, U.S., U.K.,France, Spain, Singapore, Japan, Italy, Netherlands, Luxembourg, Belgium, Austria, China, Canada, and Australia. And this year, UAE would be one more country participating in this big Bonanza Sale.
In Which Category, we'll have great discounts?
Last year according to the Amazon, they did over a billion dollar sale in a single day.
And this year is going to be huge. Don't buy in a rush. Don't buy everything that is under discount. Firstly, make your list of items that you want to buy and then check in those categories what all items are available on discount. There would be a lot of fake deals as well. So, shop with caution so that you end up buying the right product at the right price.
Huge Discounts will be there on Amazon Products like Alexa, Echo Dot, Fire TV and more.
Any good deals before July 15th on Amazon?
If you are a prime member, Check Out the best deals here.
If you are not a prime member, This Free Deal is for you.
Trending Drones
Best flight controller with GPS